More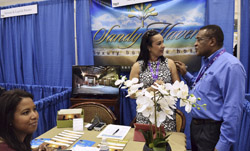 Director of Tourism Paul Pennicook (right) interacts with a representative from Sandy Haven Luxury Boutique Hotel at the JAPEX trade show last weekend. The representative from the hotel was among the more than 250 supplier delegates who engaged in face-to-face business meetings with some 105 buyer delegates at the trade show. JAPEX is hosted by the Jamaica Hotel and Tourist Association and the Jamaica Tourist Board. - Contributed Photos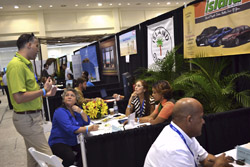 Philip Rose, regional director, JTB Canada, engages partners on the trade floor.
JTB exposes Destination Jamaica during JAPEX
Jamaica Product Exchange (JAPEX) is the island's stellar travel trade show. Hosted by the Jamaica Hotel and Tourist Association (JHTA) and the Jamaica Tourist Board (JTB), the trade show, which began 26 years ago, has grown to become a flagship event that generates lucrative business for Jamaican organisations.
From an initiative that originally started as a trade show primarily for businesses directly involved in tourism, JAPEX has grown to encompass linkages with the manufacturing, agricultural, and entertainment sectors.
Integral to the success of JAPEX is the exposure of the domestic product to international buyers. In this regard, the JTB has been fundamental. The JTB is responsible for inviting and facilitating the attendance of international media to the event. The media in attendance are from diverse markets such as North America, the Caribbean, Latin America, and Europe. The journalists have the opportunity to attend meetings that provide important information on critical segments in the industry. They also have direct access to leaders in Jamaica's tourist industry like the minister of tourism, the director of tourism, the president of the JHTA, and prominent business leaders who provide updates on developments in the island's tourism product. Equally important, the journalists are able to meet face to face with members of the attractions, accommodations, and linkages sectors on the floor of the trade show.
MEDIA TOUR
The JTB has added to the journalists' experience of Destination Jamaica during their JAPEX trip by planning a media tour that continues after JAPEX has ended. The schedule sees the journalists visiting various attractions, accommodations, eateries entertainment, and cultural events across the island. These interactions solidify their exposure to Jamaica's tourism offerings. Additionally, the JTB, along with the JHTA, is instrumental in the scores of international travel agents and tour operator companies that continue to participate in JAPEX each year.
"The Jamaica Tourist Board is always pleased to partner with the Jamaica Hotel and Tourist Association for the staging of JAPEX," said Paul Pennicook, director of tourism. "The benefits of such an event to our tourism partners are undeniable, especially for our small entities that are not able to attend international trade shows. We know that our success as a destination is due in part to our partnerships with overseas media, tour operators, and travel agents, and we are always happy to host them."
JAPEX was staged in April this year as this time of the year provides better business for tour operators and travel agents to include in their fall and winter sales packages. Exposure that will be generated from the media visit about the island will also create a buzz in the overseas market.
JAPEX will remain an excellent medium through which the JTB will continue to expose the best of Destination Jamaica to the world.