More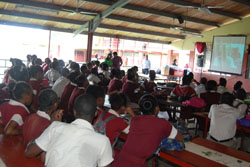 Godfrey Stewart High School students are pictured completely engrossed in the movie shown to promote HIV/AIDS awareness.
'Class in session'
High-school students get lessons on HIV/AIDS awareness
With December 1 being World Aids Day, Sandals Whitehouse ramped up its awareness campaign by involving over 100 students at the Godfrey Stewart High School in Savanna-la-Mar, Westmoreland.
The resort chain hosted the students at a movie and rap session on HIV/AIDS/STIs and other related issues on Friday, November 29.
With this year's theme, 'Getting to Zero', in mind, the youngsters were shown a short film titled Class in Session, depicting how teenagers in high school are affected by HIV/AIDS. An interactive rap session later ensued where various topics including STI awareness, transmission, zero discrimination and prevention of new HIV/AIDS cases were explored.
Sandals Whitehouse's public relations and environment health and safety managers, Jervene Simpson and Vilma Smith, also carried out a condom presentation, demonstrating to the group the correct way to check the condom, open, put on, remove, and properly dispose of it.
The session ended with a question-and-answer segment to assess how much the students grasped from the presentation and discussions. Gifts of school supplies along with educational material on the topics that were previously covered were also distributed.
According to student, Thandiwe Clarke, the presentation was very informative and they could better relate to the issues covered through the movie and the open discussion that followed.
"The movie and rap session were enlightening in a fun way, but also very serious and had our interest through to the end. Today, everyone can leave knowing that they have a role to play in protecting themselves from the deadly virus but also know that for those who have already contracted it, they should lend their support and never discriminate or alienate them," she said.
Guidance counsellors at the Godfrey Stewart High School, Annette Sadler and Duken Williams, expressed that teenagers are exposed to sex and sexual activities at every turn; whether through their peers, movies, the internet or other media. "They need to be guided and educated so that they can make informed decisions," voiced Williams. "We know that many of our teenagers are not naïve towards the topic of sex, and it is great to know that Sandals Whitehouse, as good corporate citizens, chose to help us guide our youngsters," added Sadler.