More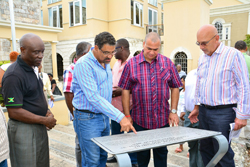 From left: Project coordinator for the Montego Bay Cultural Centre Development, Millard Wright; minister of tourism and entertainment, Dr Wykeham McNeill; Minister of State for Transport and Works, Richard Azan; and chairman of the Tourism Product Development Company, Noel Sloley, pause to read a tablet explaining the Emancipation Monument erected in the courtyard bearing the names of those who made the ultimate sacrifice. -Contributed
Boost for Montego Bay's cultural arts
Creative arts in the Second City will get a major boost by mid-year when the Montego Bay Civic Centre is converted into a major cultural centre that will also serve as the nation's second art gallery.
Hotelier Josef Forstmayr heads the Montego Bay Arts Council which is charged with overseeing the overall development of the civic centre into the Montego Bay Cultural Centre, housing a permanent art gallery under the auspices of the Institute of Jamaica and the National Heritage Trust.
The facility will also house a bistro at which only top-of-the-line Jamaican products will be sold.
Conversion of the civic centre is proceeding apace under the supervision of project coordinator, Millard Wright, who informed Tourism and Entertainment Minister Dr Wykeham McNeill during a tour on last Thursday that it should be completed in another two months.
The project is being funded by the Tourism Enhancement Fund (TEF), to the tune of $42 million.
Grateful to the TEF
Welcoming the development, member of parliament for Central St James, Lloyd B. Smith, said, "Downtown Montego Bay will take on a special look when that particular project is completed, and we are most grateful to the TEF."
During a stop at the Montego Bay Crafts Village, McNeill and his touring party were entertained by cultural artiste, Upside Down, who performed a variety of acts, including dancing on broken bottles and fire dancing.
Cabinet has approved the contract for $44 million to upgrade the market, starting in three weeks. This is also financed by the TEF.
McNeill told the craft traders that they would have to start doing things differently and more professionally. He said a new craft policy was being developed in consultation with the traders "to deal with how this industry is going to be governed", and a regulatory authority is to be put in place.
Also visited on the tour was the restoration of historical monument, The Dome at Jackson Town, which marks the site of Montego Bay's first domestic water supply.