More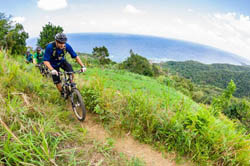 Riders take to the trail during the 2014 staging of the Jamaica Fat Tyre Festival. - Contributed
Connor MacLeod and Jamie Biluk to participate in Jamaica Fat Tyre Festival
Many visitors head to Jamaica for relaxing beach vacations; however, more and more visitors are heading to the island for adventures on two wheels. The mountain biking experience in Jamaica continues to develop, thanks to a company called Singletrack Jamaica (formerly SMORBA) and their Jamaica Fat Tyre Festival.
The Jamaica Fat Tyre Festival has been running since the mid-1990s.The festival is a weeklong, laid-back roots, rock and rum tour running from February 16 to 22 this year. The week starts with a 'Bicycle Bash' kick-off party in Ocho Rios and then travels along various trails across the island, including the Blue Mountains and along the Dunn's River.
In addition to steep terrain, there are a number of other factors that make riding in Jamaica such a unique experience. There are interesting and varied trails, stunning scenic vistas, and a true local experience with trails going right through smaller towns and villages.
North Americans and Europeans have been some of the biggest supporters of Jamaica-mountain biking. Several Canadians, particularly visitors from British Columbia, attend the Fat Tyre Festival and return year after year. This year, videographer Connor MacLeod and Jamie Biluk will be participating. Jamie is a long-time professional Canadian downhill mountain bike racer. He has won numerous downhill races and is a three-time Canadian National Downhill team member. Connor is an accomplished mountain bike videographer who has worked with some of the industry's top athletes. He has participated in the Fat Tyre Festival before with the BC Bike Race crew and is looking forward to this year's festival.
"Jamaica has fantastic mountain biking trail networks across the island," said Jamaica's director of tourism, Paul Pennicook.
"Mountain biking events like the Jamaica Fat Tyre Festival or a custom tour with Singletrack Jamaica offer a unique way to experience our island's spectacular scenery, flavours and culture."
Visit www.singletrackjamaica.com for more details.