More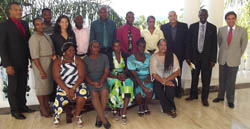 Group awardees with Ambassador Aníbal Jiménez Abascal and Spanish-Jamaican Foundation general manager, Dr Rebecca Tortello.
The SJF supports National Parent Awards
On Wednesday, November 19, The Spanish-Jamaican Foundation (SJF) again joined forces with the Ministry of Education to recognise parents of children from early childhood through to the secondary levels, who, through their actions, have clearly demonstrated their full commitment to the holistic development of their children.
Each year, 24 parents who have shown outstanding parenting skills are selected from the Ministry of Education regions across the island. These parents, along with their families, are hosted at a luncheon by one of the SJF member hotels. The ceremony has become a highlight of National Parent Month activities.
Complimentary hotel passes
The awardees are not only feted, but they also receive passes for complimentary visits to four world-class Spanish Hotels and SJF member companies: Gran Bahia Principe Clubs and Resorts, Iberostar Hotels and Resorts, RIU Hotels and Resorts, and Grand Palladium Resort and Spa, hosts for this year's ceremony.
SJF general manager Dr Rebecca Tortello explained that, "At the SJF, we believe that positive parenting should be commended whenever possible. As a result, we are pleased to once again show support and recognition for these parents who put their children first and work to create strong links between home and school."
SJF president, Ambassador Aníbal Jiménez in one of his first official duties representing the foundation, acknowledged in congratulating the parent awardees that "thoughtful and responsible parenting is extremely difficult and should be commended whenever possible. This is why the foundation is happy to host this event every year, and we again congratulate the Ministry of Education on working to elevate recognition of parenting as an important factor in national development".
The SJF was established in 2006 to foster partnerships between Spain and Jamaica through educational, cultural, environmental and community development initiatives. To learn more about the SJF, please visitwww.spanishjamaican foundation.org.