More
One of the nine villas at Hermosa Cove.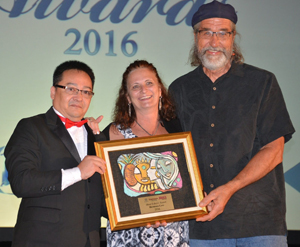 Contributed - Deb and Clayton Korver, owners of Hermosa Cove, accepting their plaque from Go Jamaica Travel's Dave Chin-Tung (left).
Hermosa Cove gets first hospitality, tourism recognition
Claudia Gardner, Hospitality Jamaica Writer
Clayton and Des Korver are still reeling with excitement after their Ocho Rios property, Hermosa Cove, received its first ever hospitality and tourism recognition, which took place at the Hospitality Jamaica Awards 2016 on Saturday, November 19.
Hermosa Cove copped the 'Most Eclectic Award', which was one of 15 bestowed on some of the finest players in the tourism sector, in what was the second staging of the biennial event at the Montego Bay Convention Centre in St James.
The winner of the Most Eclectic Award is presented to a property which is small and less prominent, yet extraordinarily beautiful and unique, with high standards of operation that are similar to larger, well-established properties; one that offers exceptional cuisines, and has done everything possible to remain sustainable and to preserve the environment.
"The feeling is very emotional ... . My wife and I have been on a high for the past few days because we have put so much passion and love into building this place, and from an artist's point of view, to have some of your work recognised. It is very uniquely designed and all custom-built. We left all the trees intact and ensured we preserved the natural environment," Korver told Hospitality Jamaica.
Hermosa Cove consists of nine Caribbean-style boutique villas, which are positioned in a private garden, just a stone's throw from the beach. It also offers, among an array of amenities, two restaurants, Christopher's and The Broken Rudder Bar and Grille; triple cascading pools, private pools, complimentary snorkelling and kayaking, undisturbed forest trails which are home to several endemic bird species, as well as spa pavilion and yoga facilities.
One of the remarkable things about the property is the extent to which the owners made a concerted effort to preserve species' habitats by conserving the general forest cover and shrubbery there, through, among other things, commissioning habitat surveys and geological studies.
Despite the natural beauty and uniqueness of the 12-acre property, which has been dubbed by many visitors as "breathtaking" akin to "paradise" and a "gorgeous estate", it is the staff members whom Korver credits for its high accolades.
"You can build the biggest and most beautiful property, but it is the staff that everything begins and ends with," he said. "When we showed the award to the staff - this award which is so beautiful, such a beautiful work of art - what I saw immediately were the huge smiles on their faces."