More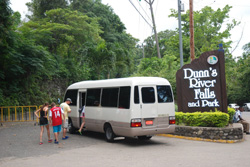 JUTA transports guestsfrom Island Routes' clients such as Sandals Resorts, Beaches Resorts, Grand Pineapple Resorts, the Hyatt Group, Bookit, and Air Canada Vacations to several local attractions.
HIGH FIVES! - Island Routes, JUTA celebrate milestone
The Caribbean's award-winning tour company, Island Routes Caribbean Adventures, is set to celebrate its five-year partnership with JUTA with the launch of an exciting programme of activities designed to strengthen their relationship and heighten standards throughout the country.
The programme, scheduled to commence next year, will incorporate a new awards scheme, enhanced customer service training, tour visits, as well as an inter-regional domino tournament.
In 2009, following the launch of Island Routes, JUTA landed the lucrative deal to transport guests to the company's extensive range of local excursions and airport transfers which includes clients such as Sandals Resorts, Beaches Resorts, Grand Pineapple Resorts, the Hyatt Group, Bookit and Air Canada Vacations.
Don Smith, Island Routes' VP of Airport and Transportation, commented, "Our group's strategic alliance with JUTA has been a fruitful one and continues to grow and strengthen with time. From an operational standpoint, it is imperative that our guests are transported efficiently, reliably and safely, and with JUTA beside us, we can be confident. We believe this new programme of activity will further heighten the experience of those that visit these shores and keep them coming back time and time again."
Island Routes growth
Since its launch, Island Routes has grown from strength to strength and with it, its partners such as JUTA. It is estimated that JUTA currently moves 99 per cent of Sandals' guests from the airport using almost 60 buses per day, as well as 90 per cent of all other clients who use Island Routes.
"The more business we get, the more business we put their way, it's that simple. As a Jamaican company, it is extremely important to us that the tourism dollar doesn't just trickle down to the man on the street, it flows. We believe that this partnership continues to deliver on that promise. JUTA drivers are a crucial part of tourism in Jamaica; they're often the first person visitors remember when they arrive, and the last when they depart."
A fully licensed tour operator since inception in 2009, Island Routes now boasts over 200 experiences, providing over 200,000 last year throughout Jamaica, including the recently launched River Bumpkin Farm in Trelawny. Next month, scores of JUTA, MAXI and JCAL drivers will attend a day retreat courtesy of Island Routes.
Adam Stewart, chief executive officer of Sandals Resorts International, commented, "Our partnership with JUTA is one based on mutual respect, and I would like to publicly thank them for their efforts this past year. 2015 is set to be our biggest year yet, and we couldn't ask for better partners to approach it with. Their professionalism and willingness to invest in their equipment and in the development of their people is much the same as our own and ensures that standards are consistently surpassed."
"Last year at Sandals, we spend spent over $720 million on transfers and tours and I'm proud that this level of investment continues to not only build their supply chain, but through the JUTA association, creates hundreds, if not thousands, of Jamaican business owners and entrepreneurs."
Established in 1974 when tourism in Jamaica had started to gain momentum, JUTA has grown to boast over 3,000 members across the country supported by an expert team made up of mechanics, body shop technicians and administrative personnel, ensuring the best service possible.
Charles Myrie, president of JUTA's Ocho Rios Chapter, added, "This has a huge impact on our members and the positive spin-offs are immeasurable. Thanks to our nationwide network built up over the last 40 years, no one can move as many passengers the way we do at JUTA, but it's not about volume for us. It's about the high level of quality, personal care and attention to detail that we possess within our fleet. This relationship started many years ago when Sandals Chairman Gordon 'Butch' Stewart gave us a chance with one of his hotels in Negril, and almost 30 years later, we handle 99 per cent of all Sandals' transportation needs."