More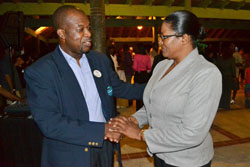 'Welcome' is what Sunset Jamaica Grande Resort's general manager, Clifton Reader, seems to be saying to new superintendent of police for St Ann, Yvonne Martin-Daley, as she arrives at the managers' cocktail party.
Sunset Jamaica Grande welcomes new superintendent
Carl Gilchrist, Hospitality Jamaica Writer
New superintendent of Police for St Ann Yvonne Martin-Daley was special guest at the managers' cocktail party at the Sunset Jamaica Grande Resort and Spa on Thursday as the hotel officially welcomed the officer to the parish.
The hotel's general manager, Clifton Reader, said the gesture was a way for the hotel to show its appreciation to the police for the work they have been doing in the parish.
Martin-Daley was accompanied by several other members of the Jamaica Constabulary Force, including Senior Superintendent Patricia Coulbourne-White from Area Two; Deputy Superintendent Rudolph Taylor; Assistant Superintendent in charge of Ocho Rios,Throyville Haughton; Detective Sgt Kirk Nicholls and Sgt Lorna West-Small.
Other specially invited guests included Custos Radcliffe Walters and his wife Norma, Deputy Mayor Delroy Redway, Chamber of Commerce President Oral Heaven, Pixley Irons of the Rotary Club, former JCF members, Neville Warmington and his wife, among others.
The managers' cocktail party, held once weekly, is where managers and newly arrived hotel guests socialise.