More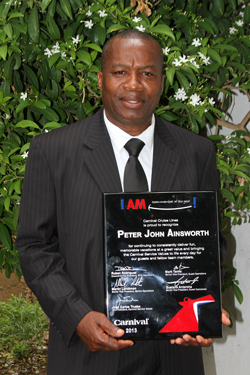 Peter Ainsworth. - Contributed
J'can is Carnival Cruise Lines' I AM Team Member 2013
Richard Morais, Gleaner Writer
FALMOUTH, Trelawny:
A Jamaican, Peter Ainsworth of Granville, Trelawny, is the international Carnival Cruise Lines I AM Team Member of the Year for 2013.
Ainsworth is the senior team headwaiter and the first ever fleet-wide winner. Having won the Worker of the Month Award in November on his present ship, Carnival Glory, Ainworth went on to win Worker of the Year. This qualified him for this big award. He was among 23 other qualifiers from each of the Carnival Cruise Lines 24-member fleet. However, with the average crew of 1,500 per ship, Ainsworth would have competed against thousands of other crew members in his company's fleet to win this prestigious award.
The 29-year veteran with Carnival Cruises said his hard work and dedication are among the main reasons for his achievement. "The performance over the years, the guest feedback, my commitment, everything has made it possible."
He is also grateful to the company which has provided the opportunity for his employment, and reminisces on an incident when he was sick and the company went beyond the call of duty in providing care to him.
Carnival Cruises describes Ainsworth as a very dedicated individual who has great pride and passion for his job. "He aims to deliver his best and this is evident in his quality of work and service standards. He is willing to go the extra mile and works well with minimal supervision," said its managers in a recent newsletter.
Asset to the company
They added that Ainsworth takes feedback constructively and was constantly looking for ways to improve. "He shows genuine care for his team and is always willing to step in and assist, especially when the going gets tough. It concluded that he is a great asset to the company and has gained respect from management as well as others," said the organisation.
The I AM Team Member awardee, who is currently home on vacation, was recently flown to Miami, Florida, with his wife of 31 years, Dorset, to accept his award at a gala ceremony at the company's head offices.