More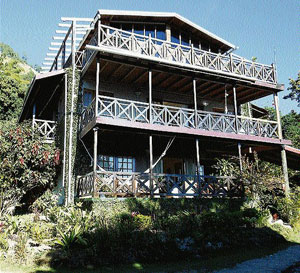 The Forres Park main house.
Feel at one with nature
Forres Park is a small, intimate 10-bedroom nature retreat and spa snuggled in the grand ridge of the Blue Mountains in Jamaica. It is built on a 60-acre working coffee farm that offers the best Jamaica shade-grown Blue Mountain coffee.
The Swiss chalet-style house and cabins have spacious patios where you can take in the breathtaking views of the Blue and John Crow mountains, which will encourage you to feel at one with nature. Golden rays of sunlight glistening through the hills greet you with each dawn as you wake up to the loving embrace of Mother Nature rejuvenating mind, body and spirit.
At Forres Park, you can be adventurous or to simply relax in your surroundings. The choice is yours.
The quiet, still, serene ambience is broken only by birds singing. Birdwatchers can enjoy locating the 28 endemic and many of the 200 other Caribbean resident and migrant species. For more adventurous guests, a variety of activities with varying levels of adventure can be arranged by your hosts. The most popular activities at Forres Park are the Coffee Farm tour, birdwatching, and the famous hike to Blue Mountain Peak.
The Blue and John Crow Mountains were listed as world heritage sites in July 2015 by the United Nations Educational, Scientific and Cultural Organisation. This prestigious accolade is one more reason to visit Forres Park, nestled in the remarkable Blue Mountains.