More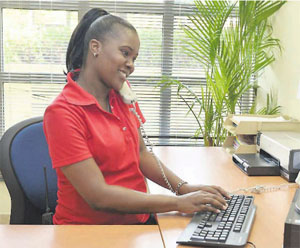 Angellie Thompson-Dale
Angellie Thompson-Dale making strides at Iberostar
Janet Silvera, Senior Gleaner Writer
WESTERN BUREAU:
Another Jamaican female has been promoted to assistant general manager at one of the three Iberostar resorts in Montego Bay.
The latest addition to the senior management team is Angellie Thompson-Dale, who has been with the resort chain for the last five years. Thompson-Dale is now second in command at the Iberostar Beach Hotel (popularly known as Hotel One).
The Beach Hotel was the first of three to open its doors in 2007.
Thompson-Dale, a graduate of a joint programme between the Western Hospitality Institute (WHI) and Consolation College in Toronto, Canada, has responsibility for some 371 employees.
Her relationship with Iberostar started in 2009, when she was employed to the Spanish group as a concierge at their top-brass Grand Hotel (Hotel Three).
"I was a member of the new team when the hotel opened, and during the clean-up period, I seemed to have proven myself because by the time the resort opened officially, I was named assistant public relations manager," Thompson-Dale told Hospitality Jamaica.
During the preparation period, like a true leader, she automatically took on the role and was noticed by her managers. "While we were putting the furnishings into the rooms, I automatically took the lead role without even being told," she reminisced.
Within months on the job, she was promoted to public relations manager, and it took a mere two years for her to cop the coveted Manager of the Year award at the hotel's annual staff awards.
From the interview with the new assistant general manager, it was obvious that she was accustomed to being a high achiever.
Thompson-Dale was born in Manchester, but grew up in Kingston. She attended Kingston Technical High, and was named the top economics student at the school before earning a scholarship to WHI in Montego Bay.
Her first job in the tourism industry was at the Holiday Inn Sunspree Resort, where she did an internship as an entertainment coordinator. She later moved to the Ritz Carlton, Rose Hall, where she did a short stint in guest relations.
Today, she looks back and says, "Those jobs were fun, but after doing my bachelors, I soon realised it was time to manage people. Entertainment was no longer challenging."
The knowledge she gained while pursuing her degree in hospitality management helped to enhance the area of expertise in which she is now involved, such as project management, "my problem-solving skills, leadership, delegating skills, and total quality management."
EFFICIENCY A PRIORITY
In addition, being a performance-driven individual, she understands what it takes to, and how important it is to, achieve one's goals, "I place efficiency at the top of my priority list."
She credits the Iberostar management team with the foresight in promoting the Jamaicans in the system.
"Our management team encourages individuals like myself who show potential throughout all levels of the property. I must say that the teams provide me with great tools for success. I get the opportunity to be creative and generate ideas."
Even when there seems to be differences in opinions, she said she is never made to think that her input is not essential.
"A great deal of my development came from the managers and Iberostar's willingness to train and develop others and see them succeed. My journey will not end at my current level; it will continue to grow while I'm here," she said with conviction.
As assistant general manager, she controls hotel expenses and maintains budgets, oversees the day-to-day operations of the hotel is, and ensures that common objectives are executed seamlessly and professionally, among other responsibilities.
janet.silvera@gleanerjm.com