More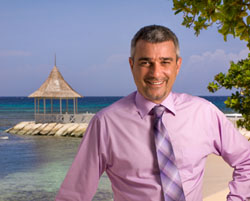 Zerunian named among top hotel managers worldwide
Janet Silvera, Hospitality Jamaica Coordinator
Jamaican hoteler Aram Zerunian has been nominated among the top 27 hotel managers worldwide by Luxury Travel Advisor magazine, one of the most credible in the travel and tourism industry.
Zerunian, who is general manager at the Half Moon, A Rock Resort, is one of two Caribbean hoteliers to make the powerbroker's list, which has some of the biggest names in travel and tourism, including, Stefan W. Bollhalder at the Shangri-La Hotel, Paris; Walter Brindel; Park Hyatt, New York; Rainy Chan, China; and Mehdi Eftekari in Los Angeles.
The other Caribbean hotelier to make the list was Ross Stevenson of Cap Maison in St Lucia.
Surprised by the nomination, Zerunian said he was humbled and hounoured to be named among some of the most powerful names in the industry.
"We here in little Jamaica standing tall with hoteliers in places such as London, Rome, Bangkok, Orlando, Hawaii and Fiji, tells me we are doing something right," said Zerunian.
He was designated the Jamaica Hotel and Tourist Association's (JHTA) 2014 prestigious Hotelier of the Year.
Extensive experience
Born in Austria, Zerunian has dedicated 25 years of his life to the various aspects of resort operations. He has had extensive experience in all aspects of resort operations including construction, renovation, new facility opening, project management, budgeting, training, food and beverage, and administration.
His illustrious career began as executive assistant manager at Trident Hotel and Villas in Port Antonio. He later worked at Plantation Inn and Sandals Ocho Rios.
He has worked at Half Moon for over 13 years, where he currently leads a team of over 800 men and women. He is responsible for the overall operations of a 400-acre, 398 room resort with extensive recreation facilities including six dining outlets, eight bars, championship golf course, 68,000 square-foot spa, children's activity centre, shopping plaza and more.
Under his leadership, he administered a U$30 million annual operation budget, including directing cost-cutting exercises to maintain efficiency and improve year-end fiscal performance. During his tenure, he has directed the redevelopment and re-launch of resort's 42-year-old signature restaurant, revamped food and beverage operation and performance; established retail and golf operation; and held direct responsibility of opening of the award winning Fern Tree, the Spa at Half Moon.