More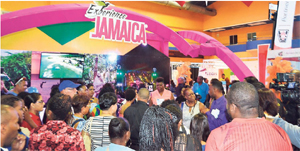 CONTRIBUTED PHOTOS - A shot of visitors to the Experience Jamaica Village.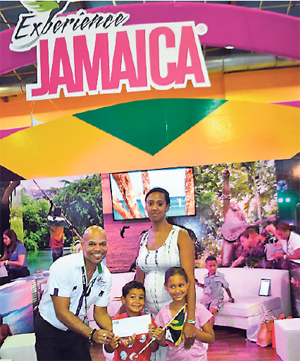 Experience Jamaica campaign excites Caribbean audience
"I've wanted to come to Jamaica for some time now." "I have to take a trip to Jamaica soon. My friends have been there and came back with amazing stories."
These are some of the sentiments that were echoed repeatedly during the Jamaica Tourist Board's (JTB) recent launch of Experience Jamaica Caribbean at the Trinidad Invest Convention (TIC) trade show earlier this month. As the JTB pursues the Caribbean in a bid to grow arrivals out of that market, the TIC was an ideal forum to interact with thousands of exhibitors, buyers and consumers.
For four impactful days, the JTB, along with tourism partners participating in the Experience Jamaica Caribbean 2017, brought the sound, look, feel, taste, vibe and energy of Destination Jamaica via the Experience Jamaica Village at the Centre of Excellence in Trinidad.
Visitors came in droves to interact with representatives from Couples Resorts, Melia Braco Village, The Courtleigh Group, Dream Entertainment and Grand Palladium Resort and Spa.
"I want to go back to Jamaica again ... six months away is too long," said one of the visitors.
"I want some Devon House I'Scream, did you bring any?" joked another.
People were interested in experiencing dancehall and reggae music in the land of their birth. They want to eat 'jerk' from the jerk vendor, to walk the miles of beaches and plunge in the invigorating waters, or simply hang out with Jamaicans and soak in the contagious vibe. There was no shortage of stories about their last Jamaica experience and eager anticipation for the next trip.
encourage vacation
"The Experience Jamaica Caribbean campaign is designed to encourage Caribbean residents to vacation in Jamaica," said Marcia McLaughlin, JTB's deputy director of tourism, marketing. "We know that we have an amazing tourism product, and we want our Caribbean neighbours to come and enjoy. Our research has shown that they are already travelling to Jamaica, primarily for business. Through this campaign, we are inviting them to stay a little longer for pleasure."
The offerings during the Experience Jamaica Caribbean are alluring. Launched on July 8 at the Village, Caribbean nationals will benefit from deep discounts of up to 50 per cent on accommodations, attractions, events and ground transportation from over 40 participating tourism partners. These reduced prices can be enjoyed up to December 15, 2017.
Giveaways of airline tickets, hotel stays and tickets to hallmark events added excitement. "My children saw the interviews on television about Jamaica and insisted that we have to come here," said Olivia Ramkissoon.
"Now that they are here, we can't get them to leave," she exclaimed. This experience was quite memorable for Ramkissoon and her family and to top it off, she walked away as the winner of a family vacation."
When the curtain came down on the 15th staging of TIC, over 11,000 persons from countries across the region attended the show. Of the 275 exhibitors and 210 booths, the Experience Jamaica Village was voted the Best Booth in the large category, second only to Tobago. "Our booth exhibit was exceptionally done and stood out as one of the best we have had over the years," said Shanna-Marie Israel, marketing/exhibitor coordinator, Trinidad Invest Convention.
"The life and genuine Jamaican vibe that were brought to the convention was undeniable and unforgettable. Congratulations on being second in the running for winning Best Booth in the large category."