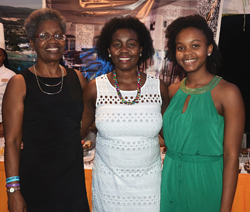 From left: Treasurer of the JHTA Montego Bay Chapter, Mary Chambers, president of the Montego Bay Chamber of Commerce, Gloria Henry, and Caleigh Reid were among the hundreds of attendees at the event.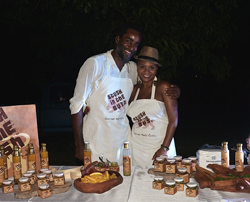 Christopher and Lisa Binns of Stush in the Bush were among those who exhibited at the event.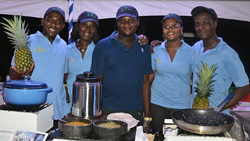 Members of Round Hill Hotel's team served some classic Jamaican dishes.From left: Odain Palmer, Roushell Riley, Marvin Robinson, Tanisha Webster and Andrew Dundas.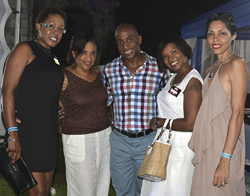 President of the JHTA Omar Robinson (centre) poses with (from left) Stayce Ingram, groups and meetings manager at Royalton White Sands; Joy Roberts, acting executive director of the Tourism Product Development Company; Kerry-Ann Quallo Casserly, regional sales and marketing director at Blue Diamond Resorts; and Shari Russell Edwards, rooms division manager, Deja All-Inclusive Resort.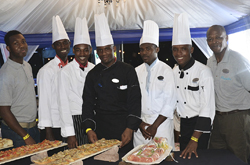 Royalton White Sands' culinary team cooked up a storm.From left: Gareth James, Mark Gordon, Chris Hanson, Marlon Ricketts, Zamar McKail, Demar Graham and Easton Vidal.
Former minister of tourism, Dr Wykeham McNeill, and St James Parish Councillor Suzette Brown turned out to give their support.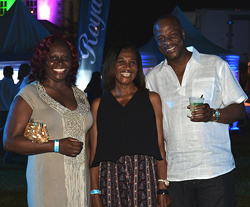 Mayor of Lucea Wynter McIntosh Wynter and his wife, Andrea (centre), were in attendance along with their friend, Dawn Ramsay.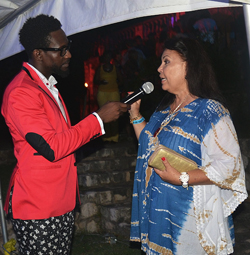 Angele Nunez, manager operations of Great House, speaks with Granville Morgan, coordinator of the Jamaica Tourist Board's Meet the People Programme about the Rose Hall Great House tour.
JHTA celebrates fine Jamaican cuisine
Claudia Gardner, Hospitality Jamaica Writer
The lush lawns of the Rose Hall Great House in Montego Bay provided the perfect setting for the Montego Bay Chapter of the Jamaica Hotel and Tourist Association's (JHTA) fundraiser dubbed A Celebration of Fine Jamaican Cuisines', on Saturday night.
Chapter chairman Robert Headley told Hospitality Jamaica that he was as impressed with the turnout as he was with the culinary delights offered by some of St James, Hanover and Trelawny's most exquisite hotels.
"This event has seen one of the best turnouts we have had. We are very happy with what we have seen. It's all in aid of charity programmes that we are involved in, and this is one of our main fundraisers. We usually cater to somewhere between 250 to 300 people. Tonight I am seeing that we have somewhere between 300 to 350 people, so it has been very good in terms of public support," he said.
Headley credited his planning and coordinating team, whom he said once again put on another stellar event, and the corporate sponsors in the hospitality sector whose efforts ensured the event took place.
IMPRESSIVE QUALITY
"The quality of food and beverages is very impressive. And I want to say thank you to the machinery behind it - the JHTA members that came behind and put this together," he added.
"I am happy with the support of all the sponsors and the hotels that came and put this together. The sponsorship support has been very good," he said.
Among the sponsors of the event were Royalton White Sands, Appleton Estate, Caribbean Producers Jamaica, Hilton Hotels and Resorts; Round Hill Hotel and Villas; Sandals Resorts, Heart Trust NTA, Riu Resorts, Half Moon Resorts, Holiday Inn Resorts, Holiday Inn Resorts, The Tryall Club, Crazy Jim Ice Cream, Melia Braco Village and the Rose Hall Great House.