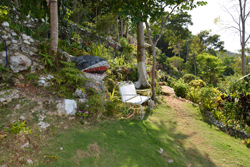 A painted stone shaped like a shark's head at Ahhh... . - Photo by Claudia Gardner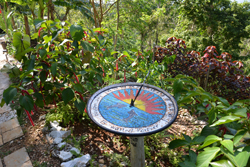 An old sun dial at Ahhh... .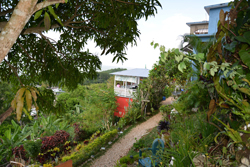 One of the scenic views at Ahhh... .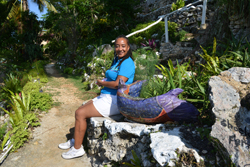 Co-owner of Ahhh, Tamika Williams sits at a bird-watching spot on the propertys.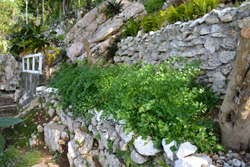 Organically grown cilantro is among the numerous herbs to be found at Ahhh... Ras Natango.
Ahhh... true ecotourism site
Claudia Gardner, Hospitality Jamaica Writer
Anyone who visits Ahhh... Ras Natango Gallery and Garden, in the hills of Camrose in St James, will no doubt agree that it is one of, if not the best bird-watching and bird interaction sites in Jamaica.
They will agree, too, that it is one of the best eco-learning sites, not only for the very scientific-minded, but for those who appreciate the proverbial 'all things bright and beautiful' and 'all creatures great and small'.
Located mere minutes from the city of Montego Bay, Ahhh... is a respite for humans, and likewise for birds, because the owners, Tamika Williams and her husband, Ras Natango, have created a supporting environment through a perfect blend of flowering plants, trees and herbs, where hundreds of birds and other living things are able to thrive effortlessly. This they have achieved by using the natural lay of the land, their scientific background, their love of nature and their own ingenuity.
Ahhh ... Ras Natango is an asset to Jamaica's biodiversity conservation efforts, as it is a haven for a total of 18 of Jamaica's 28 endemic birds, including the Jamaican Tody or the Rastabird, Hopping Dick, Banana Quit, Jamaican Patoo, Jamaican Mango, and others. Of course, the Jamaican national bird, the Streamer-tailed Humming bird, can be found there in droves and can be spotted flitting about every second. Of note is the very tame 'Rudie', whom it is said has fathered many of the national birds in the garden.
But Ahhh... is not like the typical botanical gardens in Jamaica which are set on flat sprawling expanses of land. Instead, it is tucked into the hillside with a myriad of different species of flowers and herbs planted on contours running parallel to meandering rustic footpaths, which facilitate an easy stroll throughout.
Birds are not the only creatures which are nurtured at Ahhh...; honeybees are, too. One section of the garden is specifically dedicated to ensuring the flourishing of butterflies, and so plants on which those creatures feed are specially cultivated for their benefit. For the parrots, there are numerous bitter damsel trees, a favourite nesting place for Jamaican parrots.
Plant lover's delight
Ahhh... would delight any botanist or plant lover from anywhere in the world as hundreds of different plant species are found on less than an acre. The herbs and spices grown on the property are used in the preparation of scrumptious lunches and natural juices for visitors.
Almost all the exotic herbs one can think of can be found at Aaah... . Cilantro, oregano, parsley, celery, basil, peppermint, rosemary, comfrey, fresh cut, dill, chard, aloe vera and lemongrass grow abundantly, as well as numerous flowering and ornamental plants such Joseph's coat, cana lily, gynora, and blue pea, an endemic Jamaican plant.
For the visitors to the attraction, Ahhh... Ras Natango Garden and Gallery soothes the human soul. It is a respite where all the cares of the world are left at the foot of the Camrose hill, and patrons can simply do nothing but enjoy the sounds cool breezes and the sounds of the birds and, or sit on a rock and enjoy the ambience and be at their most elemental.
The property incorporates the natural environment into the artwork, some of which is almost indescribable. But rocks and wood from fallen trees have been painted to create beautiful works of art.
Botanical Gardens in Jamaica are few and far between, but the Ahhh Ras Natango Gallery and Garden is a welcome one. It has many things to see and many things to learn. It is a true ecotourism site, where man has aided nature and the two work together in glorious harmony.