More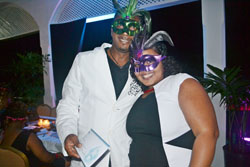 This masked couple walked away with the prize for being the best-dressed couple.
JHTA Ocho Rios/Runaway Bay Chapter hosts charity event
Carl Gilchrist, Hospitality Jamaica Writer
The Ocho Rios/Runaway Bay Chapter of the Jamaica Hotel and Tourist Association (JHTA) held its annual charity event at the Roaring River Great House in St Ann on Friday night.
Held under this year's theme, 'Phantom of the Opera', the event attracted a moderate turnout of persons, mainly from the tourism sector. However, the support from hotels in terms of food and refreshment was fantastic, with the Couples, Sandals and Jewel brands leading the way.
Chapter chairperson, Vana Taylor, was upbeat about the upcoming winter tourist season, indicating that that Ocho Rios was rebounding.
Master of ceremonies, Ricardo Henry, the business development manager for VIP Attractions, kept the audience alive as he gave away several prizes, compliments of attractions such as Dolphin Cove, Mystic Mountain and Green Grotto Caves, among others.
The annual event is used to raise funds for various charities which the JHTA supports. Over the years, the JHTA has assisted the Helping Indigent Persons, Famplan Jamaica, Windsor Girls' Home, Sunshine School of Hope, St Christopher's School for the Deaf, the police, and with the provision of various scholarships.