More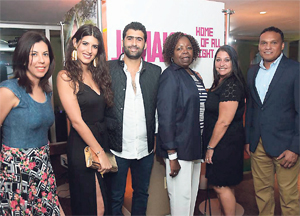 CONTRIBUTED PHOTOS Jamaica Tourist Board's (JTB) representatives at the Taste of Tennis event (from left): Michelle Catin, e-commerce director of segments and social media for Palace Resorts; Natalia Chapur and Jabib Chapur, vice-president of food and beverage for Palace Resorts; Marcia P. Sinclair, district sales manager – Northeast USA for the JTB; Kathy Halpern, vice-president of global marketing for Palace Resorts; and Kristopher DaCosta, media relations manager, JTB.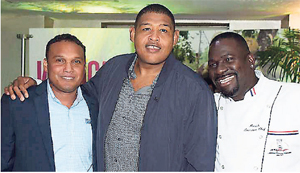 From left: Kristopher DaCosta, media relations manager at the Jamaica Tourist Board (JTB); Omar Miller, actor from HBO's television series 'Ballers'; and Walkerswood's corporate Executive Chef Wenford P. Simpson pause for the camera at the JTB's lounge at the Taste of Tennis event.
Jamaican chefs take centre stage at Taste of Tennis in New York
The Jamaica Tourist Board (JTB) partnered with Palace Resorts, Miss Lily's, Appleton Jamaican Rum, Red Stripe and Walkerswood in hosting the Home of All Right Lounge at the 18th annual Taste of Tennis.
The event which brings together the world's celebrated tennis players, tennis fans, celebrities and top chefs, was held at the W New York Hotel on August 24, and attendees were served an array of Jamaican specialties, including:curried ital stew with roti by Chef de Cuisine Andre Fowles of Miss Lily's/Rockhouse; Cajun escoveitched shrimp on watermelon arugula salad with guava vinaigrette and pulled jerked chicken over curry succotash with raisin flatbread by Chef Wenford P. Simpson, Walkerswood's corporate executive. Moon Palace Jamaica's Pastry Chef Karina Rivera created decadent desserts including key lime-flavoured tennis ball macaroon; s'mores with burnt marshmallow, chocolate mousse, and graham cracker and Orelys Namelaka with strawberry gel and coconut streusel. To complement the savoury and sweet treats, patrons sipped Red Stripe and Appleton's 'Match Point' Rum Punch.
Taste of Tennis is deliberately staged just before the start of the US Tennis Open in Flushing Meadows in New York, and the weeklong celebration has become one of the most anticipated events on the tennis calendar. Given its appeal, the event is an ideal platform to dish out authentic Jamaican cuisine and great Jamaican music. The Jamaica Tourist Board continues to capitalise on this unique opportunity in promoting the island as one of the signature places for travellers to visit for a rich gastronomical experience. From the unique foods, to mouth-watering culinary creations, Jamaica's culinary ambassadors continue to satisfy palates around the globe, using Jamaica's gastronomic prowess, as one of the elements in defining the island in the international marketplace.