More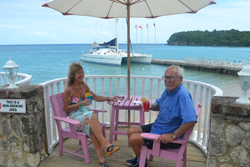 Leonard and Joan Holdsworth
Hotel welcomes couple for 25 years straight
Shaw Park Hotel turns on the old charm
Carl Gilchrist, Hospitality Jamaica Writer
The allure of Shaw Park Beach Hotel and Spa's old world charm combined with modern-day service of its excellent staff, has been having amazing effects on the guests who vacation at the boutique hotel.
Except for two years when the hotel was closed, Leonard and Joan Holdsworth from London, England have visited the Cutlass Bay, Ocho Rios-based property every year for the past 25 years.
And the retired couple say they will be back for yet another visit, next year.
"We always come for my wife's birthday in February," Leonard explained to Hospitality Jamaica last Wednesday. "We love this hotel ever since we came here, it's old fashioned, it is not high-rise. This is also the best natural beach in Jamaica, it's a lovely hotel, and we just keep coming back."
Getting the same birthday gift year after year for 25 years may not seem appealing to everyone, but Joan is delighted and wouldn't switch it for anything else.
"I think it's fabulous, I'm very lucky," she said with a huge smile. "He enjoys it as well, of course!"
Most times, they will spend two weeks, nowadays just relaxing, swimming or doing some shopping. Over the years, they have toured the entire island, more or less, and done just about everything, according to Leonard.
"I've done everything, I've played Noel Coward's piano, I have climbed Dunn's River falls. I love Jamaica," he stated
"And I love the food, the fish is very good here in the hotel," his wife put in.
It was a lawyer friend of his, an English man married to a Jamaican woman, and who owned a house in the Ocho Rios area who recommended the hotel.
"So we came and we just carried on coming," he said.
Leonard used to run his own publishing company, putting out magazines and books on a wide range of topics including music. He recalled meeting Bob Marley in London in the 1970s.
Beautiful
Joan was a florist, running her own flower shop. She is impressed by the sceneries in Jamaica.
"It's lovely coming here, seeing all the flowers," she said.
Shaw Park Beach Hotel is said to have been a great house built in the early 20th century, which was later converted to a hotel. It is unique in that every room not only has an ocean view, but they are just three or so steps from the beach, which spans over 3,000 feet.
"It's one of the things guests also love; you wake up in the morning, you hear the ocean lapping against the sand," explained hotel manager, Michael Callen.
"Another beauty about the hotel is that our main dining area sits literally on the ocean. It's that type of charm that makes Shaw Park really special and unique. A lot of our guests who come back refer to these things."
It's a quiet hotel, one where everybody seems to know your name when you stay there. Guests also return for that sort of intimacy. And they return, too, because of the staff, for whom Callen has high praises.
"The staff are exceptional," he said. "I've been in the hotel business from as far back as 1987 and I will tell you, these are some of the most wonderful staff I've ever had the pleasure to work with."
The Holdsworths are not the only ones charmed by Shaw Park's exquisite taste. Just last week, four couples returned to vacation at the hotel for the fourth year running. And they have already booked for next year!