More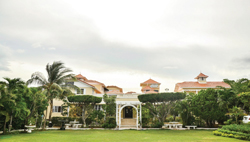 A view of the front of the hotel. - Contributed Photos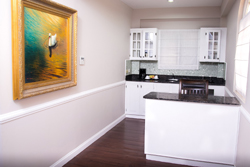 The Eden Gardens lifestyle says it all.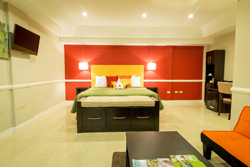 The Blue Mahoe Suite at Eden Gardens.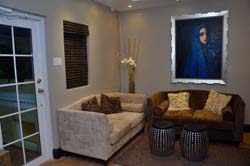 Waiting area in the spa at Eden Gardens.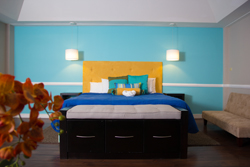 A bedroom at Eden Gardens.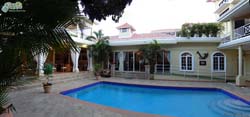 The swimming pool at Eden Gardens.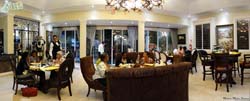 Eden Gardens: An oasis in the city
Janet Silvera, Hospitality Jamaica Coordinator
An executive lounge plays host to a baby piano; the floors leading into the main entrance boast of being original and no other restaurant in Kingston looks or feels like their Tiffany's Tea House.
Her name is Eden, and she is more than 100 years old. Rebranded in March, she now stakes claim of having attained the top position as the grand dame of Lady Musgrave Road in Kingston.
Hospitality Jamaica recently slept, ate, sampled and savoured, the offerings at Eden Gardens Resort and Spa, nestled in the heart of the capital city. This peaceful oasis, rebranded in March 2014, could easily be missed because of how well hidden it is.
The difference - wellness is the lifestyle. From the medicinal lemongrass and ball moss tea; the bissy (kola nut); guinea hen weed herbal tea fortified with vitamins and minerals to the array of New Age and traditional treatments within the confines of their state-of-the-art spa and the fitness programme equipped with an instructor, this resort literally invites its guests to revitalise their passion for life, while reliving their youth.
Tranquility surrounds the property, while luxurious Victorian pieces of furniture are a feast for the eyes. The most defining feature of the property, however, is the rich array of chandeliers that dresses the ceiling of each room.
There is nothing mundane or normal about this boutique resort, its uniqueness is evidenced in dining options at its three tantalising restaurants, namely, Tulips, which offers casual dining; Black Orchid, for those who wish to dress up for a fusion of Italian and international; or enjoy salads, gourmet sandwiches and soups at Tiffany's Tea House.
Tiffany's was a favourite with the Hospitality Jamaica team, as this fabulous restaurant, which serves breakfast, carries some of the most beautiful pieces of furniture, each with its own uniqueness.
Facing Tiffany's is a featured pool, built in the 1940s. For years this remained a decorative and conversation piece, until recently when the Dr Henry Lowe-led team decided to open it up to guests for swimming.
The area around the pool is also used for cocktail purposes, but the most eye-catching feature in this location is the natural juice bar and the 'juicetender', Douglas Wright, who blends what he calls healthy alternatives.
"As long as it is natural and healthy, it can be blended," he told Hospitality Jamaica, adding that cucumber was quite popular at the juice bar because of its antioxidant properties.
"Because we are a health and wellness resort we tend to leave out sweeteners, but we are also very flexible, and tailor our juices to the needs of our customers," said Wright.
The juice bar opens at 9 a.m. and closes at 5 p.m. It is set within the trunk of an East Indian mango tree and in season, Wright picks mangoes from the trees to blend juice. The same, he said, is done with the Otahiti apples, soursop, lime and coconut which are grown on the property.
Big on conservation and environmental preservation, Eden Gardens Resort and Spa is also home to another mango tree which is more than 100 years old. "Dr Lowe refused to cut it when he bought the property and instead constructed the buildings around it," sales coordinator, Shamar Clarke revealed.
Dr Lowe has owned the property since 2002 and he has since put in three restaurants, 11 indoor and outdoor banqueting facilities and two gift shops.
With the emphasis on wellness, Eden Gardens offers signature massages, LED treatments, clinical facials, body treatments, hair and nail care, facial and body waxing. A visit to the spa is not complete unless you experience the hydro room.
"Our spa is the only one of its kind in the Caribbean; our cyber chair, with hands that walk on the body, takes you on an unforgettable journey. The beauty of this chair is the LED lights that focus on the face while it is being treated," boasted Clarke.
Eden Gardens guests are encouraged to get fit, have fun, get in shape, doing aerobics, Zumba, yoga, and sauna with the help of certified personal trainer, Rohan Gordon, who has been at it for 15 years.
Walk-in guests are also accepted.
Although weddings weren't in the Hospitality Jamaica calendar during the visit, Eden Gardens stakes its claim as Jamaica's only full-service convenient wedding centre.
"We boast exquisite venues for both ceremony and reception and catering to every aspect of your wedding," said the Kingston hotel.
janet.silvera@gleanerjm.com