More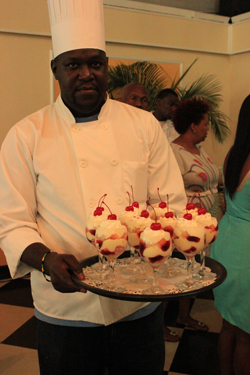 Kurt Williams, pastry supervisor at Terra Nova, shows off a dish is of fruit parfait. - Photo by Makonnen Hanna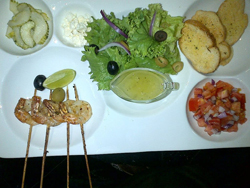 Food prepared by Terra Nova.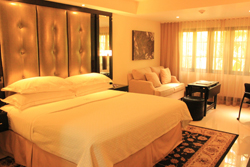 The Gold Suite at the Terra Nova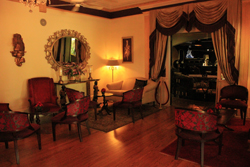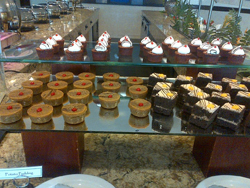 Dessert. (Jamaica Pegasus)
Brown stew fish. (Jamaica Pegasus)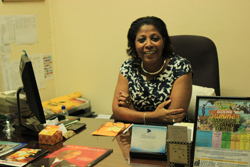 Prudence Simpson, Director of sales. (Jamaica Pegasus)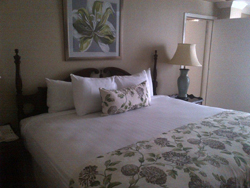 The Pegasus Trelawny Suite.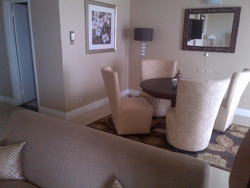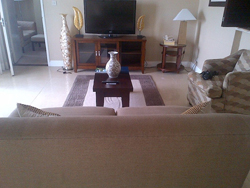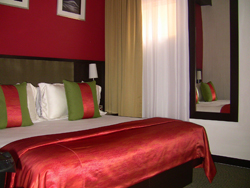 A bedroom at the Spanish Court.
The lounge at the Spanish Court.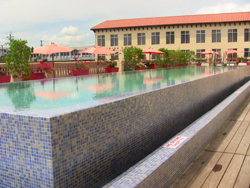 The pool at the Spanish Court Hotel.
Sleeping over in Kingston
Barbara Blake Hannah, Contributor
The Terra Nova All Suite Hotel - boutique luxury in a historic setting
"If you're leaving home to sleepover, you should be staying somewhere better than home," - Michele Hussey, grand dame of the Terra Nova All Suite Hotel.
Built in 1924 as the home of a wealthy Jamaican and converted into a hotel in 1959, the historic Terra Nova is now owned and managed by the Hussey family, who takes pride in the fact that the property's 47 suites offer the luxurious standard of grand hotels around the world.
Terra Nova's guests live in palaces, if the hotel's 'better than home' accommodations are a yardstick. Suites have elaborate bed decor and gold-trimmed furnishings, Egyptian cotton linens, smart TVs that enable internet connection, rain showers, cedar-lined closets and over-the-bed light switches, among the many special features.
Guests will notice small touches such as Moulton Brown bathroom toiletries, TV remotes sanitised and plastic-wrapped, safety boxes that can hold laptops, computer desk and Wi-Fi connection, terry-cloth robes and shower slippers, that make it easy to understand why the guestbooks contain signatures of titled persons and athletics superstars who prefer privacy. "These details are what make us stand out from the others," said Michele Hussey, who keeps up to date on the special features luxury hotels around the world offer guests so as to interpret them in the Terra Nova.
Decor and food designer Ardela della Costa, responsible for the hotel's look and updates, said, "The Terra Nova is interpreting the old features to make them more contemporary for the younger generation." These features include maintaining the opulent Old World decor of the gilded and award-winning Regency Restaurant, under whose crystal chandeliers many marriage proposals have been made, yet transforming a lobby space into the Regency Bar, a popular nightly oasis for in-house guests and locals enjoying a night out.
Food has always played a major part in the high reputation of the Terra Nova, winning annual food awards for cuisine and ambience. Presentation always wins high marks, and service is white glove at times. Terra Nova prides itself on offering the finest wines to accompany fine dining, with a large wine bar taking pride of place in the Regency Bar, where one can also dine on a light or full meal, day or night.
There are beautiful exterior features of the Terra Nova, such as the small gallery of Kapo sculptures and photo art featuring plants from the hotel's flowering gardens, the lobby's antique furniture, swimming pool and adjoining gym, and especially the Terra Nova grand piano tinkling through the evening's dinner hours.
Add to these a patisserie offering pastries and chocolates made in-house and the now-famous Sunday Brunch, where a long buffet of a variety of salads, pasta, meats, seafood, vegetables and pastries attracts a full house each week of Jamaican families, it is clear why the Terra Nova earns its reputation as a hotel with a regal Jamaican difference.
As charming and as inviting as the Terra Nova is, a hotel may be preferred where a lot is happening. If so, The Jamaica Pegasus is minutes away.
The Jamaica Pegasus - Kingston's landmark
Sit in the lobby of The Jamaica Pegasus for just 10 minutes, and one is certain to see either a famous celebrity, just arrived in town, or someone you know other than the person you came there to meet. Ever since its opening, The Pegasus has been a home for royalty and heads of state, political leaders, from Castro to Mandela, and entertainment superstars - Jamaican and international, but especially as a home for 'just-us' Jamaican people. The meeting rooms have hosted thousands of important state functions, entertainment events, weddings and information seminars.
Two years ago, the Hendrickson family, led by patriarch Karl Hendrickson, added The Pegasus to its portfolio of seven Jamaican hotels. Since then, the familiar landmark has undergone a beautiful update in decor and space use that is still not complete, but ready to meet guests.
The famous lobby has been enlarged by addition of a bright cafe, open 24/7, offering a wide selection of pastries and light meals, an open terrace overlooking the pool for relaxed dining, and a cozy blue-lit bar that is popular at nights, all of which provide more space for the constant flow of people in, out and through the hotel. Everywhere, the Hendrickson hotels' signature touch of blooming orchids can be seen decorating corners and meeting places.
Upgraded rooms
With all but one floor of room refurbishing complete, the 16th floor luxury suites have undergone special attention by The Pegasus' new management. The two-bedroom Trelawny Suite features tones of sand and brown upholstery with gold highlights, lamps and ornaments, while pale-green florals complement bedroom linens of a huge, comfortable bed set high off the ground. With floor-to-ceiling living room windows overlooking the breadth of Kingston and Port Royal, one can see why an English royal spent a month here incognito years ago and, more recently, a reggae royal made the Trelawny her home for a special visit.
Accustomed to catering for 315 rooms as well as many large functions, food at The Jamaica Pegasus is always top class, specialising in buffets that offer traditional Jamaican favourites while not forgetting the international tastes of guests.
Breakfast, offering a wide variety of Jamaican dishes such as ackee & saltfish, steamed and brown stew fish, callaloo and hash brown potatoes, is served 'til 10 a.m., followed at midday by buffet lunches offering jerk chicken, oxtail and rice and peas, as well as a pasta bar and a Friday Seafood Special, are always special moments of a Pegasus stay.
Peter Hilary, general manager since the Hendrickson takeover, first came to the Pegasus when it was part of the Trust House Forte chain. Though working thereafter in other countries, he has maintained his Jamaican connections throughout the years.
Sales manager Prudence Simpson has been a foundation of the hotel's sales team, retained when the new owners took over, a sign of what a valuable team member she is. The team leads a top-class staff whose pleasant personalised service shows the difference new management can make. Though The Jamaica Pegasus is under new ownership and management, the warm family feeling of this national landmark hasn't changed a bit.
For another option, why not try the contemporary and artsy Spanish Court, which has its own uniqueness ... .
Small and modern - Spanish Court Hotel
Some hotels are too big for discriminating guests, lobbies overflowing with event traffic. Others are small with few diversions for singles. In search of a small but active hotel, the Spanish Court is one such option - an oasis of beauty and comfort in the middle of bustling New Kingston, small enough to avoid that 'lost' feeling, while being a preferred overnight rest for those who value being surrounded by design beauty. For, indeed, everything within the Spanish Court Hotel is quite simply beautiful, with a capital 'B'.
Hotelier Chris Issa made bold decisions that the beauty of modern design and decor would compensate for the hotel's compact size. So, at every turn and level,the Spanish Court Hotel presents eye candy, whether in the welcoming red walls surrounding the burnished gold reception desk, or the startling turquoise and black silk shag carpet that complements the clear blue glass vases and bottles decorating the shelves of the library/sitting room.
The glass-windowed ground-floor public areas are divided only by floor-to-ceiling angled wooden louvres that separate the spaces psychologically, while allowing free access to fresh air and views of the beautiful interiors. Bold colours, dark brown wood, lounge chairs in Zebra patterns or bright blues, and lucite-backed chairs of modern design blend harmoniously against the muted lighting from gauze-draped windows.
Rooms welcome with smart cards that turn off power when guests exit. Beds and pillows are covered in delightful Egyptian cotton decorated in green linen, red silk pillowcases and duvet. Big wooden drawers match wooden wastebaskets. Kohler bathroom fixtures feed an oval bath with arm rests that welcome water therapy with sweet-smelling and creamy Rusk Sensories soaps and shampoos.
Enjoy a cool drink on the upstairs deck, around the sides of the turquoise-tiled lap pool, while surveying the unique beauty of water flowing over the edges and view over New Kingston's towers. Dine seated on uniquely designed lucite plastic chairs on 'clean cuisine' that offers weight-watching options designed to satisfy and impress. Often the venue of a trendy launch or party, the Spanish Court is 'little but tallawah', a nice surprise in the heart of New Kingston.
Enjoy them all
A big hotel, a grand hotel and a boutique hotel, three choices, each catering to different tastes in overnight stays. Why not try them all, a night each? Then choose a favourite.