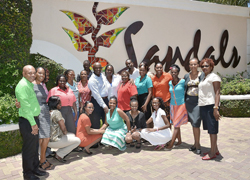 The colourful and happy bunch from Mount Airy All-Age School share in a photo op with Sandals Negril General Manager David Latchimy (second row, seventh left) upon their arrival to the resort for Teachers' Day celebrations. Sixty-five teachers from eight schools in Hanover and Westmoreland dined in fine style at the hotel's Italian restaurant, Cucina Romana. They were also treated to spa teasers, tributes and exciting games and giveaways. In the latter part of the day, they donned swimwear and proceeded to enjoy all the magic wrapped up in an afternoon spent at Sandals and Beaches Negril.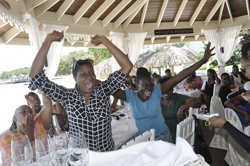 Marcia Allen, principal of The ABC Learning Centre in Hanover, reacted with shocked elation after winning one of the weekend passes for two to a Sandals or Beaches Resorts during the raffle draw at Sandals Negril's Teachers' Day luncheon. In the background, the other teachers celebrate with her.
A standing ovation for Sandals Resorts Teachers' Day celebrations
The day started with a profound and sincere message from Sandals Resorts International's Chief Executive Officer, Adam Stewart, who, on video, expressed his love and gratitude to almost 420 teachers for their passion and perseverance in shaping the minds of future leaders.
The teachers then received their official invitation from the CEO to enjoy all the festivities and luxury-included offerings at Sandals, Beaches and Grand Pineapple Resorts in celebration of Teachers' Day.
The festivities kicked off with extravagant luncheons at Sandals Negril, Sandals Ochi Beach Resort, Sandals Whitehouse and Sandals Montego Bay. The luncheons were punctuated by a host of prizes, including eight complimentary weekend passes, spa treatments, candlelit dinners, souvenir items, gift certificates and alcoholic beverages.
Close to 450 teachers from over 120 schools between the parishes of Hanover, Westmoreland, St James, St Ann, St Mary and St Elizabeth were fêted and pampered at the luxury resort chain.
Sandals Negril treated the educators to spa teasers, tributes and exciting games and giveaways, while Sandals Ochi Beach Resort rolled out the red carpet, offering scrumptious meal comprising Jamaican dishes as well as top-class entertainment provided by talents from Sandals and Beaches.
FUN TIME
"We had a magnificent time," noted principal of the Boscobel Primary School, Perlita Trail, speaking on behalf of the teachers in attendance. "Sandals made us feel very special. We all felt like royalty."
General Manager of Sandals Ochi Ramel Sobrino in welcoming the teachers, applauded them for their contribution to Jamaica's education. "We are proud to share in your special day," Sobrino said.
Sandals Resorts in the Montego Bay region hosted approximately 100 teachers for their day. The activities commenced with a special welcome cocktail party, featuring a breathtaking entertainment showcase and saw teachers competing in a talent show. Corinaldi Primary School walked away with the winning prize and was selected as the Sandals Resorts' Labour Day project for 2016. The teachers were then given a luxurious treatment as the culinary team pulled out all the stops and offered an all-inclusive buffet luncheon.
Leanora Morris, founder of the Leanora Morris Early Childhood and Pre-school, was also presented with a certificate for her outstanding contribution to education.
According to Carlene Dawkins, principal of Sudbury Basic School, "Sandals Resorts is able to enrich and revitalise the teachers on this special day. I felt refreshed! I was being catered to in a place of paradise."