More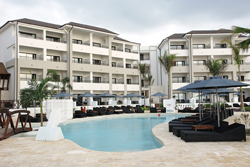 Sun, sea and Wi-Fi
Secrets Resorts add Unlimited Connectivity to their Unlimited Luxury Experience
Traditionally, vacations have been about sun, sea, sand and getting away from it all.
However, with the emergence of social media and mobile apps, persons want to stay connected - no matter how far they go. To help create a fulfilling experience for their guests' exclusive destination getaway, Secrets Resorts & Spas has partnered with Digicel Business to add unlimited wireless connectivity to their unique island vacation offerings.
Since implementing the new state-of-the-art Wi-Fi solution, the hotel has been able to meet the connectivity needs of their guests while increasing customer satisfaction by approximately 80 per cent.
"Before, it was sun, sea and sand; now, you need to have phones with Wi-Fi capabilities to fulfil the needs of the guests," said Deryk Meany, resident manager at Secrets Resorts & Spa.
"Our guests want to stay connected to their friends and family at home and share their experiences on social media. In addition to that, they want to watch movies on Netflix and browse the Internet. Wi-Fi is therefore a major part of the entertainment and social activities each day," he added.
The solution, which supports up to 2.5 devices in each of the 700 rooms, provides unlimited connectivity for the guests, regardless of where they are on the vast property. According to Meany, "The phone has become the new way to communicate." To further improve communication using technology, the resort created an app to make some of the hotel's services available at their guests' fingertips. These include making spa reservations and accessing shopping deals at their duty-free store.
Emilio Huhn, general manager of Secrets, states that, "As an organisation that is keen on understanding the needs of our guests and making sure that their every need is fulfilled, communication is key to what we do. We were especially pleased to have been able to implement this solution with the least amount of disruption to the guests. Digicel Business provides an extraordinary level of service and we must commend them for that."
Competitive advantage
General manager at Digicel Business, Jason Corrigan, commented on the partnership, saying, "The mobile phone has become an integral part of our daily lives that we feel the need to be connected all the time, no matter where we are. Any company that realises this and takes steps to ensure their customers can remain connected already has a competitive advantage. Digicel Business has a long-standing relationship with Jamaica's hospitality sector in ensuring that they are able to give their guests a world-class vacation experience, and so we are happy to partner with Secrets Resorts to create the ultimate vacation experience for their guests while in Jamaica - one where they are connected and happy."