More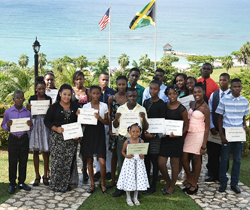 Tryall Fund's secondary and preparatory school scholarship awardees.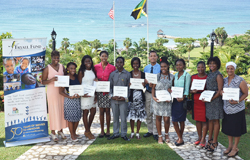 Tryall Fund's college and sixth-form scholarship awardees.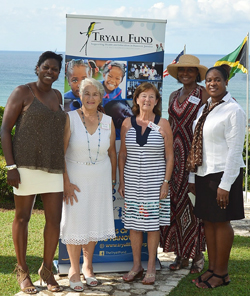 Members of the Tryall Fund.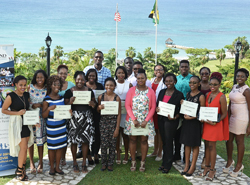 Tryall Fund's university scholarship awardees.
Tryall Club awards 60 scholarships
Claudia Gardner, Hospitality Jamaica Writer
The donor arm of the Tryall Club in Hanover presented 60 academic scholarships to students at varying levels of the education system at its annual presentation ceremony which was held at the resort recently.
The awardees included already-enrolled students and new applicants studying at the university, college, high-school and preparatory levels, who were recommended by staff members from the hotel.
"We give scholarships to the most deserving students, taking into account extenuating circumstances within that family," Paula Kovinsky, president of the Tryall Fund, told Hospitality Jamaica.
She said the Tryall Fund was established in the 1960s as a means of enabling homeowners at the property to give back to the parish of Hanover by raising funds to support education and health projects.
"We have one big annual charity event, which is the Taste of Tryall which is set for November 25 this year. We do have homeowners that make direct donations as well, but we try to really get our bulk at Taste of Tryall," Kovinsky said.
"The scholarship applications are distributed to all the staff at Tryall and all the applicants need is a sponsor (recommender) who is an employee of Tryall. So those applications are ready for distribution in the second week of January; they are to be returned to us by April and we have our scholarship committee that does the selection process," she said, in explaining the application process.
Kovinsky added that students who have been supported year-to-year for the duration of their programmes of study have done exceptionally well, and the fund's board is largely impressed.
"They have all done really, really well. Where we have noticed the greatest decline in their scoring, is actually with medical students. But that makes sense, because their course load gets heavier. It's harder, they have more labs, so as their level of instruction increases, they are still doing well, but their GPA (Grade Point Average) score may drop by a point or two," she said.
"We grant the scholarship from the time that they apply. If we feel they are worthy of it, we will continue to fund them, but they have to maintain that certain GPA. If somebody has really dropped off, we then look into it further because, many times, there are circumstances that we do not know about," she added.