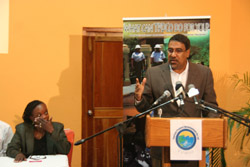 Minister of Tourism and Entertainment Dr Wykeham McNeill (at podium), surprised language specialist in the Ministry of Education, Martha Corbett Baugh, by speaking Russian, at the launch of TPDCo's Language Skills Training Programme for Tourism workers, to participate in Russian and Spanish classes, at the Swept Away Resort in Negril on Thursday, November 21. The minister is also fluent in Spanish. - JIS Photo
J'can hospitality workers to learn Russian, Spanish
Claudia Gardner, Hospitality Jamaica Writer
The Ministry of Tourism and Entertainment and the Tourism Product Development Company, launched the first Russian and Spanish Languages Skills Training Programme for tourism industry workers, in Negril last Thursday.
In his keynote address, tourism minister Dr Wykeham McNeill, said the programme was being funded by the Tourism Enhancement Fund to the tune of $3 million. He said it will target 300 frontline tourism workers in a bid to equip them with basic language skills in order to effectively engage visitors in brief conversation at points of entry to the island and other customer contact areas.
"Classes are to be held in the resort areas of Montego Bay, Negril and Ocho Rios and will target immigration and customs officers, Red Cap porters, taxi and bus drivers, craft vendors and workers in hotels and attractions, as well as Jamaica Tourist Board personnel and other frontline staff in the tourism industry," McNeill said.
"This groundbreaking initiative is both timely and strategic given our ongoing drive to expand our reach into new and existing markets such as Russia, Spain and South America in order to diversify our markets and boost arrivals," the minister added.
The Russian aspect of the programme gets under way in Montego Bay this Thursday, November 28 and in Negril on Wednesday, December 4.
Two classes per week
In her project overview, language specialist at the Ministry of Education, Martha Corbett Baugh, said the programme will be held over a 12-week period, and that each group will receive two classes of two hours per week.
"It will serve to empower staff and provide them with the basic skills to communicate. When that Russian tourist comes to your store or visits you at the craft market, he or she must be able to speak with you and get a cordial smile, a welcome message and communication to make sure your service or product gets across," she said.
"The teacher will work with the students using a very hands-on approach. We are going to be on the road; we are going to go to the market ... and at the end of 12 weeks, these persons will be implored to continue studying," Corbett Baugh said.
President of the Negril Chapter of the Jamaica Union of Travellers Association, Lloyd Pusey, told Hospitality Jamaica that he was very pleased with the move, as foreign language skills within his organisation, as well as sister chapter, Ocho Rios, was very limited, and to a lesser extent, the Montego Bay chapter.
"We have a contractual arrangement with Sandals and Island Routes, and most of our drivers do transfers to and from the hotels and they spend perhaps the longest period of time with any one visitor, hence, if we get the opportunity to have our drivers trained, what it does for us is help with respect to tours, to getting the visitors out and all around the place because we would be able to communicate with them," he said.