More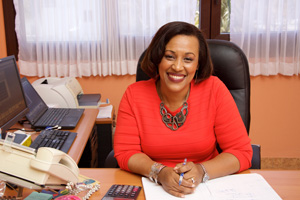 Contributed - Niurka García-Linton, director of sales, RIU Resorts.
I love to touch people's hearts, says RIU's new director of sales
Janet Silvera, Hospitality Jamaica Coordinator
Born and raised in Havana, Cuba, RIU Hotels and Resorts - Jamaica's new director of sales, Niurka García-Linton started visiting the island in the 1990s before moving here permanently in 1998.
"I have been tremendously impacted by this beautiful island and its people. Jamaica welcomed me with open arms and made me one of her own. I will be forever grateful," said the woman who admits that the hospitality industry has been one of her greatest passions for over 20 years.
Having had experience of being a Destination Management Company representative in Cuba, García-Linton, who is married to a Jamaican, said she has been privileged to work with amazing companies, including the international chain, RIU, which has a portfolio of more than 100 hotels in over 15 countries.
"Working with these specialist companies has allowed me to develop a broad-based background in tourism, leisure, and hospitality, which, combined with an entrepreneurial drive and business-management skills, has resulted in my being able to effectively lead change in competitive business environments," García-Linton told Hospitality Jamaica.
Extremely confident, creative, proactive, and strategically focused, Garcia-Linton has no fear explaining her plans and commitment to meeting the objectives of the organisation to which she is employed.
"These include, but are not limited to, continually, growing market share, revenue, and profit."
García-Linton's professional strengths include successful management of inventory of over 2,600 rooms, yield management, being a strategic and critical thinker, business plan development, account management, contract negotiations, budgeting, and forecasting.
She complements this with customer-relationship management, sales and marketing management planning, business growth realisation with established and new accounts, revenue-development strategies, group and meeting management and incentives, marketing analysis, leadership, mentoring, and also, effective team building.
"I value honesty, integrity, transparency, and humility, not only professionally, but also personally. I believe they are the foundation of a healthy working and personal environment. I love people, value others' opinions and the simplicity of life. I believe in leaving a legacy - a positive one. I love to touch people's hearts even if with a smile," said Garcia-Linton.
Outgoing, detail oriented while still looking at the big picture, García-Linton's colleagues will tell you she is organised and loves structure, is loyal, optimistic, practical, and very persistent.
In the midst of her journeys, God has showered His grace upon her life in many areas, "including my family and my career. Nothing I have accomplished so far would have been possible without Him".
It is her vision to continue this journey and to fulfil the purpose for which she was created, was how she emphasised the relationship that she has with her Creator.
García-Linton has worked at RIU Resorts for the last nine years.