More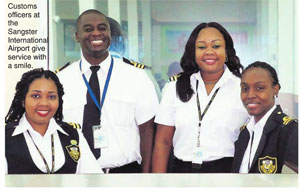 Sangster International named among the best
... takes top honours for high service standards
The Airports Council International (ACI) is pleased to announce this year's inductees into ACI's Director General's Roll of Excellence. The honour recognises those airports which, in the opinion of the passengers who participated in ACI's Airport Service Quality (ASQ) Surveys, have consistently held service excellence as a top priority.
To qualify for inclusion in the Director General's Roll of Excellence, an airport must have been ranked on the ASQ Survey in the top five airports by size or region for five of the last six years (2008-2013). Since 2011, 21 airports have been inducted into the Roll of Excellence.
This year sees the following six airports join the elite group:
◆ Cairo International Airport
◆ Sangster International Airport
◆ Dubai International Airport
◆ Keflavik International Airport
◆ Hyderabad Rajiv Gandhi International Airport
◆ Taiwan Taoyuan International Airport
A focus on exceeding passenger expectations is crucial if airports are to remain competitive. These six inductees to the ASQ Roll of Excellence not only understand that passengers place a high value on customer service, but have also taken steps to ensure they are going above and beyond in this regard. "I would like to congratulate these airports for their commitment to serving passengers; they are a testament to the effectiveness of the ASQ Survey, which provides the information airports need to improve the passenger experience," said Angela Gittens, director general, ACI World.
ACI's ASQ Survey, which has won industry recognition as a world-class benchmarking programme, has grown steadily since its inception in 2006. Currently, more than 285 airports participate in the ASQ Survey.
For a complete list of Roll of Excellence inductees from previous years, please visit http://www.aci.aero.