More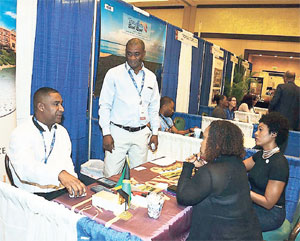 It was stricty business for The Wexford Hotelís Carlyle Allen (standing) and Richard Miller getting info from two Cable & Wireless representatives at Caribbean Travel Marketplace last week in The Bahamas.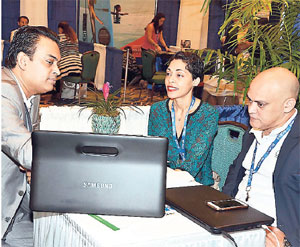 Deja Resortís Shari Edwards and Robin Russell (right), doing business with Shri Lildharrie
Caribbean tourism needs stronger partnerships, says CHTA president
The Caribbean's tourism growth potential in 2017 and beyond is enormous, but not without continued partnerships between the region's public and private sectors.
Delivering the opening address of Caribbean Travel Marketplace at Atlantis Paradise Island in The Bahamas last week, Karolin Troubetzkoy, president of the Caribbean Hotel and Tourism Association (CHTA), described 2016 as a year of mixed blessings for the industry, and asserted that the regional private-sector organisation was resolved to continue answering the call from Bahamas Prime Minister Perry Christie for greater collaboration among the region's key partners.
"Last year, you issued a challenge to CHTA and groups like CARICOM to work together to fully realise the potential which tourism holds for our economies and our people," Troubetzkoy said to Christie, who also addressed the gathering this year. "Prime Minister, I am pleased to tell you that CHTA and CTO have answered your call, and are advancing initiatives which we believe can help make our region and our industry realise its full tourism potential," she added.
Reporting overall growth in visitor arrivals to the Caribbean, the St Lucia hotelier of the storied Jade Mountain and Anse Chastanet resorts said tourism was challenged with forces that tested the region's fortitude. "From an unusually warm winter in some originating markets, a weak Canadian currency, Brexit, travel patterns affected by the Olympic Games, US elections and political uncertainty around the globe to Zika and finally to our most unwanted visitor, Hurricane Matthew," she observed.
Reflecting on the impact of Hurricane Matthew on parts of Haiti and The Bahamas, she thanked regional hoteliers for participating in an online auction which yielded US$70,000, US$25,000 of which was presented to The Bahamas and US$45,000 to Haiti for restoration efforts.
The year 2017 has been designated by the Caribbean Tourism Organisation as the Year of Adventure and the Year of Sustainable Tourism for Development by the United Nations World Tourism Organisation.
"Adventure and sustainability well define much of our appeal, and well reflect the shifts we've been seeing in why people travel and what they are looking for .... As the caretakers and marketers of this global treasure that we call the Caribbean, we have not only the mandate to showcase it to the world but also to ensure it is protected, enhanced and sustained," she said.
"That's why issues like climate change, the development of our people, and the preservation of our natural, cultural and historical resources are intertwined with our marketing and indeed our marketability," she continued.
Marketing, she affirmed, ought to embrace new and changing technologies to reach customers in addition to the changing visitor interests and expectations.
Caribbean Travel Marketplace has attracted an estimated 1,000 registrants with a record number of new buyers joining tourism stakeholders on Paradise Island this week.