More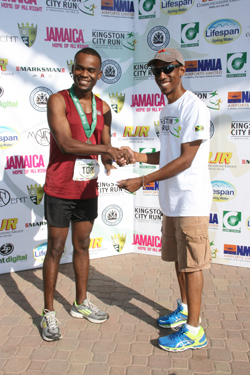 Rohan Dawkins (left), who placed third among the men in the 10K event, is all smiles as he collects his prize from Christopher Jarrett, co-chair, Kingston City Run Organising Committee.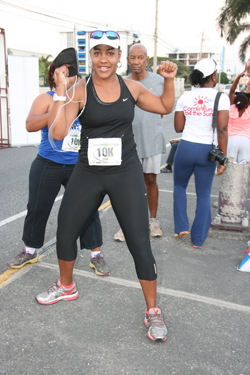 Avril Leonce gets pumped up ahead of her 10K race at Kingston City Run.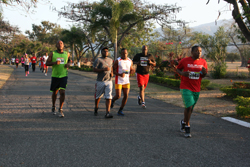 Kingston City Run runners make their way through the beautiful surroundings of King's House on Sunday, March 22.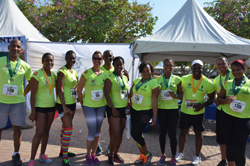 They call themselves 'Body by Kirk' and rightly so. Their trainer has a body that says, 'full hundred'.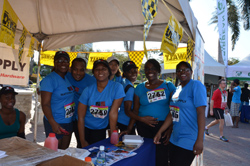 The National Supply team was out in full force at the Kingston City Run, where we caught up with a few of them.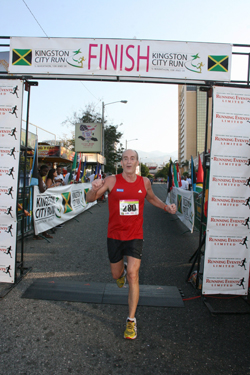 Cleveland Charles happily crosses the finish line after completing the gruelling half-marathon at the Kingston City Run on Sunday, March 22.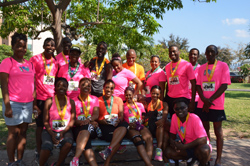 These runners were very accommodating to the Hospitality Jamaica team at Kingston City Run.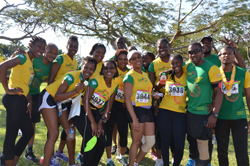 The group Challenge Accepted poses for Hospitality Jamaica's camera at the Kingston City Run on Sunday.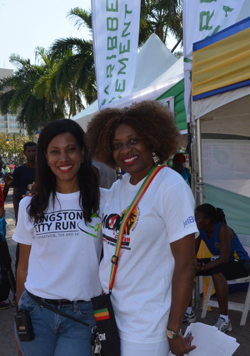 President of the Jamaica Hotel and Tourist Association and co-chair, Kingston City Run, Nicola Madden-Greig (left), shares lens time with Hospitality Jamaica coordinator Janet Silvera at the run on Sunday, March 22.
Kingston City Run a success
On Sunday, March 22, hundreds converged on New Kingston for the third staging of the Kingston City Run. Everyone from fitness buffs to newbie racers, were among the vibrant field of participants who tackled the scenic courses of the 5K, 10K and half-marathon events.
As runners made their way through some of the Corporate Area's most iconic landmarks - from Devon House to King's House to Hope Gardens - they also enjoyed entertaining fan zones in front of the Pulse Complex and Eden Gardens. After touring the city, the thrilling races all culminated at Emancipation Park, where runners cooled down at a misting truck positioned by the finish line, visited a number of booths, including KSAC, Tastee and Elle & Vere, and were treated to lively performances by the Alpha Band and high-energy music spun by DJ Sparks. What's more, the event was all for a good cause as net proceeds from the run will go towards the capital's homeless community through partnerships with Open Arms Drop-in Centre, Marie Atkins Night Shelter, Food For The Poor, Missionaries of the Poor and the Alpha Institute.