More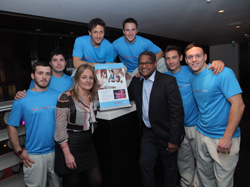 Elizabeth Fox (left), Jamaica Tourist Board's regional director for United Kingdom and Northern Europe, and Torrance Lewis (third right) district sales manager, flanked by 3Run freerunners featured in the Thomson Cruise film.
Yohan Blake takes on freerunners in film promoting Jamaica as home port
The DreamRunners video sees 3RUN, a group of stunt professionals, who have worked on Hollywood blockbusters like Casino Royale and World War Z, flip over Blake in the starting blocks and race against him as they freerun across Jamaica to get to the cruise ship, Thomson Dream, before it sets sail from Montego Bay.
The parkour and stunt professionals filmed the scenes with Blake at his training ground in Kingston, and even got him to pull his famous beast pose for the camera. The film also features the fearless freerunners scaling Dunn's River Falls, flipping over market stalls in Ocho Rios and diving from the iconic cliffs at Rick's Café in Negril, before vaulting onto jet skis to chase Thomson Dream and scale its sides, James Bond style.
Pleased with collaboration
John Lynch, director of tourism comments: "We're excited to be welcoming Thomson Dream to Jamaica later this year. The Jamaica Tourist Board is pleased to have collaborated with Thomson Cruise for the making of the film.DreamRunners is a unique way of showcasing our beautiful Jamaican scenery, using freerunners and their incredible stunt skills over a selection of our most iconic landmarks. The teaming of the runners with our Olympian, Yohan Blake, is an excellent match."
Helen Caron, managing director of Thomson Cruises, says: "We are very excited to team up with 3RUN to showcase our stunning new home port of Jamaica. The new action-packed film highlights the many stunning attractions our guests can visit on the island. We are delighted that Yohan Blake made a cameo appearance in the film to help showcase the delights his fantastic home country has to offer. With 2.3 million holidaymakers searching for a cruise in February, we really wanted to drive awareness of Thomson Dream's new Caribbean and Central American routes among cruise customers. We are really looking forward to welcoming customers on board Thomson Dream in Montego Bay in December."
Chase Armitage, CEO of 3RUN and director of DreamRunners, says: "The Jamaican scenery is awesome and it was incredible to freerun against spectacular backdrops like Dunn's River Falls and the Martha Brae River. We really hopeDreamRunners gives a flavour of what customers on Thomson Dream will be able to experience later this year. It was a once-in-a-lifetime opportunity to work with Yohan Blake, let alone race against him! Despite running at top speed with a head start, Blake sped past us, so it's clear to see why he is the second fastest man in the world."
The Thomson Dream sets sail from Montego Bay in December for its 2014 and 2015 sailings to destinations including Costa Rica, Panama, Cuba, Honduras, Belize and Mexico. For more information, please visitwww.thomson.co.uk/cruises.
Watch the film now at: http://youtu.be/1-1rint5mXM.