More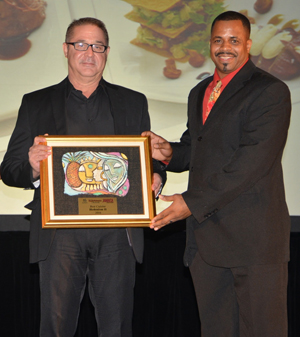 PHOTOS BY ASHLEY ANGUIN - The presidential room at Royalton Blue Waters.General manager of Hedonism II, Kevin Levee (left), and Anthony Miller, executive chef, pose with their 'Best in Cuisine' award during the Hospitality Jamaica Awards.
Hedonism II ...'Jamaica's Best in Entertainment', 'Best in Cuisine
The 35-year-old Hedonism II hotel stamped its authority as the epicentre of entertainment in Jamaica's hospitality sector when it was accorded 'Jamaica's Best in Entertainment' title at the Hospitality Jamaica 2016 Awards, two Saturdays ago.
Not only did the internationally renowned resort take back that award to Negril, Hanover, but it also cemented itself as a major centre of gastronomy, having copped the 'Best in Cuisine' award, and was also a finalist in the Best All-Inclusive Hotel (Under 300 rooms) category.
Located at Rutland Point in Negril, Hedonism II has been widely acclaimed as being one of the world's top nudist resorts. The property was first opened in 1976 as Negril Beach Village but was renamed Hedonism II in 1981.
Over the decades, the resort has garnered one of the highest repeat guest rates in the world. A remarkable 60 per cent of its visitors are repeat guests, attributed, to a large extent, to the bonds guests form with each other and members of the hotel staff.
The resort describes its entertainment as being at the heart of the property and a specially designed combination of seduction and sensuality. Entertainment at Hedonism II is uniquely Jamaican and features some of the island's most talented musicians, vocalists, and dancers, who perform in some of the most outlandish costumes, to the delight of guests.
Negril's fame as a tourist destination is predicated on seven miles of white-sand beach by day, but on live authentic Jamaica music by night, which is embodied in Hedonism II's use of a live band, which plays from 8:30 p.m. to 11 p.m., six nights per week in its main terrace dining room, and a bar pianist, who plays nightly between the hours of 10 p.m. and 1 a.m.
The cuisine at Hedonism II has got better with each passing year, and the Best in Cuisine award it received is testament to that. It boasts a beach grill; its newest restaurant, Flame, is a hotspot; so is the Pastafari Italian restaurant; Harrysan, which offers Japanese cuisine, and a buffet restaurant with a wide-ranging list of Jamaican and international dishes, all of which contribute to an amazing vacation for any visitor.