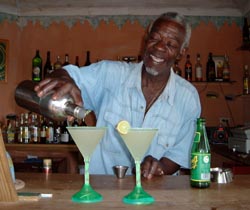 Dougie serving margaritas at Dougie's Bar.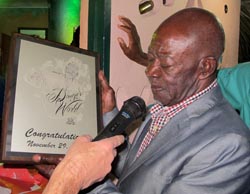 Dougie accepts a plaque at his 70th birthday celebration.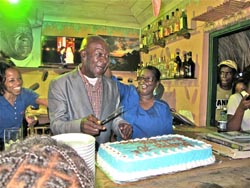 Dougie cuts his 70th birthday cake.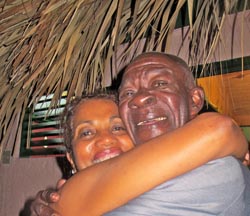 Dougie gets and embrace from an admirer, Maisie Allen.
One love, Dougie!
Douglas 'Dougie' Turner and I have known each other since I was 18 and he was 15. He came to work for the Densham family, my parents, who had a small farm in Mandeville. Dougie was young, strong, handsome and capable of doing anything that was required.
Among the things he did was look after the dairy cattle, put them out to graze, bring them in for milking, pasteurise the milk, lug the heavy containers to the road side to be collected, dipping and branding, and he also filled the silo with napier grass and molasses.
He also caught and groom the horses and went to Santa Cruz on Saturday afternoons to saddle up and prepare for polo.
He worked in the garden - planting, weeding, watering and ever so gently handling the rare and delicate magnolia blossoms on their way to the flower show.
He mowed the huge lawn with the push lawn mower and helped my father in his carpentry shop.
Then he would accompany us to Treasure Cot in Treasure Beach and lend a hand to everything there. He, however, put his foot down about going fishing. Dougie and sea, nuh 'gree.
He cleaned and polished the new, bright red Farmall Tractor and the dilapidated cars we drove, including the Willis Jeep.
And you would think that when it rained he could take some time off, but no, Dougie was in the kitchen polishing the brass and silver. At parties, he was always on hand, passing around his famous rum punch and coconut crisps.
There are probably a million other things I have forgotten. My mother needed him so often that when she called out: 'Dougie!', the parrot, Oliver heard and could imitate her exactly, and many a time Dougie was called when my mother was nowhere in sight.
At 23, I married Perry Henzell and moved to Kingston and then Runaway Bay, and for many years, Dougie was lost from view.
In 1991, I bought this little property (Jakes at Treasure Beach) because I happened to be here when my niece, Kerstin Whittaker's husband, and father, Delroy Whittaker, pointed out the land was for sale.
I immediately pricked up my ears, as my parents, Joyce and Basil, having died, and I had just sold the old house in Mandeville. When I learnt the price and found it was the exact amount of the cheque for the down payment, I knew it was meant to be and bought the piece of land that goes from the lily pond behind the kitchen to the wall behind Dougie's Bar. I was just going to make a beach cottage for us, like daddy had done with Treasure Cot, when I realised Treasure Beach needed a restaurant. I had always pictured myself owning one. This meant I would have to move out of the tiny four-room house that is now the lobby. I built two bedrooms.
Only thing left to do was to find the right person to work for me in the restaurant. I did a quick flip through my roller desk mind and decided there was only ONE possibility - DOUGIE! Where to find him?
After countless quests, I found him in a shop, Homelectix, in Mandeville. Dougie was a very successful salesman selling fridges. We were delighted to find each other again. So after a bit of preamble I said to him: "Dougie, you know what? I have just bought a piece of land in Treasure Beach near Treasure Cot. I want to have a restaurant and bar there, and I want you to come and help me." Dougie was a little taken aback.
"I'll have to ask Bernice" (his wife), he said.
"I will get back to you." And he did. And he came. Bernice gave the go-ahead.
So Dougie came, he cooked, he cleaned, he served bar, he washed up, and in other words, he lent his hand to anything that needed doing. In the meantime, I had workmen outside making the patio, the shower and the building that is now the bar. The pool was dug in two phases. Once, I stopped a front-end digger that was going down the road and said, "On your way from work will you stop - I need a hole dug." And so it happened, but it was never finished. It was just a very large hole in the ground and there it remained for a year or two until trees started growing out of it. The same thing happened again. I stopped another front-end loader and said: "I have a hole and I need it dug deeper and wider," and finally, the pool was finished.
In the meantime, the bar and restaurant was flourishing. I had got my 'Tavern Licence', as it is still so quaintly called in Jamaica. I could now serve rum and beer, and then the day came when wine was added to the menu. Wine glasses were set out, and our first order came from a group of French who sat near the back. I remember the only dining area was in the front under the bamboo roof - so I was a bit shocked to see a lady calling me over. Wine never having been served before, Basie had only poured one careful 'shot' in the bottom of her wine glass and left! Things like that.
EXTRA ENVELOPE
We closed Mondays. Our daily earnings would be kept in little envelopes labelled from Tuesday to Sunday. One time, I got sick and had to leave for Montego Bay, where Jason (Jason Henzell) was for about a week. Dougie came to see me there and presented me with the little envelopes. There was one marked 'Monday'.
"But we don't open on Monday," I said.
"Oh, but we do now, since you left," said Dougie.
I was very shy. And you know, on opening day when the first guests were walking up the driveway, I ran into the sea and swam straight out, and it was left to Dougie to greet them and make them comfortable. I have come a long way since then and learnt that the people who are attracted to Jakes are like-minded people and potential friends - all of you!
So Dougie, let me put it this way - I couldn't have done it without you. You are my oldest and dearest friend, and although you will only be gracing the back of the bar on special occasions from now on, I know you will still be on the seat in the corner where you always prefer when things are slow, and you will be around greeting the guests and reminiscing with me as always.
One love, Dougie!