More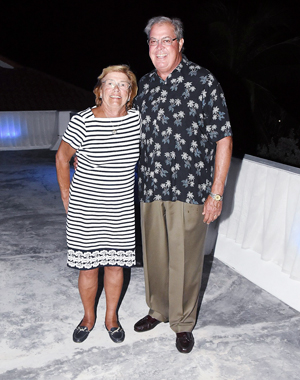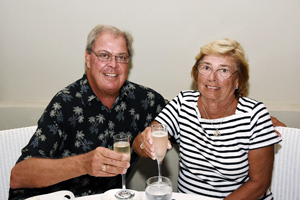 Fred and Cynthia Pennekamp, who have stayed at Couples Resorts Jamaica 93 times.
100th visit to Jamaica - 93rd stay at Couples Resorts
Valentine's Day 2018 will mark Fred and Cynthia Pennekamp's 100th visit to Jamaica and their 93rd at Couples Resorts.
No other guests have stayed at Couples Tower Isle as many times. The couple has spent more than 1,000 room nights at the Ocho Rios resort.
This love story began with a romantic vacation at the grand opening of Couples Resorts Tower Isle in 1982, and that fire has burnt brightly ever since.
Married for 49 years, the Pennekamps, who are now 70 years old, said they celebrated almost every anniversary at Couples; as well as multiple birthday celebrations and major holidays - especially Valentine's Day.
They have stayed at all four Couples Resorts Jamaica, but their favourite is Couples Tower Isle.
"We have never had a better vacation than Jamaica. We have never had a better resort than Couples Tower Isle. The island of Jamaica is picturesque, the people are wonderful, and the location is gorgeous," Fred Pennekamp told Hospitality Jamaica on Monday.
He is expected to arrive on the island today (Wednesday), or later this week, owing to a minor medical issue.
"We travel a lot; we have hardly been able to find a hotel view that compares with Couples Tower Isle. It is one of our happy places," he revealed, explaining that Jamaica's competition is Wyoming, where he spends as much time.
The Pennekamps, who live in North Carolina in the USA, said they started coming to Jamaica once per year, then twice per year. After retirement as a banker, it became five or six times each year.
Fred skis, a sport his wife Cynthia does not do, "So I promised my wife for every week I spend skiing, my 'punishment' is to take her to Jamaica for two weeks".
HOME AWAY FROM HOME
That formula worked exceptionally well for the couple, and between the trips all over Europe, China, Russia, Egypt and Jordan, including cruising on the Mediterranean, Jamaica becomes their home away from home.
"It's mainly the staff at the Couples Tower Isle that causes us to return. They are among the best in the hospitality sector."
On Wednesday when the Pennekamps arrive, they are expected to be met on arrival by the Jamaica Tourist Board at the Sangster International Airport.
Ready to board his flight to Jamaica, Fred Pennekamp said there a hundred reasons why they always stay at Couples Resorts Tower Isle, but first and foremost, it's the opportunity to have time for each other.
"Back home, we have busy lives with business, family and civic obligations. Couples Resorts Tower Isle lets us reconnect with each other in a magical location where the focus is entirely on relaxation and satisfying our needs and desires."