More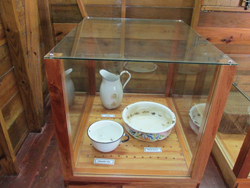 Enamel goblet, wash basin and chamber pot in the Bustamante Museum at Blenheim, Hanover. - Photos by Paul Williams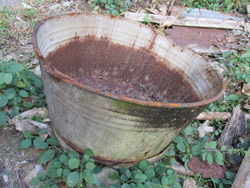 A wash pan of yesteryear.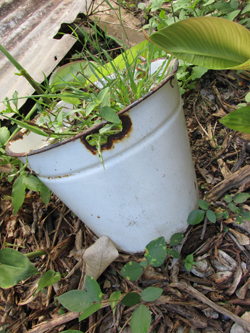 Enamel pail for inside and outside use.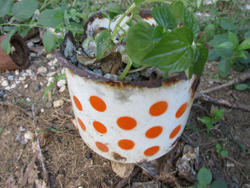 Enameled polka-dot big mug.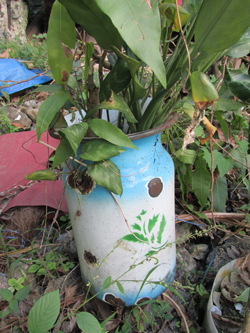 Enamel goblet-cum flowerpot.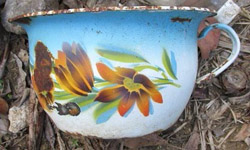 Floral enamel chamber pot.
Around JA with Paul H - Enamel nostalgia
My mother and father were born and bred in Hanover. I was born in St James.
Pondside, Hanover was where I spent some summer holidays. It was something to look forward to, always.
There were stringy mangoes, crayfish, river bathing, roasted yellow-heart breadfruit, sugar cane, spring water, juicy June plums, chocolate tea, grotto bread, etc. Not to mention the shaky rides on those Jamaica-made country buses.
With the onset of adulthood, my visits to Pondside became very infrequent, and now I have not been back for ages. I had the opportunity, however, to work in the parish twice as an assistant clerk of the courts and an educator, while living in St James.
On my journeys to and from Lucea and Kenilworth, I was fascinated by the historical sites and ruins along the way. The vistas of the coastline, too, would catch my eyes. Yet, I didn't get a chance to go into the interior. My memories of it though are still quite vivid.
And so recently when I visited the parish, I was glad to be back. Much has not changed. Poverty is everywhere on two legs. When I travelled on an everlasting ridge through Middlesex, Dias, Cacoon en route to Blenheim, I got the feeling that's where poverty was born.
Bustamante's birthplace
National Hero Sir Alexander Bustamante certainly was born on Blenheim Estate, and that's where my journey ended, on the property where the replica of the house in which Busta was born is situated. And I thought about what life might have been like in Robert Constantine Clarke's (Busta's father's) house.
But my reflection started long before I reached Busta's birthplace. All along, there were board houses along the edges of the ridge. Some were relatively new, some not so flattering, some abandoned, others dilapidated. Still, there were some quaint ones. I kept thinking, it is 2014, and things are not looking so wonderful. Then, how was it for the peasants who lived in the region in
1884, the year when Busta was born in a thatch-roof cottage.
Then, nostalgia broke loose when I passed a dilapidated board house with things strewn all over the veranda and yard. Something caught my eyes. It looked like an enamel vessel, something out of my childhood. And there was more. Like flaking enamel, the memories were flying through my brain. But onward towards Blenheim I went, with a promise to stop at this treasure trove of pleasant memories.
The flashbacks were to continue in Busta's reconstructed birth house. In a glass case, there were a big chamber pot, a wash basin and a goblet. All enamel. They seemingly were owned by Busta's family. Though chipped in many places, they seemed to be in good condition, and to be those that only the 'privileged' could afford.
My fascination with enamel vessels, however, had nothing to do with affordability and privilege. I used to love the sound of flaking enamel. So, when I got hold of discarded enamel containers, I would drop them several times just to hear the enamel flaking from the metal.
But that flaking sound could also mean something else. And that was when the sound of flaking enamel would feel like pins sticking me in my head. Dropping and chipping one of Mama's enamel utensils, a beating surely I would get.
On the way back from Blenheim, I stopped at the yard strewn with rotting enamel utensils. Everything was near the road. Some of them have become flower pots. The entire place was in disarray. I was told by a neighbour that the owner of the yard had died a month ago, and nobody had come to put things right.
Among the enamel stuff was also an old 'wash pan'.
That, too, was a blast from the past. Haven't seen those in decades. So, my camera went clicking, recapturing the enamelled snippets of nostalgia.