More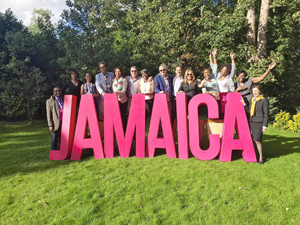 FILE - Tourism stakeholders celebrating the success of the Jamaica Travel Market.
Tourism optimism at all-time high... as hospitality sector is rewarded for lifting standards
Camille Miller, Hospitality Jamaica Writer
Minister of Tourism Edmund Bartlett said the tourism sector is so uniquely poised that the next five years should see visitor arrivals and earnings soaring to heights that were once unimaginable and considered far-fetched.
In a wide-ranging interview with Hospitality Jamaica last Saturday, Bartlett said that if the current trajectory plays out, Jamaica, by 2021, could see arrivals jumping to five million visitors and earnings reaching as high as US$5 billion.
"I cannot recall a more exciting period for tourism than what I am seeing now," Bartlett noted. "Never before have we seen so many projects in the pipeline or under construction, giving rise to an unprecedented level of optimism on the part of stakeholders."
The tourism minister further noted that there will also be a lot of job opportunities from which Jamaican workers should be able to capitalise.
"We just have to look at all the jobs that will become available and position ourselves to fill them. We also want to ensure that our workers are indeed certified to the point where they can effectively compete for top-tier level positions and earn prominent salaries."
HIGH CONFIDENCE
He explained that the tourism industry was currently enjoying a high level of investor confidence, pointing to the nearly 15,000 hotel rooms that are slated to come on stream over the next four years and the commitment by cruise shipping giant Royal Caribbean Cruise Line to have all its Oasis class luxury vessels, including one that is currently under construction, dock in Jamaica.
"We are starting to see some remarkable things taking shape throughout the industry," the tourism minister noted. "Cruise shipping is starting to take off in a big way and we have a lot of new rooms coming on stream. When you have cruise shipping and stopover working in sync and complementing each, the result can only be great for our country."
And as it relates to public projects, Bartlett said the ministry has made it clear to all developers and project managers that the public's interest is paramount and that timelines will be set and monitored.
"There will be full transparency and accountability on all projects," he added. "We will also be having a monitoring team from the ministry to ensure everyone is on the same page and that guidelines are followed."
Bartlett also pointed out that there are ongoing discussions between the public and private sectors as the ministry continues to formulate strategies to improve and strengthen the tourism product and infrastructure in the resort towns.
"Developing our product is the key to future success, so it is essential that we continually ask what more we can do to keep pace with other world-class destinations," Bartlett advised.
He added that while he welcomes the big investments from the more established players, a thought should also be spared for "the little man" who "also has an important role to play.
"We have to change this perception of elitism in the tourism sector and open up opportunities for the little farmer who can't produce enough to go to the European Union but can produce enough for the small hotelier or for Miss Maude's restaurant around the corner," the tourism minister pointed out. "He is a player, too, and we have to improve his building capacity."
Bartlett further added that there are, indeed, a lot of reasons to believe "we are on the verge of turning the corner".