More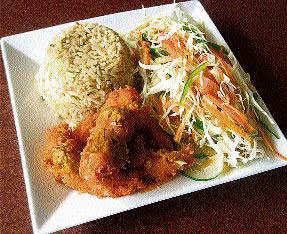 Susie's crispy coconut fish drizzled with curry sauce served with seasoned rice and tossed salad.
Mojito Mondays the spot to be at!
On your next visit to Kingston, reserve Monday nights for a life-changing, unforgettable experience that can only be had at Susie's Bakery and Coffee Bar located at Shop 1 and 2 Southdale Plaza.
Don't let the name fool you. This multifaceted coffee shop, owned and operated by the affable Susie Hanna, is the home of Mojito Mondays - an event so synonymous with great Jamaican vibes, it is listed on the Jamaica Tourist Board's 'what to do in Kingston'.
Local and international entertainment heavyweights, fashion designers and producers have over the years made the hang-out spot a favourite when looking for a relaxing evening and a chance to do some networking.
Surprising, high-energy and riveting are certainly ways to describe Mojito Mondays, usually held on the eatery's al fresco terrace. Here, you won't be short of entertainment as pockets of dance crews eagerly showcase the latest dancehall moves to music spun by renowned DJ, Supa Hype, as you rub shoulders with inimitable dancehall stars such as Beenie Man, Popcaan, Alaine or Koshens.
The event has repeatedly captured international attention and was recently featured in the New York Magazine as one of '15 Excellent Parties, from Belgrade to Beirut', all of which boasted high points for 'hype-abilities' such as vibe, energy, decor, security, location, bar and sanitary services.
Every night offers a new opportunity to be entertained and the restaurant recently added karaoke on Saturdays.
Should you require a more sober introduction to Susie's Bakery, feel free to pop by during the days where you will be privy to everything from espresso-based coffee drinks and delightful pastries you would expect from a café, to fuller course meals such as sandwiches, wraps, pasta and salads - inspired and infused with the eatery's Mediterranean style of cooking.
According to Hanna, dining alone at Susie's is never an issue, particularly for the lone traveller seeking to know more about the Jamaican culture.
"We are big on making our customers know that they are our reason for cooking, so when you dine here, you become family; you join conversations that are happening and you laugh and dine with strangers who will soon become acquaintances. Regardless of who you are - entertainer or eager traveller - we ensure that your experience with us is unforgettable."