More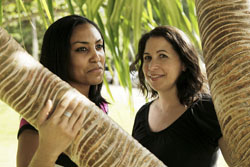 Taeko Bufford (left), and Diane Cervelli pose near Waikiki beach in Honolulu in 2011. The two Southern California women filed a lawsuit against a Hawaii bed and breakfast, saying the business denied them a room because they are gay. - File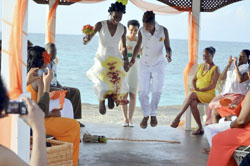 Nicole Dennis-Benn (left) and Dr Emma Benn jump the broom during their re-enacted wedding ceremony at Silver Sands in Duncans Trelawny. Looking on are close friends and family of the couple.- File
LGBT tourism makes regional splash
Bahamas, Cuba, Barbados Puerto Rico among top destinations
Janet Silvera, Hospitality Jamaica Coordinator
The Bahamas, Cancun, Cuba, Barbados, Puerto Rico, Buenos Aires and Rio de Janeiro are named among the top 10 Caribbean and Latin American countries for lesbian, gay, bisexual and transgender (LGBT) vacationers in 2015.
Although Jamaica did not make it on the list, and will probably not make an entry within another 25 years, there is a significant number of properties here that have earned the 'gay-friendly' annotation. The hotels, guest houses and villas accepting LGBT visitors are based in all five resort areas and the capital city - Kingston.
The LGBT market is valued in excess of US$200 billion in annual spending, says the leading global travel networking association, Out Now Business Class (ONBC).
Their subsidiary, Out Now Global (ONG) released its findings during the recent World Travel Market (WTM) trade show held at Excel in London, between November 3 and 6. According to ONG's chief executive officer, Ian Johnson, this new data delivers much actionable information to better inform the tourism industry for 2015.
"Global LGBT tourism is an increasingly competitive market. LGBT2020 research shows the market is now valued in excess of USD$200 billion in annual spending and as well as needing to offer strong tourism product, delivered with genuine LGBT-welcoming service," said Johnson, adding that the new research reveals that this needs to be supported by ongoing campaign which focus meaningfully on consumers to grow market share.
Attention to marketing
He stated that one of the key points in the new data is to understand that the LGBT market pays close attention to marketing directed at them and especially takes notice of consistency - or lack of it - in destinations' marketing initiatives.
"The strongest improvement in the global LGBT2020 preferred destinations league table over the past four years has been achieved by the city of Berlin. Moving up a position or two in this table is competitive - so it is a highly significant accomplishment to move from number 20 most desired city back in 2011 to now be positioned at number 10 most desired destination for the 2015 travel plans of LGBT people."
Johnson also emphasised the importance of staff training to achieving strong welcoming outcomes for LGBT guests.
"The number one motivating factor for consumers is needing to know before they go that they can relax and be comfortable being themselves on holidays," Johnson says. "Nobody wants to worry that the staff that serve them in a location might be uncomfortable with their sexual orientation or gender identity. People would prefer to stay elsewhere. By incorporating ONBC staff training as a component of their overall strategy, Berlin has not only promoted their products with effective communications - they have delivered on their promise to welcome their LGBT guests."
The top three global destinations are New York, Sydney and Amsterdam (which has also improved its position, but from a higher initial starting position than Berlin).
For countries results of where LGBT people plan to visit in 2015, the USA remains in first position, followed by France (no change from 2011) with Australia the biggest gainer, moving from position seven to three over the past four years. The biggest drops have been by Spain (falling five places since 2011) and Argentina, which has dropped out of the Top 10 countries entirely.
LGBT2020: Top 10 Africa/Latin America/ Caribbean Destinations for LGBT Travel in 2015
Ranking CITY 2011 rank Change since 2011
1 Rio de Janeiro 1 -
2 Buenos Aires 2 -
3 Bahamas - New in 2012
4 Cape Town 6 +2
5 Mexico City 5 -
6 Sao Paulo 3 -3
7 Cancun 4 -3
8 Cuba - New in 2014
9 Puerto Rico - New in 2014
10 Barbados - New in 2012
janet.silvera@gleanerjm.com