More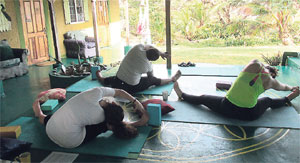 Yoga in session at Go Natural.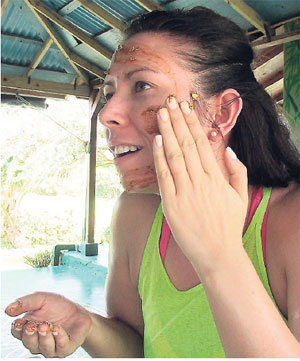 Guests at Go Natural show off their natural products
Go Natural Jamaica rejuvenating the body, mind and spirit
Paul H. Williams, Hospitality Jamaica Writer
Beside the sea, at the beginning of the community of Long Bay in Portland, there is a nature sanctuary called Go Natural Jamaica. It is almost every bit of what its name says: natural. And nature certainly is at work. The air smells clean, and the general marine vista is a picturesque one, complementing the essence of Go Natural, which operates under the tag 'Reconnect with Nature'.
The turquoise sea evolves into milk-white, foamy waves dashing against jagged rocks sometimes sending salty sprays on to the sharp honeycomb rocks, on which thousands of shelled creatures of variegated colours are glued. Soldier and hermit crabs are also in great abundance.
'White horses' continuously gallop to the shore in the alcove that ends with a small beach of fresh, shallow, crystal-clear water. When the water is still, small schools of colourful fishes can be seen. Weathered driftwoods, small, bleached honeycomb rocks, and pebbles of various shapes and sizes complete the beautiful picture of seaside ecology.
According to Ramjas Kaur, nutritional expert, the objective of Go Natural is "to uplift people's life", and people have been travelling from all over the world to do just that at Go Natural. It aims to rejuvenate the health of the body, mind, and spirit of its guests, focusing on their needs. It is thus a healthy-lifestyle concept that is practised at Go Natural.
The small resort is a yoga and meditation centre that concentrates on the classical styles of yoga for beginners and advanced practitioners. There are two yoga sessions per day, led by experienced yogis. But integral to its operations are other types of programmes such as detoxification and rejuvenation, weight-loss, relaxation and reconnection, juice cleansing, and master-cleanse fasting. Massage services are also offered.
And in keeping with the philosophy of the business, the food served is natural, the type that was not nurtured by man-made chemicals. The meals provided may be communal or tailored to suit individual needs such as those of the vegan or raw-food dieters. A breakfast consisting only of a variety of fruits is an example of a regular repast to start the day.
Kaur says that the idea of Go Natural Jamaica is borne out of the lifestyle of the Rastafarian culture, "which is closer to nature". She herself has a story of how she used to feel unwell and "disconnected" after eating processed food. Yet, she said, it is not just the food that is toxic, but the environment, clothes, synthetic cosmetics, and household products, as well. Thus, the approach to healthy living must be holistic.
The stay at Go Natural, to help fulfil its objectives, is an educational one. Guests are provided with printed materials on what is offered, and there are discussions about healthy nutrition and eating habits. When Hospitality Jamaica visited recently, there was a workshop on how to make household cleaners, cosmetics, and other personal effects using natural ingredients, which is what the toiletries in the units consisted of.
While guests may visit for a day or the weekend, the accommodation packages at Go Natural are mainly residential, with a minimum of three days recommended. There are five rooms, including a dormitory for five people, and two villas, one of which is detached from the main structure and is located near to the edge of a cliff. Going to sleep to the sound of the roaring waves adds to the charm of the place.
Kaur told Hospitality Jamaica that the idea is to share the knowledge of how to have a healthy lifestyle, "to help people to change their reality". She said that it is the hope that staying at Go Natural will inspire guests, who will continue to practise what they have started at Go Natural, to go natural.