More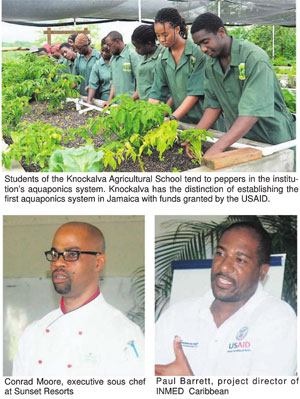 Culinary experts bemoan scarcity of fresh herbs, exotic vegetables
Claudia Gardner, Hospitality Jamaica Writer:
Culinary experts have renewed calls for Jamaica's farmers to produce more herbs and exotic vegetables to meet the huge, unfulfilled demands of the tourism industry.
The call comes as the sector strives to satisfy the requests of a growing number of clients with special dietary needs.
"What has been happening in the world in the past 10 to 20 years, we realise, is an increase in food illnesses and allergies among visitors. One of the biggest allergens is gluten," said Conrad Moore, executive sous chef at Sunset Resorts, during an aquaponics workshop staged by INMED Caribbean under the Jamaica Adaptive Agriculture Programme (JAAP), at the Knockalva Agricultural School in Hanover, last Thursday.
According to him, a lot of people come from overseas with conditions where they can't have starches and sodium and certain other things in their diet.
"So this is where we need fresh herbs, fresh lettuce, green leafy vegetables because if a guest cannot come to Jamaica and eat, then they won't come. We have to convince guests that we can deliver what they want in order for them to take a vacation. We use fresh herbs in almost everything we are doing right now. All the herbs you can possibly think of, we use them, but there is a big shortage," the chef added.
Moore said there was a severe scarcity of fennel, rosemary, cilantro, parsley, sage, basil, among others, several of which fetched a price of up to $1,000 per kilogramme. Lemongrass, commonly known as fevergrass, fetches a price of $910 per kilogramme. He noted that there was also a massive demand for vegetables such as romaine lettuce, arugula and kale, which chefs use daily.
"Remember we are feeding people that don't live here. We have to provide them with things that they are used to, so we constantly have to be importing these things," Moore said.
He pointed out that tourism industry was expanding and the country was hosting people from England, USA and Canada, most of whom have these dietary needs.
"So we are going to need a whole lot more (produce). It is a good way for farmers to capitalise ... we don't want to go overseas to buy products that can be produced here. We all have to be adapting to these situations in order to provide for our guests as we as chefs try to go healthier," he added.
Moore also said inconsistency of supply was also a factor, but that this could be solved if farmers united to ensure they are able to supply the volumes needed. He said herbs and vegetables grown locally are fresher than imported produce, and so, was the preferred choice of chefs.
"We would like to know that we can depend on a local farmer to deliver these to us. We would like for more local farmers to come on board and understand what's happening in the world. Local farming ensures we get better quality because importing stuff from overseas, there is no guarantee we are going to get them fresh. We have to try to preserve in order for us to keep some of them, but we like to get them fresh, nice, green, crispy," he said.
A year ago, president of the Jamaica Hotel and Tourist Association, Evelyn Smith, sounded a similar call, expressing concern during a Gleaner's Editors' Forum, that culinary herbs, including parsley, basil and sage, were in short supply, urging local farmers to take steps to meet what she said was the high demand.
At the time, Smith also said hotels were having difficulty sourcing black mint, a main ingredient in mojito cocktails.
But aquaponics farming could be a stitch in time for the hotel sector.
Project director of INMED Caribbean, Paul Barrett, says his organisation and the farmers benefitting from the JAAP have already begun to grow some of the herbs to meet the demand, using the aquaponics system.
RESISTANT TO DISEASES
"Over the period of time that we (INMED Caribbean) have been engaging stakeholders in the project, we have tried several crops to see how well they work in the system ... crops that are specific to climate, specific to conditions. Some have not done so well, but what we know since we started the operating the systems is that herbs and spices tend to do exceptionally. They are more resistant to diseases and pests in the system. We knew there was a market existing, we just didn't know exactly how we would get into that market," he revealed.
Accordingly, he said he has been in dialogue for the past six months with the Culinary Federation of Jamaica, "and we have come up with the various crops we are producing. Cilantro, kale, arugula, fennel. We have tried basil as one of our first crops, which has done very well. However, breaking into the market when you don't know what and where the market would have been was a challenge at the time," he admitted.
Aquaponics farming was first introduced in Jamaica two years ago by INMED Caribbean in collaboration with the United States Agency for International Development. Research has shown that in Jamaica, the systems have proven to be 100 times as productive per square foot compared to traditional agriculture in one year.
claudia.gardner@gleanerjm.com