More
PHOTOS BY CLAUDIA GARDNER - Tourism Minister Edmund Bartlett tests some butter made by Seprod at the Gastronomy of Fats and Oils seminar at the Hilton Rose Hall in Montego Bay on Wednesday. At right is general manager of Caribbean Products Company Clement Burnett, while to the left are marketing manager at Seprod, Matthew Samuda; Director of Tourism Paul Pennicook, and Permanent Secretary in the Ministry of Tourism, Jennifer Griffith.

.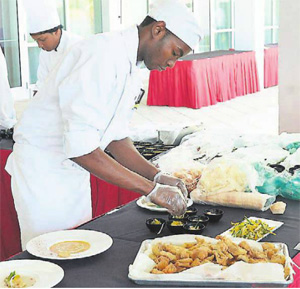 Moon Palace Jamaica Grande's Nicholas Grant arranges dishes for sampling at the Gastronomy of Fats and Oils seminar at the Hilton Rose Hall in Montego Bay on Wednesday.
Opportunity for gastronomy
The catalyst for MoBay's tourism expansion?
Claudia Gardner, Hospitality Jamaica Writer
Jamaica's thrust towards becoming a major global gastronomy destination is to be bolstered by the country's hosting one of the United Nations' most crucial conferences on sustainable tourism.
The event, set for December 2017 in the tourism capital, Montego Bay has been dubbed an "opportunity for gastronomy; not only for the health and wellness network, but particularly for entertainment and music to help showcase Jamaica's food, which will be on display", Minister of Tourism Edmund Bartlett announced last Wednesday at the Hilton Rose Hall.
He was speaking at a Gastronomy of Fats and Oils 'The Art of Choosing, Preparing and Cooking Good Food' seminar at the Montego Bay resort. Hosted in association with the Seprod Group, the event entailed a series of presentations by chefs and experts on how to effectively use fats and oils to further enhance culinary delights within the tourism sector.
Gastronomy is one of the passion points being touted by the minister as ways of taking Destination Jamaica to the next level.
Uncertain of the exact date the event will take place, Bartlett said these were both private and public sector arms of the World Tourism Organisation (UNWTO) coming together to put on a global event for the first time.
FIRST GLOBAL CONFERENCE
Beaming with pride, the tourism minister said that with the declaration of 2017 being named International Year for Sustainable Tourism Development, "little Jamaica has been selected as the venue for the first global conference on tourism development and sustainability".
The Montego Bay Convention Centre has been selected as the venue.
On show will be special presentations of rum, special presentations of coffee, and the various foods that the island boasts.
According to the tourism minister, a focus on gastronomy could be the catalyst for the expansion of Montego Bay's tourism product. He is convinced that the conference will offer a huge platform, with 157 ministers of tourism worldwide in attendance, plus 500 tourism-aligned companies and delegates from the UN's development agencies.
Internationally, the UN has designated eight metropolitan areas as Cities of Gastronom: Popayan in Colombia; Chengdu and Shunde in China; Ostersund in Sweden; Tsuruoka in Japan; Jeonju in South Korea; Florianoplis in Brasil; Zahle in Lebanon; and Tuscon in Arizona, USA.
To be designated a City of Gastronomy, the UNESCO requires that that city shows, among other things, how its food system, food economy, and food culture can serve as a driver of development; describes how its cultural and culinary assets played an important role in its history and economic development; lists the related food festivals, conferences, and special events aimed at professionals, the public, and tourists; and presents examples of food-related programmes and projects that support vulnerable social groups and strengthen connections between the city, the private sector, and academia.
DEVELOPMENT TOOL
"While we talk about gastronomy in the broad sense of consumption, it is also a development tool because it gives an opportunity for infrastructure development within the areas. Montego Bay has to be looked at in this way. In fact, I am determined that we need to reinvent the product in Montego Bay and create a new vista for expansion and growth. Montego Bay can't grow unless there is a new destination created, and I think that the new destination can definitely revolve around food and entertainment," Bartlett said.
He added that to build out gastronomy is to create a dynamic and distinctive stream of visitors into Jamaica. Eighty-eight per cent of people who visit other places go in search of food, and in our largest market - the United States research has shown that 23.7 million people travel every year for gastronomy experiences
"Jamaica could do well with two million of that. And if we do that, we would have doubled our visitor arrival out of the United States and we would have been well ahead of our five million projection," he said.
Next year's conference is part of the UNWTO's 10-Year Framework of Programmes on Sustainable Consumption and Production, which is a global framework of action to accelerate the shift towards sustainable consumption and production patterns in both developed and developing countries.