More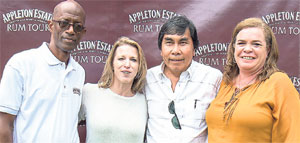 CONTRIBUTED From left: Chairman of J. Wray & Nephew Limited, Clement 'Jimmy' Lawrence; K.K. Hall, director of global strategic marketing – rums; architect Clifton Yap; and atherine McDonald, global brand PR manager – rum.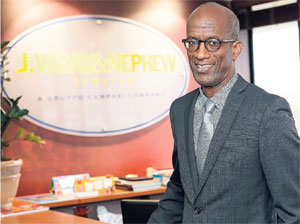 Clement 'Jimmy' Lawrence, chairman of J. Wray & Nephew.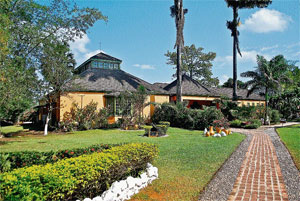 CONTRIBUTED Current Appleton Estate Rum Tour plant as it now stands without the billion-dollar expansion.
Redesigning Appleton
Jamaica's Clifton Yap puts spunk into tradition
Janet Silvera, Senior Gleaner Writer
WESTERN BUREAU:
The much-anticipated $1-billion renovation and upgrade of the Appleton Estate Visitor Centre in Shiloh, St Elizabeth, is under construction and on schedule for completion by November.
Considered one of the largest investments ever to take place on the island's southern coast, the project, designed by famed local architect Clifton Yap, is also central to the Ministry of Tourism's 2018 thrust to tap into the lucrative international gastro-tourism market.
"While I prefer to leave the finish product to speak for itself, this truly has the making of something special," Yap said in an interview on February 4.
"The project is truly a collaborative one. J. Wray & Nephew and its parent company, Gruppo Campari, are extremely knowledgeable about what they want to achieve and had been working for many months with the multi-disciplinary United States firm, Jack Rouse Associates, to develop preliminary concepts before I was brought in to join the team as architect."
Yap, whose body of work includes critically acclaimed projects such as the Sovereign Centre (Kingston), Doctor's Cave Bathing Beach, Whitter Village (Montego Bay), Melia Braco Village (Trelawny), and Couples Tower Isles (St Ann), said he is acutely aware that $1 billion in any currency is a lot of money and that many persons are anxiously awaiting the project's completion.
"I don't feel any added pressure," he explained. "I approach this the way I do all my projects, which is to give my best effort to satisfy my client's objectives."
LOCAL ARCHITECTS COMPETENT
Yap said he is very much cognisant that there is a school of thought that projects of this magnitude should be reserved for foreign designers, adding that this couldn't be further from the truth.
"Unless it is a highly specialised type of project, there is nothing that local architects can't deal with at the highest level," he pointed out.
"It is understandable that some overseas investors may feel more comfortable working with design architects from their country. I am, however, grateful that I was able to assist and contribute to the final product, which is now under construction."
And calling J. Wray & Nephew and Gruppo Campari his "dream clients", Yap said it has been a real pleasure working with the group.
"It is all about having the confidence that we will get the job done. Once we were brought in, the J. Wray & Nephew team has been nothing but supportive," Yap added.
"I have always pushed myself to do the best I can on each and every project. I do have a little anxiety sometimes, hoping that my client, and more so myself, will be happy with the end product."
For his part, Chairman of J. Wray & Nephew Clement 'Jimmy' Lawrence said the investment in the Appleton Estate Rum Tour is a significant one for both his organisation and also the people of Jamaica.
"An important and non-negotiable element of this renovation project is for the redesigned rum tour to maintain an aesthetic that is authentically Jamaican and a true reflection of the Appleton Estate Jamaica Rum brand," he pointed out.
"It is this desire for authenticity that led us to collaborate with a local designer - and not just any designer, but the one who had designed the original Appleton Estate Rum Tour. We are excited about the vision that Mr Yap brings and we know that his creativity and expertise will help to bring to life this world-class tourist attraction right here in the heart of Jamaica."