More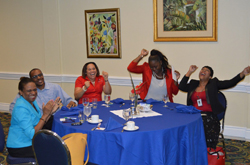 From left: Carole Fox, interCaribbean Airways; Andrew Burke of Royal Bank of Canada; Anne Stewart of VIP Attractions; a happy Subrenia Chin-Dixon, celebrating the win of a JetBlue airline ticket; and Nicole Cunningham of Copa at the Go Jamaica Travel booking engine product presentation, at The Knutsford Court Hotel in Kingston last Thursday.
Go Jamaica Travel launches booking engine
Janet Silvera, Hospitality Jamaica Coordinator
Jamaican wholesaler, Go Jamaica Travel, has joined the ranks of Expedia.com, Travelocity and PriceLine, by launching its own booking engine, offering incredibly discounted rates for 118,000 hotels worldwide.
Currently, the rates are only accessible to travel agents. However, by May 1, local consumers will be able to book these hotels via e-commerce, Go Jamaica Travel's Dave Chin-Tung told Hospitality Jamaica last weekend.
Chin-Tung and his team launched the product at a breakfast presentation at The Knutsford Court Hotel in Kingston last Thursday.
"We are able to offer the hotels at cheaper rates so that the agents can add commission and still offer cheaper rates than those advertised," said Chin-Tung, explaining that the reduction in rates is between 20 and 30 per cent.
Hotels in all five continents, varying from apartments to six-star properties, even the YMCAs are in the Go Jamaica Travel portal, and "we have covered on the website some 65 per cent of all hotels in Jamaica, including some apartments and villas", says Chin-Tung.
It took the local wholesaler/tour operator just over a year to build the system which was created by local application development company, New Media Studios, owned by Jamaican, Sheldon Townsend. New Media Studios is based in Kingston.
Pointing out how the system will work, Townsend said the booking engine will allow the travel agents to search these hotels directly, after which they can confirm the reservations and generate the vouchers that their clients would take to the hotels.
24-hour access
The travel agents are able to access the portal and receive immediate confirmation and invoicing, and they can do this 24 hours per day.
According to Chin-Tung, the portal will be opened to agents in the Cayman Islands, The Bahamas, Trinidad and Tobago, Barbados, Curaçao and Panama.
"We have planned a blitz for Grand Cayman in April with the other countries slated to come online soon after," he told Hospitality Jamaica.
Currently, Go Jamaica Travel is not selling air that originates in Jamaica, but says it is able to do air from places such as Germany, China, Australia, Holland and the far East, "A lot of travel agents have been booking these services through us", revealed the Go Jamaica Travel chief executive officer
In addition, the Go Jamaica Travel portal will have a special events calendar which will give access to tourism interests. "What we have done, we have given the Jamaica Tourist Board, the Jamaica Hotel & Tourist Association and the airline industry free access to upload anything they want to highlight on the site", explains Chin-Tung.
The local tour operator has partnered with Tourico Holiday which is based in Florida, and research has shown that this is the first Jamaican-owned company to offer this type of facility at this magnitude.
Some 35 local travel agents were in attendance at the presentation, a session Chin-Tung said received overwhelming support.
"We had the hotels previously and travel agents would call us to book them, and were doing quite well, but what we have done now is open it up so that they can go ahead and book without having to call us.
According to the man who built the system, Townsend, this new path will be pretty convenient, "and the average person will find it easy to book with a credit card once the retail section kicks in".
As of May, persons who wish to book via the website may visit www.gojamaicatravel.travel.
Chin-Tung expects to enhance the service with cruises, tours and attractions.
"For example, if you are in New York and you want theatre tickets, we will have those, and if you are in Rome and want to go the Sistine Chapel, or in China and want to go the Great Wall, we will be able to offer that service."
janet.silvera@gleanerjm.com