More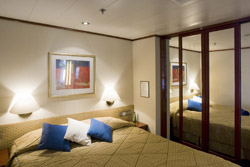 A cabin on board Cuba Cruise's Crista.
Make the historic Cuba Cruise
Janet Silvera, Hospitality Jamaica Coordinator
Five days after the winter tourist season commences, Jamaica will be part of history when Louis Critsal Cruises sails out of Montego Freeport en route to Cuba.
This is the first time that a cruise line will operate ships between the two neighbouring countries.
During an interview on Monday, Cuba Cruise's marketing and media coordinator, Melissa Medeiros, confirmed that the first ship from the tourism capital will depart on Friday, December 20, and operate every Friday until March 21, 2014.
Jamaican bookings
According to Medeiros, there are lots of bookings from Jamaicans. "Cruise bookings are going well and there have been quite a few reservations from Jamaicans," she revealed, noting that some five Jamaican companies were selling packages.
Checks with Go Jamaica Travel's David Chin Tung revealed that his company has been getting a lot of queries.
"On a daily basis, we get three to four calls regarding the ship, and I am aware of one large group of Jamaicans who are booked to sail on the 20th", he told Hospitality Jamaica.
Chin Tung stated that the Cristal ship had the right size, and the perfect itinerary.
Passengers have a choice of Castillo de Jagua Fortress, Santiago, the cornerstone of Cuban cigars, rum and music, plus the rarely explored Punta Frances, one of the Caribbean's best beaches.
Cuba Cruise's president, Dugald Wells, concurred with Chin Tung, adding, "We look forward to sharing these treasured places, like Holguin's Guayabo waterfalls, plunging 200 metres, and the historically rich centre of Afro-Cuban culture in Santiago de Cuba. Each destination on this itinerary is packed with hidden gems for our guests to discover."
Guests can join the seven- night cruise at either Havana or Montego Bay, paying as low as US$1,492 for double occupancy, or as high as US$3,490. "These rates include port charges and taxes," says Go Jamaica Travel.
Prices for children start at US$353. The ship has the capacity to accommodate 1,200 passengers in 480 cabins.
While some destinations on the itinerary are more familiar than others, each daily port offers its own magic, said a media release from Cuba Cruise.
"Many of the sites have never been accessible on a single itinerary without complicated and uncomfortable travel between locations. Cuba Cruise makes it simple, comfortable, and even luxurious to see all of Cuba's most magnificent offerings on one comprehensive trip."
TRIP HIGHLIGHTS
Ports of call highlights include:
Havana: Guests experience the spirit of Cuba straight away during the opening cocktail party featuring Cuba's iconic cocktails, Mojitos and Cuba Libres, followed by Spanish, African and Caribbean fusion fare. The ship disembarks from Havana at 1 a.m., allowing plenty of time to experience the capital city's many unique offerings, including the vibrant nightlife.
Caribbean Sea: Day 2 is at sea to get settled and enjoy all the ship's facilities and the lovely coastline going by.
Holguin: The following day, guests arrive in Holguin, the Cuban city first discovered by Christopher Columbus, who declared it to be "the most beautiful land ever seen by human eyes." Guests can catamaran to Cayo Saetia, a natural reserve formed by pure white sand. Then climb into a Jeep for a safari over the island to see exotic animals including American ostriches and water buffalo.
Santiago de Cuba: Next is the lively epicentre of Afro-Cuban culture. Santiago de Cuba is also the heart of Cuba's most famous exports including coffee, rum, cigars and music. Guests will have until 9 p.m. to immerse themselves in the onshore festivities, including live music, entertainment and even tours of the iconic cigar factories, or simply relax onboard the ship.
Cienfuegos: Here, Cuba Cruise guests will peer up at the impressive Castillo de Jagua, an 18th century fortress, wander the streets of this very pretty city known as The Pearl of the Caribbean or visit the Colonial village of Trinidad, a UNESCO world cultural heritage site, where you'll bask in the warmth of the people and the charming cobblestone streets.
The Isle of Youth at Punta Frances: Here, you'll enjoy Cuba's most pristine beaches. The crystal clear waters invite guests to explore the underwater marine life and coral reef. Enjoy a beach barbeque as you soak up the warm Caribbean sun and sway your hips to the live Cuban music.
janet.silvera@gleanerjm.com