More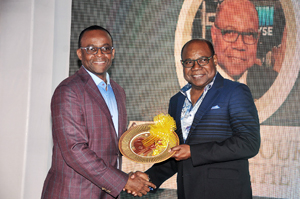 CONTRIBUTED PHOTOS Minister Edmund Bartlett is 'Caribbean Minister of the Year'. Director of Tourism Donovan White (left) presents Edmund Bartlett, minister of tourism, with a ceramic plaque during a Jamaica Tourist Board-hosted cocktail reception. The event celebrated Bartlett's recent designation as the 'Caribbean Tourism Minister of the Year,' 2017, by the 'Caribbean Journal'.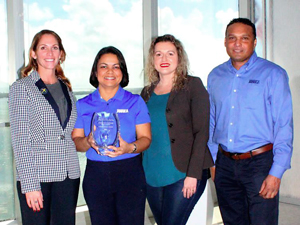 CONTRIBUTED - From left: Betty Estrada, senior business development manager, Caribbean, Expedia Media Solutions; Francine Carter Henry, manager – tour operators and airlines, Jamaica Tourist Board (JTB); Ana Paradela, director, advertising sales, LATAM, Mexico and Caribbean, Expedia Media Solutions; and Kristopher DaCosta, digital marketing manager, JTB.
JTB recognised as Expedia Media Solutions 2017 Partner Award winner
The Jamaica Tourist Board (JTB) is pleased to announce that it has been recognised by Expedia Media Solutions, the advertising arm of Expedia, Inc, as a winner of its annual 2017 Partner Awards programme. The Latin America Destination Campaign of the Year award was presented at the annual Expedia Partner Conference, which acknowledges partner campaigns that demonstrate innovation, creativity, and achievement in travel marketing.
"We are thrilled to have been recognised by Expedia Media Solutions as the Latin America Destination Campaign of the year winner for 2017," said Donnie Dawson, Jamaica's deputy director of tourism, sales. "We are truly proud of our team and the many accomplishments garnered through this campaign and will continue our efforts to promote Jamaica as a top destination for the Latin American market and beyond."
The JTB has been a longstanding Expedia Media Solutions marketing partner, and in 2017, it enacted a multipronged strategy that would competitively position Jamaica against other popular beach destinations. The team worked together to develop two joint marketing campaigns, which involved a variety of hotels to drive demand for Jamaica. The first was a year-long co-op campaign with Expedia Media Solutions that started March 2017. The second was the Great Jamaica Winter Sale Joint Marketing campaign, capitalising on Black Friday and Cyber Monday and the new trend of gifting travel experiences.
In addition, the team produced a display campaign to highlight the island destination and all that it has to offer across Expedia, Travelocity, Orbitz, Hotwire, and CheapTickets. The campaign that ran in June generated 3,500 room nights to the destination within a three-week period. To date, these campaigns have generated a combined return of advertising spend (ROAS) of 126:1.
"This year's partner award winners demonstrate the remarkable work of our valued partners who have produced successful campaigns through the use of creative content, groundbreaking technology, and strategic targeting," said Hari Nair, senior global vice-president, Expedia Media Solutions. "We're excited to honour this year's award-winning campaigns and look forward to continued work with our partners to help them execute targeted campaigns and achieve their goals through Expedia's platforms and valuable insights."
The JTB was one of 12 brands recognised by Expedia Media Solutions at the 2017 Partner Conference. For more information, visit https://info.advertising. expedia.com/2017-partner-awards.