More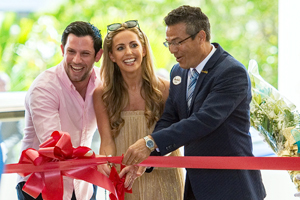 Sandals Royal Barbadosís General Manager Fernand Zievinger (right), welcomes Shaunagh and Thomas Anderson as his very first guests when the resort opened its doors on December 20, 2017.
Record year for Barbados tourism
Barbados Minister of Tourism and International Transport Richard Sealy has announced that Barbados enjoyed a record five per cent increase in stayover arrivals last year, an all-time high for the destination.
Over the course of 2017, the Grantley Adams International Airport (GAIA) welcomed 663,441 visitor arrivals - 31,308 more than 2016. The Bridgetown Port Inc (BPI) also observed tremendous growth, recording 818,752 cruise arrivals over the previous year's 725,020, for a total increase of 12.9 per cent. Of these 818,752 cruise arrivals, some 137,541 passengers stayed over in Barbados, above 2016's total of 130,924.
"I am delighted by this news and what it says about Barbados' tourism product," said Sealy. "It is never easy as a mature tourism destination to maintain growth at these levels in the competitive business landscape in which we operate, but I am pleased that through strategic marketing efforts we have once again proven Barbados' value as shown by the record number of arrivals at both the air- and seaports throughout 2017."
The United Kingdom was once again the top producer of arrivals to Barbados with a 33.5 per cent market share. Arrivals from this market were flat compared to 2016, totalling 222,322. The United States followed, contributing 28.4 per cent of business with 188,970 arrivals for the year. Canada contributed 12.8 per cent of the business, and recorded an increase of 7.9 per cent or 85,209 arrivals.
Of special note is the United States, which, while being the second-highest producer of business, grew by a whopping 11.7 per cent over 2016. The United States' 2017 performance was the highest for that market in three decades - since contributing 175,093 arrivals in 1987.
Sealy attributed the destination's noteworthy performance to a -number of strategic and integrated marketing initiatives which were deployed across Barbados' top source markets. "I must commend our tourism teams, both here and in our global offices, whose efforts were instrumental in us achieving this record five per cent growth."
Some of the marketing efforts Sealy referenced included:
New niche events
Continuing to position Barbados as a formidable player in sports tourism; two new events were created for the traditionally softer period of September - the Barbados Beach and Wellness Festival and the Barbados Cycling Festival. Receiving positive feedback and displaying strong potential for further development and accomplishment, Sealy announced that Barbados Tourism Marketing Inc (BTMI)will once again host the two events in 2018.
New air services
"One of the key components in achieving positive tourism performance is, of course, the accessibility of the destination to visitors around the world. Bearing this in mind, we have worked to ensure that we are both maintaining our current airlift, while adding new, enticing services to our repertoire; for example, the new Copa partnership which I announced last month," Sealy said.
Barbados' new partnership with Copa Airlines will see a twice weekly Barbados-Panama service commencing this July 17, and tickets are already on sale on the airline's website. Late last year, the BTMI also joined with GAIA in welcoming Virgin Atlantic's new London Heathrow twice-weekly service to Barbados, which commenced December 12, 2017 until February 24, 2018; and later, the Thomas Cook new weekly flight from London Gatwick, which commenced December 16, 2017 and will run until March 17, 2018.
Exciting new attractions and accommodations
"Considering the numerous new and increased services, we also saw it important to ensure that we had adequate and quality accommodations available to the additional arriving passengers," Sealy said. "We therefore saw a number of hotels being refurbished and reopening just ahead of the winter season; hotels such as Sea Breeze, Fairmont Royal Pavilion, Treasure Beach, The House, and so on."
Sealy also welcomed the new business that the recently opened Sandals Royal, located on Maxwell Beach, has already brought to Barbados.
Describing the island's new attractions as "integral" in differentiating destination Barbados, Sealy said "I am happy to say that a number of new attractions have come on stream, attractions that will differentiate the product offering we have here in Barbados. There's the Nikki Beach club that opened at Port Ferdinand, and, of course, in 2017 we christened the new Rihanna Drive, which has already garnered much international media attention following our ceremony last November. If you've been to Speightstown, you'll also see that there's a buzz around the new restaurants that have opened there ... but overall, there are a lot of positive new developments happening across the island."