More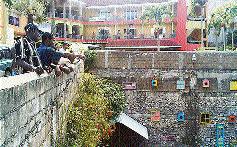 Sadam Gully, in Mandeville, Manchester, is fast becoming a popular attraction in that mid-island town.
Marvelous Mandeville Tour rolls again
Paul H. Williams, Hospitality Jamaica Writer
The mid-island town of Mandeville, Manchester, sits atop a mountain. At over 2,000 feet, it is arguably Jamaica's coolest urban centre.
The town itself is laid out on a series of hills with flatlands in between. Its crime rate is relatively lower than many parts of the country, and it has striking geographical features, several heritage sites, many reputable schools and colleges, and posh suburban neighbourhoods.
But in a country where tourism is a major income earner, Mandeville is not a place overrun by local and international visitors. Yet, that might soon change, as the Marvelous Mandeville Tour is up and running again. All aboard!
"The Marvelous Mandeville Tour and brand were conceived and developed by me many years ago for the Mandeville Railway Tour in the mid-1980s to the early 1990s until the railway service closed suddenly in 1992," Diana McIntyre-Pike of Countrystyle Community Tourism, told Hospitality Jamaica.
"Back then, the tour arrived at Williamsfield and we took them up to Ingleside Great House, where the then general manager of Alcan, Dr Keith Panton, and his wife, lived, and kindly hosted the community welcome there, and I, as the community host/guide, gave them a highlights tour of Mandeville, then lunch at the Astra Country Inn with community entertainment and back to MoBay on the railway. We even had a video for Marvelous Mandeville then."
Now, the tour includes a community welcome at Mandeville Hotel, with refreshments and visits to Bloomfield Great House and Restaurant (formerly Bloomfield Hotel), Bishop Gibson High School (formerly Newleigh Hotel), deCarteret College (formerly King Edward Hotel), Manchester Club, the 17th-century courthouse, St Mark's Parish Church (Anglican), Northern Caribbean University, the high mountain coffee factory at Williamsfield (Monday-Fridays only); and sampling fruits of the season in Porus village.
The tour ends at the SuperPlus Centre/Bankhouse Mall complex with shopping, lunch and cultural entertainment, and a visit to Sadam Gully 'mini-zoo'.
The revival of the tour came about after Lisa Lue Yen, property manager of the Super Plus Centre/Banhouse Mall complex, approached McIntyre-Pike for assistance in coordinating tours to Mandeville. "I submitted a proposal from the Countrystyle Community Tourism Network/Villages as businesses and decided to revive the Marvelous Mandeville Tour in association with the Jamaica Creative Co-operative) and the Super Plus Centre and the Mandeville Hotel, which includes community tourism entrepreneurship workshop training for all persons involved," McIntyre-Pike said.
The tour costs US$90 per person, which includes the welcome refreshments, lunch and entertainment and community/host guide. Transportation is available upon request.