More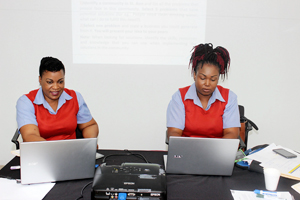 Photos by Janet Silvera - Shop owners of the new Ocho Rios Fishing Village being schooled in business management by trainers from the JBDC.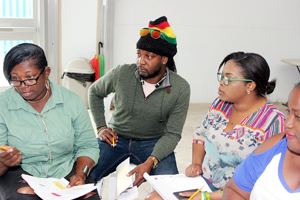 From left: shop owners Marjorie Taylor, Marvin Traille and Peta-Gaye Whyte participate in group activity during a training session in business management.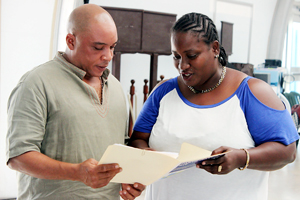 Chris Lue has the attention of Juliet Taylor during the business management training session for shop owners who will operate businesses at the new Ocho Rios Fishing Village.
PAJ trains shop owners

In preparation for the official opening of the multimillion-dollar Ocho Rios Fishing Village, some 26 shop owners have been going through a series of training organised by the Port Authority of Jamaica (PAJ).
On Friday, March 9, the operators participated in the subject 'Introduction to Business Management', supervised by trainers from the Jamaica Business Development Corporation (JBDC), at the Ocho Rios Cruise Ship Terminal in St Ann.
Topics such as 'Cultivating an Entrepreneurial Mindset'; 'Starting a Business'; 'Legal Framework of Business'; 'Tax Obligations and Strategic Planning' were among the areas touched on by the trainers.
The aim of the workshop was to help the shop owners to identify with general character traits of an entrepreneur; identify and evaluate a business idea; while understanding the business environment from a Jamaican perspective.
The shop owners have also been exposed to the banking sector and customer service.
Hospitality Jamaica bring you highlights of the business management training session.