More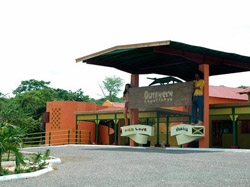 The Outameni Experience attraction, located at Cooper's Pen in Trelawny, sits in limbo amid the raging controversy over the National Housing Trust's decision to buy the attraction. - File
Why the dis-Harmony about Outameni?
Dear Sir/Madam:
Why is there no harmony at Outameni? It seems like a month of Sundays since a debate has been raging about the National Housing Trust's (NHT) purchase of the property that houses Outameni Experience and we are no closer to a resolution, leaving me to wonder what is the real reason for the cass-cass.
So NHT buys a 10-acre property valued at $311 million for a discounted price of $180 million, and with all the big chat, it seems like either World War III or an election is around the corner. Do these same people know that the same NHT has acquired thousands of acres of land just up the road from Outameni, only to have it in ruinate while it waits to become Harmony Cove? This was done through its subsidiary named Harmonisation Ltd.
For those who do not know, Harmony Cove is a planned luxury resort complex with five hotels, casinos, luxury villas, a marina, two spas and helicopter landing pad, just to name a few of the high-end features. Rest assured that no low-income persons will ever be able to venture on to Harmony Cove, let alone live there. Ask yourself what does NHT know about hotels, if not attractions?
So why is there no complaint from those who are saying that the NHT's mandate is to "bill 'ouse for poor peeple"? I am quite sure that the rich and famous who will visit or reside at Harmony Cove will not want poor "peeple" relaxing on their white sand beach or rubbing shoulders in the casino. Rest assured that poor "peeple" will be on the other side of the north coast highway hawking bunches of guinep to get enough money to buy a ticket in the next Cash Pot draw.
When I became a pensioner and retired to my old family home just outside Duncans, I was tickled pink (sorry, wrong colour) when Outameni Experience opened to Jamaicans and visitors alike. Finally, there was something we could be proud of in Trelawny, other than Usain Bolt. When the scores of buses started coming to Outameni Experience from across Jamaica with students wanting to learn more about our motto and culture, I felt proud that Outameni was putting Falmouth on the map while we wait patiently for something, anything, to happen at the thousands of acres of bushland slated to become Harmony Cove, while NHT is still not building enough 'ouse for poor people.
So I am left to wonder, why are we heaping fire on the Outameni acquisition while just up the road the same NHT has thousands of acres in ruinate? Couldn't a little piece of Harmony Cove be used by NHT to "bill nuff 'ouse for di poor peeple" until the foreigners come on their luxury yachts and helicopters? I'm sure we all know the answer.
Jackass say dis worl no level, and that is why we continue to have 'dis-harmony' at Outameni Experience.
I am,
Pensioner
Carey Park, Trelawny
rchristine38@ymail.com