More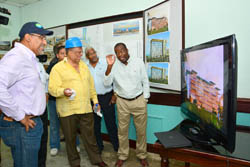 General manager of the Moon Palace Jamaica Grande Resort and Spa, Clifton Reader (far right), is emphatic as he points out the luxurious features that are being constructed to transform the Ocho Rios hotel for its January 2015 opening. Obviously pleased are (from left) Minister of Tourism and Entertainment Dr Wykeham McNeill, Minister of Finance and Planning Dr Peter Phillips, and executive director of the Tourism Enhancement Fund, Clyde Harrison. - Contributed
From left: Hyatt Ziva Director of Sales Mureen James shows ministers Dr Peter Phillips (centre), minister of finance; and Dr Wykeham McNeill, minister of tourism and entertainment drawings of the two resorts, Hyatt Ziva and Hyatt Zilara, which are to open early December.
Tourism investments a major economic boost - Minister
The local economy continues to receive a major boost from billions of dollars which are currently flowing into the island through investment in the tourism sector.
Minister of Tourism and Entertainment Dr Wykeham McNeill has indicated that "current investment in the industry stands at some $35 billion. This is in keeping with a growing demand for rooms to satisfy the increasing interest in the country as a preferred tourist destination".
Following a tour with McNeill of four tourism investment sites in Montego Bay, Trelawny and Ocho Rios on the weekend, Minister of Finance and Planning Dr Peter Phillips expressed delight with the developments and their contribution to the Government's growth agenda.
The locations visited on the tour included the Hyatt Ziva and Hyatt Zilara resorts in Montego Bay, Royalton White Sands Resort in Trelawny, the Ocho Rios Cruise Ship Pier and the Moon Palace Jamaica Grande Resort and Spa.
Right direction
With more "world-class brands lining up to enter the sector", Dr Phillips said this was "proof that we are heading in the right direction". He added that "what we have seen here in Ocho Rios, as well as in Montego Bay and Trelawny, is that there is tremendous employment potential in the tourism industry".
It was outlined that over 1,000 construction workers are now toiling round the clock to have the luxurious Hyatt Ziva and Hyatt Zilara resorts ready for a soft opening soon. An additional 600 permanent staff is already on the job. General manager, Carl Hendriks, said that figure will be doubled when the hotel is in full operation giving guests "service from the heart".
The hotel's parent company, Playa Resorts, is spending some US$150 million to transform the former Ritz Carlton property with the addition to several new features, including an additional 193 rooms.
In Falmouth, the ministers were given a guided tour of the former Trelawny Beach Hotel, which has been extensively transformed into the Royalton White Sands. Resident manager, Alexander Arias, said occupancy was now at 100 per cent and this would continue into the upcoming winter tourist season, which begins on December 15.
Dr Phillips then got a first-hand view of work being done by the Ministry of Tourism and Entertainment through the Tourism Enhancement Fund (TEF) and other stakeholders, to renovate the Ocho Rios Cruise Ship Pier and add amenities in the resort town to benefit both locals and visitors.
Mission to transform 'Ochi'
Dr McNeill pointed out that this investment was being made by both the private sector and Government. "Over the last year, we embarked on an initiative between the TEF, the Port Authority of Jamaica and the Urban Development Corporation, and we're working on a project which will transform Ocho Rios."
It was also outlined that the Moon Palace resort is set to open its doors in January 2015 and over 2000 construction workers are engaged in the refurbishing of the former Sunset Jamaica Grande property. The hotel, which has over 700 rooms, is being developed into an elegant resort with Jamaican hotelier, Clifton Reader, as general manager.
In a bid to retain valuable members of the original workforce, the new operators have kept some 500 employees on their payroll during the hotel's temporary closure. More than 100 workers have also been sent to Mexico for training. The hotel will eventually have 1,200 permanent employees.
Dr Phillips noted that, "Along with other developments which may come later, what we're seeing is the extent to which the recovery of competitiveness in the Jamaican economy, which has resulted from our economic reform programme, is driving a new wave of investment, generally. We are in an early phase of this process, and if the early phase looks as encouraging as we have seen today, then we can only imagine the tremendous possibilities which will exist for the country as a whole."
He was particularly encouraged that "almost every one of the investors and operators that we met with has expressed an interest in expanding beyond their existing properties, which, again, is an indication of the real prospects that await Jamaica as we complete this economic reform programme."