More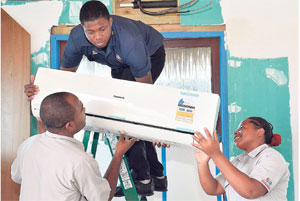 CONTRIBUTED PHOTOS ATL technicians (from left) team leader Joshua Gardner, Eric Bernard and Keleen Kameka pull together to facilitate an a/c installation in the unfinished Over-the-Water Bungalow at Sandals Royal Caribbean.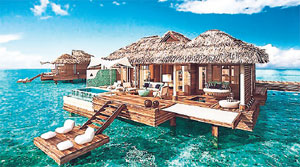 A Sandals Over-the-Water suite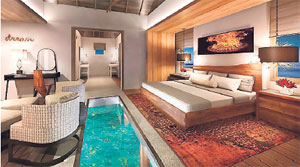 A look inside one of the Sandals Over-the-Water suites.
ATL supports movement to enhance tourism product
It's as early as 7 a.m. and already a quartet is hard at work saddled with a 300-pound air-conditioning unit. The Appliance Traders Limited (ATL) technicians - one female and three males - board a boat, which transports them to a boardwalk where they will continue trekking. They are taken to a locale most people dream of getting lost in, a vacationer's paradise, where they, along with other colleagues, are part of a thrust to shape history within the development of the Caribbean's first Over-the-Water Villas and Bungalows at Sandals Royal Caribbean in Montego Bay.
After months of variable weather conditions, constant manipulation of heavy equipment, and navigation of an unconventional work site, the project's successful completion makes the ATL team beam with pride.
ATL's technical supervisor, Winston Simpson, said, "It was definitely not a run-of-the-mill, day-at-the-office type of set-up."
Technician Joshua Gardner echoed his supervisor's sentiments.
"It was quite an experience working on open scaffolding over the ocean with daily direct exposure to the elements. Nevertheless, being entrusted with providing and installing a/c solutions to help advance the country's tourism sector is an opportunity for which we are most grateful."
UNIQUE PROJECT
Rather different from your conventional a/c install, Simpson explained that the Sandals project was unique in that they had to identify and source units that could withstand the accompanying environmental (sea and weather) conditions.
"We had a few critical considerations in selecting the right units. They had to be resistant to saltwater corrosion, energy-saving, have air-purification capabilities, accessible for service, which is a key determinant of the unit's lifespan, while simultaneously being aesthetically appealing, so we selected central units for the larger Over-the-Water Villas."
The villas, which were unveiled last December, are to be followed by Phase Two of the project, the Over-the-Water Bungalows, which have already taken the ATL team back out on the seas to install a dozen Panasonic Inverter units for a summer completion date.
The local retailer, which has a 50-year relationship with air-conditioning in the Jamaican market, is highly recognised for its partnership with Panasonic in pioneering an eco-villa at Sandals Montego Bay, now adding its work at the Over-the-Water suites.
In consideration of ever-rising energy costs, ATL's head of engineering, Mark Blair, confirms that the villa's 'green' nature would guarantee their sustainability as "the units installed at Sandals Royal Caribbean are eco-friendly with special mechanisms designed to reduce greenhouse emissions. Additionally, through our major projects, we have seen where inverter AC models can reap up to 65 per cent in energy savings. That's a welcome boost to any company's bottom line, which, of course, will contribute in the long run to the viability of this game-changing product in the Caribbean".