More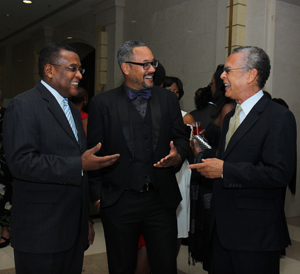 From left: Director of Tourism Paul Pennicook; Managing Director of The Gleaner Company (Media) Limited Christopher Barnes, and Basil Smith of Basil Smith and Company

.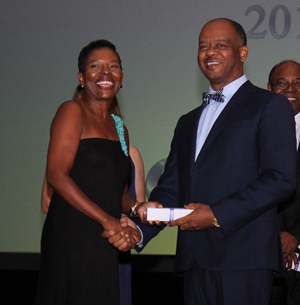 The Gleaner's business development manager, Nordia Craig, presents a gift to sponsor, Fred Smith, of Tropical Tours.
JTB head lauds the Hospitality Jamaica Awards
Director of Tourism Paul Pennicook said The Gleaner Hospitality Jamaica Awards is a great way to honour and show appreciation to those who have been consistently committed to making a difference in the hospitality sector.
According to Pennicook, the Hospitality Jamaica Awards, which is held every two years, has taken on a life of its own and is now an important addition to the national calendar of events.
"We have all been personally elated to see this event evolve into what can now be described as one of the tourism marquee events in the country," he said.
"In fact, there are persons who are now calling it the 'Academy Awards' of the local hospitality sector, which, if the 2016 edition is anything to go by, then that description is not far from the truth."
Pennicook further pointed out that showing recognition and rewarding excellence can only help to boost morale and also give persons the motivation to work harder.
"That might well be the single most important aspect to this kind of awards ceremony," Pennicook added. "People are more inclined to want to do better and give of their best if they know that their work is being scrutinised and that they will be rewarded for excellence. This is the kind of impact the Hospitality Jamaica Awards will have on the hospitality sector."
The tourism director also noted that he would love to see the show move to becoming an annual event, adding that it has the potential to be even bigger.
"There are more categories that can be added to make it even bigger," he advised. "Perhaps there could also be some more individual awards. The overall concept, however, is a winning one, and I can't wait to see what the next event will be like."
He said the popular choice of Jamaica Pegasus' owner Kevin Hendrickson as Gleaner Hospitality Jamaica Award's Personality of the Year was well deserved, calling him "a giant in the industry" who goes about his business in a very unassuming way.
TRUE AMBASSADORS
He also singled out the cabaret group, 'Pakage', for its outstanding performance at the 2016 awards ceremony, saying the women who made up the trio of Patricia Edwards, Gem Myers and Karen Smith have been true ambassadors who continue to have a huge impact on the entertainment industry.
"Having Pakage there as one of the featured acts was a stroke of genius," Pennicook added. "They are among the best we have ever had on the cabaret circuit, and it was only fitting that they got to be a part of the awards ceremony; and based on the rousing reception they got, you can see why they are so revered."
The event, which was a joint collaboration between The Gleaner (Media) Company and the Jamaica Tourist Board, seeks to honour tourism-related entities for outstanding achievements on a biennial basis.
Royalton White Sands and The Jamaica Pegasus walked away with a combined total of six awards. The other winners were: Hedonism II which won two awards for Jamaica's Best in Cuisine and Jamaica's Best Entertainment; Chukka for Jamaica's Best Attraction; Knutsford Express for Jamaica's Best in Transportation; Rainforest Seafoods for Jamaica's Best Purveyor; Half Moon Hotel for Jamaica's Best Eco/Sustainable Resort; RIU Palace for Jamaica's Best All-Inclusive Under 300 Rooms; and Hermosa Cove, which won the Special Award for Most Eclectic Resort.