More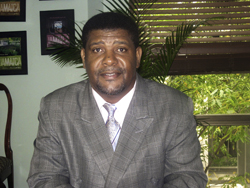 Timesharing - at last!
Collin Greenland, Contributor
When one considers the vicissitudes of political fortunes, it may be befitting that Tourism Minister Edmund Bartlett is the same person who presided over the May 1 operational implementation of Jamaica's Timeshare Act.
In this writer's article, titled 'The timeshare market - Tourism's missing link', in as far back as December 23, 2009, in this very publication, we highlighted the tenets of the timeshare market with suggestions on how Jamaica could join this industry.
That article pointed out that in June of that year, it was the same Minister Bartlett who, in his contribution to the Sectoral Debate, impressively listed as one of his policy initiatives, 'addressing time share'.
He indicated at the time that based on expert technical advice received from the United Nations World Tourism Organisation, a first draft of the timeshare legislation was being reviewed by the relevant technical authorities and stakeholders. He also promised that once the Government finalises this timeshare policy, it will be incorporated in the development of timeshare legislation. Kudos should be sent to all the stakeholders who collaborated since then to make this a reality, with the Ministry of Tourism leading the march through their extensive research, and regulatory and feasibility background work on this lucrative segment of the hospitality and travel markets.
FULL CIRCLE
Well, we have come full circle, as timesharing is in Jamaica at last! Hopefully, we can now sample from that large pie of more than nine million owners who enjoy 'vacation ownership' year after year, according to the American Resort Development Association (ARDA). Timeshare, or vacation ownership, in ARDA's view, defines leisure travel as owning timeshare gives vacationers the ability to choose the vacation they want, how and when they want it. In theirWorld Wide Shared Vacation Ownership Report - 2012 Edition, ARDA pointed out there were more than 5,600 timesharing locations today and over 6.7 million owners worldwide. Timeshare has become a major industry, reaching a high of 19.2 billion in 2008. Sales went down in late 2008 and 2009 after the US and Canada experienced recession, dropping almost 40 per cent, but in 2011 sales started to come back up, and by the end of 2013 sales levels were steadily climbing up back above 6.5 billion.
2014 and 2015 have seen sales increase and are forecasted to reach pre-recession levels by 2018. As stated in our 2009 article, Jamaica could do well with some of this business.
ResearchMoz, one of the world's fastest-growing collection of market research reports, in their report titled, Vacation Ownership (Timeshare) Industry Report: 2015 Edition, points out that 'vacation ownership', also known as timeshare, continues to lead in the hospitality and leisure industry with steady growth, as a large part of the industry's constant innovation developed in response to consumer lifestyle needs and vacation preferences. In 2009 also, then Director of Tourism John Lynch cautioned, however, that though potentially lucrative, timeshares have to be properly administered and monitored.
Interestingly, Minister Bartlett announced that timeshare vacations would be regulated by the Real Estate Board. With established, dynamic agencies under his portfolio like JTB, TPDCO, and TEF, maybe this tourism veteran minister has deemed it more appropriate to separate the regulatory responsible of this fledgling segment of the industry, from his traditional flagship agencies.
GREAT COLLABORATION
Despite the ever-present challenges of crime, micro/macroeconomic woes, or a few natural disasters, the tourism industry continues to be probably the best example of successful private/public-sector collaboration, ingenuity, dynamism and persistence. Fitting in this missing link will assist our tourism sector to remain as a world leader in attracting visitors to our shores through multifaceted approaches that not only utilise 'sun, sea and sand', but compelling overall marketing, shrewd advertising, impactful public relations, and enigmatic special events.
We cannot be complacent, however, and despite budgetary restraints, we must continue to upgrade our infrastructure, continuously increase our room count, continue developing attractions, and improve on those niches that we procrastinated on previously. These include health (welfare), sports, heritage/cultural, music and food tourism. Timeshares will also offer entrepreneurs added opportunities for support services such as transport, bars/pubs, 'fine dining' facilities, streetside cafés, night-time entertainment and other mega attractions.
Now that we have added to our arsenal of goodies, the lucrative possibilities offered by timeshares, this missing link could be the factor that has the best growth potential from both our local people and the wider world. The innumerable international awards that consistently adorned the trophy shelves of the Jamaica Tourist Board, The ISSA Group, and the Sandals Group, irrefutably points to this nation's aptitude, proficiency and achievement in world tourism.
The most popular timeshare destinations continue to be beach resorts (24 per cent) followed by country/lake resorts (16.4 per cent), while golf is the most popular amenity cited by timeshare users. Since this land we love continues to boast the most pristine beaches and popular golf courses, it is not far-fetched to predict that with plugging this missing link, our future list of awards will include 'Best Timeshare Destination'.
Only time will tell!
Cgreeny.collin@gmail.com