More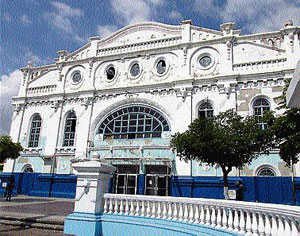 The Ward Theatre, existing in the sad shadows of its glory days, belongs on some recovery ward somewhere, or a demolition ball or two will do.
Down them or restore them ... an architectural renaissance needed
Paul H. Williams, Hospitality Jamaica Writer
Every year at the January 6 celebrations in Accompong Town, St Elizabeth, the poor condition of the road leading to the historic mountaintop village is a much-discussed topic.
Invariably, commitments by public officials to fix the road are made.
The road is long, winding and narrow, and runs along precipices at parts, which some people find very scary. At many points, two vehicles cannot pass each other with ease. In addition, it is bumpy and replete with potholes.
Yet, residents travel on it daily, and visitors risk it every January 6. The discussion about the condition of the road and a commitment to fix it continued on January 7 at the 278th commemoration of the signing of the treaty of peace and friendship between the Trelawny Town Maroons and the English.
In addressing the gathering, which included government and Opposition members, and the United States Ambassador to Jamaica Luis G. Moreno, Tourism and Entertainment Minister Dr Wykeham McNeill said to Colonel Ferron Williams, leader of the Accompong Maroons, "And Colonel, the one commitment I can give you is that when I come and visit you again next year, you will not be marooned, as you say you are ... , and we will make sure that something is done."
Dr McNeill expressed an intention by Government to "spend money to improve roads going into attractions, and said Accompong "is definitely a major attraction in Jamaica and needs attention". He said he had already discussed the matter with the "mayor" and "Minister Azan from National Works Agency".
In talking about the significance of the story of Accompong and the annual celebrations, Dr McNeill said, "Each year, the festival has proven to not only be an excellent showing of our rich historical and cultural offerings, but also a unique experience for locals and tourists alike ... . Though traditional beaches and sightseeing tourism has been a boon to Jamaica's economy, community tourism, like the offering here at Accompong, allows us to show our visitors another aspect of Jamaican life."
Also addressing the huge turnout was Dr Janice Lindsay, principal director of culture and creative industries policy division in the Ministry of Youth and Culture, who represented youth and culture minister Lisa Hanna.
Dr Lindsay said, inter alia, "It is as a result of the selfless efforts, bravery and resilience of many Maroon men and women that the Accompong celebration is among the most sought-after cultural experiences on our national calendar. The Maroon heritage is a living example of why it is important to safeguard our intangible assets."