More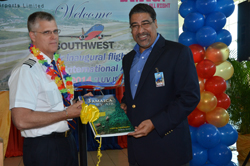 Southwest Airlines captain, Mark Schulz, accepts a gift from Minister of Tourism and Entertainment, Dr Wykeham McNeill. - Photos by Janet Silvera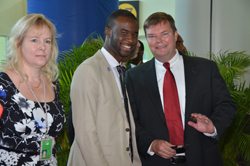 From left: MBJ Airports Limited's Elizabeth Scotton and Southwest Airline's Gad Wavomba and John Kirby at the reception at the Sangster International Airport welcoming the first Southwest aircraft.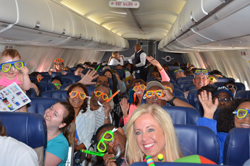 Passengers aboard the Southwest Airlines flight don their snorkeling gears inflight en route from Baltimore Washington DC to Montego Bay last week Tuesday.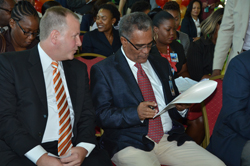 Chairman of the Jamaica Tourist Board, Dennis Morrison (right), putting the finishing touches to his speech, while Southwest Airline's chief marketing officer, Kevin Krone, looks on during a reception welcoming the airline's inaugural flight to Jamaica last week Tuesday morning (July 1).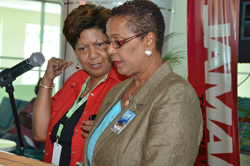 Deputy director of tourism, Sandra Scott (right), and regional manager of the Jamaica Tourist Board, Rosemarie Johnson.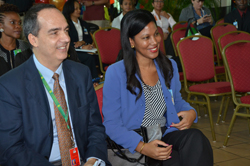 MBJ Airports Limited's CEOAnthony Allicastro and the Jamaica Hotel and Tourist Association's (JHTA), new president, Nicola Madden Greig at a reception at the Sangster International for Southwest Airlines on July 1.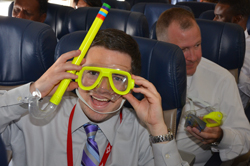 Southwest Airline's Dan Landson dons snorkeling gear aboard the aircraft en route from Baltimore Washington last week Tuesday (July1).
Southwest Airlines begins international service to three countries
DALLAS:
The employees of Southwest Airlines on July 1 launched an international future for America's largest domestic airline by inaugurating service to three Caribbean destinations from three of its US gateway cities.
Southwest Airlines' first interna-tional departure, Flight 1804, from Baltimore/Washington to Oranjestad, Aruba, followed by Southwest Flight 906 to Montego Bay, Jamaica, where its first-ever scheduled international arrival was planned for just after 11 a.m. Eastern Daylight Time. A midday flight from Baltimore/Washington to Nassau/Paradise Island also brought Southwest Airlines' legendary customer service to The Bahamas.
To commemorate the beginning of a historic chapter for the carrier, Southwest Vacations is offering up to US$200 off select travel packages booked now through July 14, 2014, for travel July 4, 2014, through January 4, 2015 (blackout dates apply, three day advance purchase and minimum stay required. The bundled travel packages featuring combinations of air, hotel, car, and activities can be booked now at southwestvacations.com.
"Thousands of our employees have a hand in launching the flights which begin to bring our convenient and affordable way of air travel to the world, and broaden the horizon for more than 100 million customers who fly with us every year," said Teresa Laraba, Southwest's senior vice-president of customers, during a Caribbean-themed celebration and news conference near the departure gates at Baltimore/Washington International Thurgood Marshall Airport.
"We've grown through four decades of profitable service to carry more domestic air travelers every day than any other airline, and this next chapter plants a flag for Bags Fly Free(r) and No Change Fees in foreign sand."
Customers on the carrier's inaugural international flights from Baltimore/Washington joined those in two other gateway cities of Atlanta, and Orlando, who celebrated alongside employees with commemorative beach balls, snorkels and masks.
At the company's corporate headquarters in Dallas, employees staffed a command centre in the pre-dawn hours to monitor operational performance and new technology systems developed in partnership with Amadeus, a leading technology provider to the global travel industry. Its Altea suite of technology solutions is powering Southwest's reservations, inventory, and departure control functions for international flying.
"We are extremely pleased that our next-generation technology has enabled Southwest to achieve its goal of international flying. Amadeus is committed to delivering the solutions and services that help our customers connect, serve, and manage the evolving needs of the 21st Century traveller. We are very proud to be a partner of Southwest in achieving this significant milestone today and look forward to continuing to shape the future of travel together," said Julia Sattel, senior vice-president, Airline IT, Amadeus.
Southwest Airlines previously announced details to convert by the end of this year all international service offered by wholly owned subsidiary AirTran Airways, including flights to Mexico and the Dominican Republic.