More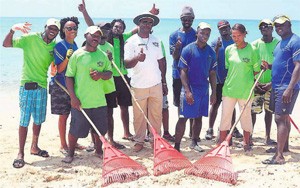 PHOTOS BY CLAUDIA GARDNER - Operator of Beach Pro-tech Dwayne Clayton and his Lucea-based team pose for a photo at the Bullís Bay public beach in Lucea, Hanover, during a voluntary beach-cleaning and alignment exercise recently.

.
Dwayne Clayton's long-standing relationship with the ocean
Claudia Gardner, Hospitality Jamaica Writer
Dwayne Clayton has had a longstanding relationship with the ocean since he was a young boy growing up in the coastal community of Esher in Lucea, Hanover.
So it was not surprising th`1at the 39-year-old's journey resulted in him conceptualising and operating his own business, Beach Pro-tech, one of western Jamaica's fastest-growing beach-care and protection companies, which services the tourism sector.
Beach Pro-tech was established in August 2015 after Clayton recognised that there were huge opportunities for beach maintenance and protection services at hotels. This he could fulfil with his skill set and experience, which included three decades of seafaring and six years at Hydros Coastal Solutions, a coastal-restoration company.
Since then, Beach Pro-tech has been providing services to four of the north coast's major hotels, providing employment for 22 persons in Hanover, Trelawny, and St James. The company serves Melia Braco, Royalton White Sands, Grand Palladium, and a strip at the Tryall Club.
"Beach Pro-tech provides the highest level of beach maintenance you require. We will clean your beach - anywhere on your property that sand lies. Beach Pro-tech will protect it from storm water, from rough seas, and from heavy weeds coming in," Clayton told Hospitality Jamaica.
EXQUISITE SERVICE
"At the Melia Braco, we offer an exquisite service from 5 a.m. to 8 p.m. We arrange the chairs, clean the areas, make it free of cups, plastics, stones, and debris washed up on the beach is removed to a dumping site that has been approved by NEPA," he added.
According to Clayton, there are times guests say they don't want to walk on the beach because it is too pretty. "Two of my staff at Melia have been highlighted on TripAdvisor."
Clayton said although Beach Pro-tech is headquartered in Lucea, he ensures equity by hiring staff members who reside within the locale of the respective hotels he services and who learn through on-the-job training.
"At Melia, I have six staff. The majority of them are from the Rio Bueno community and other areas in Trelawny, so people don't have difficulty getting to work. At Royalton, I have four persons from St James and the Rio Bueno area," he said.
"At Palladium, the staff is from Lucea - three on the water crew that travels on the boat daily to clean the buoys and remove debris and five work on land. One person is stationed at Tryall, where he does a small strip, about 20 metres, and the poolside and lawn. He makes up the mobile team at times," Clayton said.
The beach pro hopes to attract new clients across the entire north coast and Jamaica's southern and eastern coasts. As someone who has been dependent on the ocean almost all his life and who appreciates its value, Clayton said Beach Pro-tech adheres to strict environment practices.
"We have a no-plastic-bag policy. It is strictly tarpaulin or buckets," he said. "If seaweed comes in, we will take them back out to the depths of the sea,because a lot of times, the seaweed comes in with parts of coral reefs on it."
Clayton does not hide the fact that he is from humble beginnings. He said his journey to success was not always easy as he always had to work to support his family, even while at primary and throughout high school, missing crucial examinations, including CXCs ,while attending the Green Island High, as a result.
"I grew up in Esher in a poor family. I didn't do the Common Entrance exam because I was at sea fishing with my grandfather while the exam was going on. Because he was old, I had to row the canoe with him all over. Back then, many people didn't attend school on Fridays. I ended up doing evening class at JAMAL, and that's where I learnt basic maths. I started fishing from about age 10 on Fridays, mornings, evenings ... . I was always at sea," he said.