More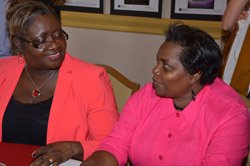 Director of operations at Braco, Dr. Mervel Grant (right), and Sadie Beason.
Melia Hotels Int'l formalises Braco Village Hotel & Spa contract
The chairman of Melia Hotels International, Gabriel Escarrer, and the minister of labour and social security, Derrick Kellier, formalised the contract by which the Government of Jamaica entrusts Melia to operate the flagship resort currently known as Braco Village Hotel & Spa in Braco, on Jamaica's north coast.
The resort consists of 226 rooms within colonial-style buildings facing one of the most stunning beaches in the Caribbean, and features five restaurants and a variety of bars, pools and spas. The property will undergo a comprehensive renovation until its opening as Melia Jamaica, scheduled for November 2014. Once it is adapted to the high standards of the Melia brand and the newly heightened quality of the destination, the property will be managed as a Melia All-Inclusive brand.
According to the Resonance Report, in conjunction with the Luxury Institute, Jamaica is currently one of the most sought-after destinations in the Caribbean by affluent travellers from North America. The leading Caribbean luxury destination, The Bahamas, is home to Melia Nassau Beach Resort at the Baha Mar Complex, one of the iconic properties signed by Melia earlier this month. Melia Hotels International's brand recognition will also help to attract international visitors who aim to combine the spectacular beauty of the unique destination with the convenience of an upscale all inclusive resort.
"Jamaica is a long-awaited destination for Melia Hotels International; the English-speaking Caribbean is a major focus in our global expansion strategy," said Escarrer. "Melia is an international leader and benchmark in the resort segment, expanding our footprint to all major vacation destinations, both inland and on islands in the English-speaking Caribbean - in addition to the islands of the Pacific and Indian Oceans, Southeast Asia, and, of course, the Mediterranean."
The hotel is owned by the country's National Insurance Fund (NIF) and selected Melia as the operator after a highly competitive process. "In reviewing the proud history of Melia Hotels International and receiving feedback about their respectful approach to what the NIF is trying to achieve, as well as their honourable conduct in the negotiations, I am confident that we have indeed selected the right partner with which to go forward," said Kellier. "We firmly believe in their long-term commitment to the project and Jamaica."