More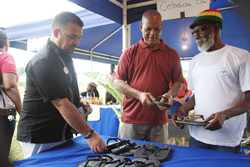 Basil Edwards (right) shows off his hand made slippers to Sandal Montego Bay general manager Carl Beviere (left) and Melton Blackwood, chairman of the Cambridge Development Area Committee, at the recent Business Health and Social Fair held at the Montpelier Agricultural Showground. - Contributed
Sandals, SDC awaken the spirit of entrepreneurship
Today, small businesses have played a vital role in generating growth in the Jamaican economy. However, many lament the shortage of support received from stakeholders from the private and public sector in order to sustain themselves.
Nonetheless, Sandals Resorts in the Montego Bay region recently partnered with the Social Development Commission (SDC) to host a health, business, and social fair to showcase the offerings provided by the small business enterprises located in the Cambridge community.
The event, which was held at the Montpelier Agricultural Showground, was used as the platform to build awareness and to exchange ideas on various ventures and opportunities. Agriculture, agro-processing, craft, and horticulture were the main products on display at the show.
SOLID GUIDANCE
The SDC in the western region has been championing small businesses for some time now and has attempted to offer solid guidance on strategic business proposals, financing, and marketing opportunities. Last year, the organisation hosted an entrepreneurial training, which was sponsored by Sandals Montego Bay, Sandals Royal Caribbean, and Sandals Carlyle, gathering 35 aspiring business owners from the Cambridge community to gain more insight into how to effectively manage a successful business.
Regional public relations manager, Khadine Daley noted: "We are very impressed with the quality of products displayed by the local and small business owners. We support their efforts and are delighted in partnering with the SDC to host workshops that will help to further develop the skills and provide management and operational training these entrepreneurs.
Jude Martin of 'Yahad' products, a participant said, "I am happy to be a part of this fair as it has provided me with the exposure needed to move forward with my business. After 20 years of selling my products on the street, I was encouraged by SDC to register my company in 2011. Patrons are now aware of my product and I have since had increased interest in buyers."
GOAL ACHIEVED
Randy Hayle, parish manager for the SDC, also noted, "We have certainly achieved our set goal, and that is to create an opportunity to expose our small businesses. We have worked closely with the Local Economic Initiative and have seen a transition from training and support into established businesses. We are grateful for the partnership with Sandals and look forward to the continued support in providing impactful training for those who wish to equip themselves with the knowledge on how to operate a business."
He encouraged, "There must be further sustained network and technical support from other inter-entities in order to gain more startups and prospects for potential and viable small businesses."
Later this month, Sandals Resorts will once again host a follow-up training workshop for the business enterprises and hopes to collaborate with the Small Business Association of Jamaica, the SDC, and the Cambridge Development Committee to educate its members on how to help each other to remain sustainable.