More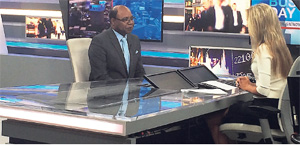 Tourism Minister Edmund Bartlett appeared in a live television interview on the Business News Network's 'Business Day PM' show with anchor Catherine Murray discussing the business of tourism in Jamaica

.
Top local tourism officials visit Canada
A delegation of top tourism officials from Jamaica, led by Tourism Minister Edmund Bartlett and Director of Tourism Paul Pennicook, visited Canada recently. The group was in Toronto to meet with airlines, tour operators, travel agents, as well as diaspora and media representatives. Also in the delegation was Jamaica Tourist Board (JTB) Chairman John Lynch, Marcia McLaughlin, deputy director of tourism, marketing, and Philip Rose, regional director, Canada.
The goal of the trip was to share the minister's Five Pillars of Tourism Growth and collaborate with Canadian partners on marketing strategies. Strategic planning sessions were held with WestJet Vacations, Air Canada Vacations, TravelBrands, Sunwing Travel Group and Transat Holidays. As a result of these meetings, Sunwing will now increase their capacity to Jamaica for the winter season by 10.5 per cent. There were also meetings with diaspora partners.
Media meetings provided key information on new product updates, such as the new North-South Highway, expanding cruise facilities and new resorts and attractions. Interviews were conducted with Business News Network, Postmedia News, Canadian Traveller, Travelweek, Canadian Travel Press, PAXNews, Toronto Caribbean News and G98 radio.