More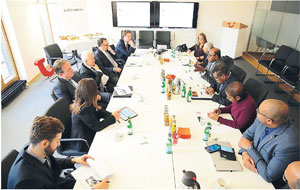 CONTRIBUTED- Tourism Minister Edmund Bartlett and his team meet with TUI Group executives at their Berlin, Germany, office. On the left side of the table (from far left), TUI executives Dr Ralf Pastleitner, head of Brussels, Belgium office, TUI GROUP; Garry Wilson, managing director, product and purchasing, TUI GROUP; David Burling, member of the board, TUI GROUP; Frank Püttmann, head of public policy, TUI GROUP office Berlin; Antonia Bouka, general manager, tourist board and hotel partnerships product and purchasing, TUI GROUP and a TUI public policy adviser. On the right side are: Michelle Fox, JTB United Kingdom representative; Margaret Jobson, ambassador to Germany; Edmund Bartlett, minister of tourism; Paul Pennicook, director of tourism; Marcia McLaughlin, deputy director of tourism; Delano Seiveright, senior adviser and senior communications strategist; and Gregory Shervington (hidden), JTB Germany representative.
Jamaica seeks to secure 50,000 German tourists by 2020
With Jamaica welcoming just over 20,000 German tourists last year, Tourism Minister Edmund Bartlett has mandated the Jamaica Tourist Board (JTB) and key tourism officials to double the number to 50,000 German tourist arrivals into the island by 2020.
He made the point while meeting with the leadership of the world's largest tour company, TUI Group, in Berlin, Germany. Bartlett noted that the tourism ministry and the JTB would be working closely with TUI to achieve the target. TUI Group brought over 150,000 tourists to Jamaica's shores last year.
TUI is the largest leisure, travel and tourism company in the world and owns travel agencies, hotels, airlines, cruise ships, and retail stores. The group owns six European airlines - the largest holiday fleet in Europe - and nine tour operators based in Europe. The company is jointly listed on the Frankfurt Stock Exchange and the London Stock Exchange as a constituent of the FTSE 100 Index.
Noting Jamaica's important position in his company's growth plans over the next five years, TUI senior board director David Burling highlighted that the island was a "premium destination" with a very rich culture and high repeat business. He urged Bartlett to increase Jamaica's hotel room count in order to effectively secure more business and growth in coming years.
Meanwhile, Bartlett highlighted a stream of hotel investments that have been completed, or are in phases of construction, to assist with rising demand.
Earlier in the week, he had announced that one of Europe's leading airlines, Eurowings, a subsidiary of one of the world's biggest airline companies, Lufthansa, would begin operating twice a weekly scheduled service between Germany's largest populated metropolitan region and Montego Bay beginning on July 3 this year.
FLIGHT SCHEDULE
The scheduled flights will operate every Monday and Friday from Cologne and Bonn, with Eurowings using their Airbus 330 aircraft, which has 310 seats. Flights will run from July 3 through to October 27, 2017, and will bring over 10,000 seats from Germany for the summer.
Already, Eurowings has informed Bartlett and his team that they will extend the service into the winter, with those seats opening up for sale within days.
The new scheduled service will complement weekly charter services operated by German air carrier Condor from the German cities of Frankfurt and Munich into Montego Bay.
Bartlett also participated in a special press briefing to boost publicity worldwide for the United Nations World Tourism Organisation's historic Global Conference on Building Partnerships for Sustainable Tourism for Development, which has now seen the World Bank Group come on board as partners. The event, which is being hosted by Jamaica, will run from November 27 to 29, 2017, at the Montego Bay Convention Centre.