More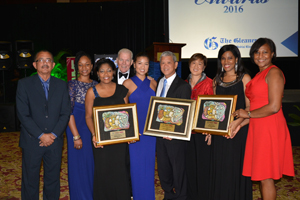 Hospitality Personality of the Year, Kevin Hendrickson (fourth right), surrounded by his winning team and his family.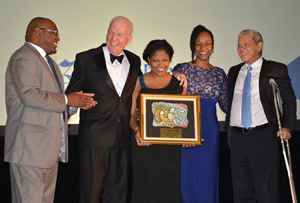 From left: Editor-In-Chief of The Gleaner, Garfield Grandison (left), congratulates The Jamaica Pegasus team - the hotel's general manager, Peter Hillary; Prudence Simpson; Roxanne Williams; and Kevin Hendrickson.
Warm welcome for Ja's first winter tourists
One of Kingston city's most elegant hotels, The Jamaica Pegasus, copped two of the 15 Hospitality Jamaica 2016 Awards, which were bestowed on some of the tourism industry's finest entities and individuals on November 19.
Not only did the hotel take home the award for the 'Best European Plan', but it was named 'Best Business/Conference Hotel', while its owner, veteran hotelier Kevin Hendrickson, copped the Hospitality Personality of the Year Award, which, in reality, made it a triple for the New Kingston-based hotel.
"I have to thank the entire team from the hotel group," Hendrickson said in his response on the night of the awards. "That effort has contributed to the success and growth, because it would be impossible for any one person, or just even a handful of people, to achieve this phenomenal growth over the last few years.
"It really is nice, the recognition that Hospitality Jamaica does for the industry overall and the exposure not just to us Jamaicans, but to the entire world," he added.
The Jamaica Pegasus offers a total of 14 venues to host conferences as well as business and social functions. These can easily accommodate from two to 1,000 persons. Approximately 1,300 square metres (10,000 square feet) of flexible function space are available.
The hotel has been described as exuding a very cosmopolitan flair. It encompasses 300 rooms and suites which provide a panoramic view of the neighbouring Emancipation Park, sections of the city of Kingston and the port, and parts of the Blue and John Crow Mountains to the north. There is a wide selection of amenities, including restaurants, free Wi-Fi and cable television in all rooms and across the property, a gym, swimming pool and tennis courts.
The 24/7 Cafe, as its name suggests, is always open - 24 hours per day, seven days per week - and offers items such as sandwiches, salads and pastries, while the Blue Window restaurant serves up delicious meals between 7 a.m. and 10 p.m. each day. The very elegant Blend Bar and Lounge is open from 4 p.m. to midnight and offers Jamaican cocktails delights and food fusions, including several seafood dishes.
The hotel has been lauded by many for its extraordinary service, and friendly and helpful staff, who have been described as the ones who make it an ideal destination. From the front desk representatives to the bellmen, housekeeping and restaurant staff, they all have been applauded as "friendly, courteous and attentive".