More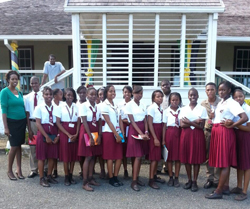 Ferncourt students and their teacher pose in front of the Seviile Great House after their SJF-sponsored Heritage Month tour.
Spanish-Jamaican Foundation sponsors Seville tours for students
In recognition of the fact that October is celebrated nationally as Heritage Month, The Spanish/Jamaican Foundation (SJF) staged its now annual sponsorship of visits by St Ann and Trelawny high-schoolers slated to sit CSEC history to the Seville Great House's acclaimed Jamaican history exhibit. The trips were coordinated by the Ministry of Education's community relations education officer for that region, Karlene Segree.
SJF general manager, Dr Rebecca Tortello, explained that having collaborated with the Jamaica National Heritage Trust and the Tourism Enhancement Fund on the creation of this state-of-the art exhibit that explicates Seville's role as a pivotal site where many of the groups of people who came to Jamaica had their lives intersect, "we want our students to enjoy a memorable learning experience and share what they found most exciting with their fellow students and families so that additional visits will be planned. Museum visits can simply spark curiosity and embed information in ways that traditional classroom teaching cannot".
She went on to express the Foundation's pleasure at facilitating these annual visits, "The SJF is committed to supporting greater cultural and historical awareness, and we are confident that the students will feel the multifaceted power of our rich history because the exhibit is as informative as it is, captivating."
Rich history
Exposing students to elements of Jamaica's rich history and culture is something The SJF has prioritised since its inception in 2006. It collaborated with the Jamaica National Heritage Trust and the Tourism Enhancement Fund on the state-of-the-art exhibit at Seville and has also created a physical and virtual heritage trail of key national historical sites. The trail and lesson plans to be found at www.spanishjamaicanfoundation.org.
The Seville Great House in St Ann's Bay is open between 9 a.m. and 4 p.m. daily, except on Good Friday and Christmas Day. For more information, visit www.jnht.com, or call 972-2191, email tours@jnht.com.