More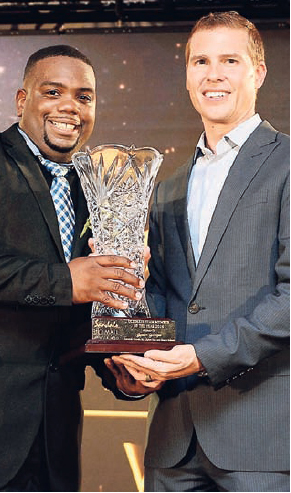 CONTRIBUTED Jamer Georges, the Ultimate Team Member of the Year for the Sandals/ATL Group, pauses from his usual energetic antics to collect the top trophy from the company's Deputy Chairman and Chief Executive Officer Adam Stewart.
Vibes Master Jamer Georges is Sandals/ATL's Team Member of the Year
When Jamer 'Captain Neil' Georges, a playmaker in Sandals Grande St Lucian Spa & Beach Resort's Entertainment Department, came to Jamaica to vie for the title of the Ultimate Team Member of the Year for the Sandals/ATL Group, he made a deal with his general manager - if he won the title, he would do a back flip off the stage.
On Thursday night, in a glamorous, Hollywood-themed gala, Captain Neil proved himself to be a man of his word. As the company's deputy chairman and chief executive officer, Adam Stewart announced Georges as the winner, he made his way to the stage and true to his vow, and much to the delight of the audience, he did the back flip he promised.
Georges, whose upbeat and infectious personality captured the hearts of his fellow nominees and indeed everyone he came into contact with, was chosen from a field of 23 nominees from Sandals, Beaches and Grand Pineapple Resorts, ATL Automotive Limited, Appliance Traders Limited, The Jamaica Observer and Island Routes Caribbean Adventures during the resort company's ninth annual Ultimate Team Member Award Ceremony held on Thursday, November 23 at Sandals Ochi Beach Resort.
In a show of gratitude and humility, Georges heaped praises on his fellow nominees, describing them as family and inviting them all to share the stage with him. He said, "From the moment I came here it felt like family. The entire team welcomed everyone ... it truly felt like family."
MODEL EMPLOYEE
Since joining the Sandals family in 2013, Georges has proven himself to be a model employee, executing his duties with diligence and passion and assisting to create lasting experiences and memories for guests.
In the days leading up to the big night, the nominees were treated to a week of activities including tours to the group's various head offices in Kingston and Montego Bay, a day of ziplining and river tubing at Good Hope Estate, courtesy of Chukka Caribbean Adventures and outreach at the Stewart Town Basic School in partnership with the Sandals Foundation.
Stewart praised the nominees for their incalculable value to the company. He thanked all team members for allowing the company to continuously pursue new ventures, crediting them for the continued success of the company and all its endeavours. "There's a reason why everything we touch turns to gold, and you, along with all the other thousands of team members across the region are that reason", he told the nominees.
To identify the ultimate winner, nominees were assessed by various criteria, including team spirit, training hours, attendance record, ambassadorial qualities, and community and environmental stewardship.
For his winning ways, Georges won an enviable prize package including a luxury-included, all-expenses paid trip for two to an overseas Sandals or Beaches property with an exclusive private jet round-trip transfer to the destination of choice, champagne service, luxury ground transfers, a host of VIP resort experiences, US$2,500 and an Ultimate Team Member trophy.