More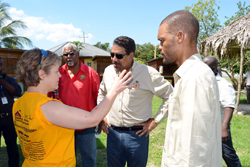 Minister of Tourism and Entertainment Dr Wykeham McNeill (second right) is asking for stronger engagement from the communities for community-based tourism projects. -Contributed
McNeill urges greater involvement in community tourism projects
Minister of Tourism and Entertainment Dr Wykeham McNeill is urging greater community involvement in community-based tourism projects, which is key to ensuring the success of this form of tourism across the island.
Describing community projects as an integral part of Jamaica's overall tourism product, McNeill said, "We often talk about community tourism, but it will not develop by itself. Over the last year, we have been going into communities and talking to persons, and the awareness is growing. We are encouraging people in communities island-wide to join in this process and conceptualise and develop community-tourism projects of their own."
Lauding the vision of representatives from the various communities which have already developed projects, McNeill said community-tourism projects enable residents to see the importance of tourism to their respective communities and how they can benefit from it in a real way. "If people in Jamaica don't feel that they are benefiting from tourism, it will not be sustainable. We are here to give validation to your hard work as your efforts are commendable," McNeill said.
These comments came as McNeill, State Minister in the Ministry of Transport, Works and Housing Richard Azan; Member of Parliament (MP) for North Eastern St Elizabeth Raymond Pryce; other officials from both ministries and representatives of state agencies toured sections of St Elizabeth and Westmoreland recently. The tour was aimed at providing a first-hand view of community-based tourism projects which are being spearheaded by various community groups.
The projects include the improvement of the Goshen Sports Complex in St Elizabeth, which is to be equipped for use as a community training centre and will facilitate training in tourism and hospitality.
Improvements will also be made to a travel halt in Braes River in the parish for use by tourists and Jamaicans alike, who visit attractions in the area, such as the Appleton Rum Tour. Plans are also afoot to develop a museum at a historic burial ground located in Carmel, which was the site of the first Moravian Missionary Settlement in the island.
Over in Westmoreland, work is already under way on the Bethel Town Green Area, which is being upgraded to provide green space for persons to jog and interact. A pathway is being constructed, while landscaping work is slated to be completed in a matter of weeks. Plans are also being finalised to upgrade the botanical gardens in Darliston.
Also accompanying McNeill, who also toured other sections of the South Coast in January, were minister of state in the office of the prime minister, and MP for Eastern Westmoreland, Luther Buchanan; representatives from the respective parish councils; and officials from the South Coast Resort Board, Social Development Commission, the National Works Agency, t he Tourism Enhancement Fund and Tourism Product Development Company