More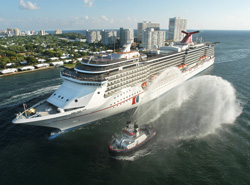 Cruise ship boost next month
With cruise arrivals at Jamaica's three cruise ship ports showing increases, in a month's time, Montego Bay will become home port to the Thomson Dream vessel.
Minister of Tourism and Entertainment Dr Wykeham McNeill said with the home porting of the cruise ship here, "we will be having four extra flights (out of Europe) a week" to service the ship.
Speaking at a JAPEX press luncheon at the Half Moon on Monday (September 22), McNeill expressed an eagerness to see this happen, stating, "The fact of the matter is we know that when the Thomson Dream comes, our estimate is that about 30 per cent of the passengers will do a sail and stay, so we are looking also to increase our stopover numbers."
For the eight-month period, January to August this year, the port of Montego Bay received 59 cruise ship calls with 162,120 passengers. These numbers represented increases of 1.7 per cent and 0.8 per cent respectively over the corresponding period in 2013.
Combining all three major ports, there were 267 calls for the same period this year bringing 938,844 passengers, in comparison to 238 calls last year accounting for 853,072. Statistically, the number of calls increased by 12.2 per cent and the passengers moved up by 10.1 per cent.
Noting that Falmouth handles some 700,000 passengers per year, McNeill says, "In a few short years, (it) has been transformed into our leading port of call for cruise ships."
Transformation project
A programme of transformation funded by the Tourism Enhancement Fund has been underway in resort townships. The Ocho Rios project is halfway to completion. The next stage is the redevelopment of a seaside boardwalk leading to Main Street which will also be rehabilitated to include a cobble stone lane devoted to pedestrian traffic.
Major upgrading work is taking place in Negril and the Falmouth transformation is also underway, while Montego Bay now has cultural centre housing an art gallery, a museum, space for theatrical productions, a bistro and gift shop.
At the same time, McNeill said his ministry was pressing ahead with plans to acquire and fully develop 10 beaches across Jamaica to be used by both residents and visitors alike. A network of rest stops is also being established to provide well-maintained restroom facilities and ancillary services for travellers throughout the island.