More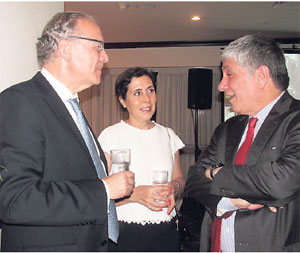 PHOTOS BY PAUL H. WILLIAMS - From left: Spanish Ambassador Josep Maria Bosch, his wife Teresa Gonzalez, and United States Ambassador Luis G. Moreno.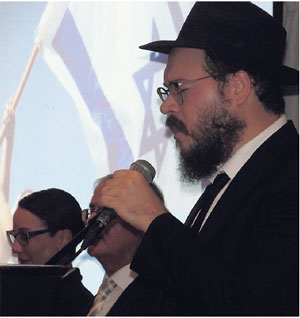 Rabbi Yaakov Raskin moving prayers at the 69th anniversary celebrations of Israelís Independence last week Tuesday at the The Jamaica Pegasus hotel.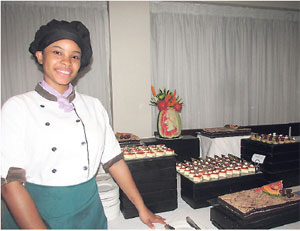 Jamaica Pegasus Pastry Chef Justine Nelson displays some of her creations.
Israelis celebrate their independence at The Pegasus
Paul H. Williams, Hospitality Jamaica Writer
Fine wines flowed freely, there were fruit juices aplenty, decadent pastries tantalised and sated taste buds, and the Israeli and Jamaican foods created a gastronomic stir. It was Tuesday, May 9, and the Israelis in Jamaica were celebrating the 69th anniversary of the State of Israel on the 17th floor of The Jamaica Pegasus hotel.
The event was organised by the honorary Israeli consul in Jamaica, Ainsley Henriques, and hosted by the Israeli ambassador to Jamaica, Daniel Saban, and his wife. Ambassador Saban is based at the Israeli Embassy in Santo Domingo, Dominican Republic.
In addressing the gathering of just under 200 guests from various spheres of the Jamaican society and the diplomatic and consular corps, Ambassador Saban, who was introduced as a "true friend of Jamaica" by Honorary Consul Henriques, spoke of the economic cooperation that Jamaica has had with Israel over the year, including the bilateral talks.
"Over these past months, the increase in visitations, in delegations moving between us, is remarkable. Do not think that this is a one-sided experience. While from Israel we can offer technical advice, we, too, are learning what you here are experiencing. The experiences are also for our benefits as the knowledge assist us to research and solve problems for the benefit of mankind as we go forward together," Ambassador Saban said, among other things.
LONG FRIENDSHIP
In bringing greetings on behalf of the people and Government of Jamaica, Minister of Foreign Affairs and Foreign Trade, Kamina Johnson-Smith, said she was happy with the decision by the Israeli ambassador to commemorate Israel's independence anniversary in Jamaica. Israel and Jamaica have enjoyed a "great and long friendship" since 1962.
Minister Johnson-Smith, too, spoke on the current bilateral talks between Jamaica and Israel. In mentioning Prime Minister Andrew Holness' visit to Israel earlier this year, she said Holness' engagement with Israeli Prime Minister Benjamin Netanyahu "signalled Jamaica's strong interest in expanding our bilateral cooperation".
"Jamaica looks forward to greater collaboration with Israel in areas of mutual interest, including water resource management, security, technology, health and agriculture," Minister Johnson-Smith added. Work has already begun in education, security and water management.
The Jewish state of Israel was established in May 1948, and since then, it has experienced significant growth and development and has been a world leader in many areas, many reasons to celebrate.