More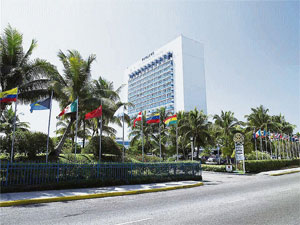 The Jamaica Pegasus hotel
Silvera's Picks
Janet Silver
Hospitality Jamaica Coordinator
Having spent the last 32 years in the hospitality sector, I think I am in a position to know the good, the bad and the ugly.
Starting today, Hospitality Jamaica will carry 'Silvera's Picks', which will highlight the things that make this country famous for its repeat business, and also the areas where we need improvement.
It is important to note that even with the crime situation, Jamaica remains one of the hottest destinations in the Caribbean.
So, who are the people behind Jamaica's success?
Some of the best, if not the best, front-desk staff you will find at any hotel in Jamaica are at Spanish Court in Kingston. Not sure what it is that Christopher Issa and the team do, but once you get to this hotel, forget your troubles, because you are home away from home.
Not only is Spanish Court a favourite of mine, but many persons from the international community swear by this property.
My favourite lobby, which is eclectic and energising, is The Jamaica Pegasus's, also in Kingston. This is the only lobby in Jamaica where people-watching is a joy. On any given day, you can expect to meet upon a celebrity as well, whether in music, sports, film or any other genre.
The bellhops at The Jamaica Pegasus are also among the best on the island, and are an asset to the property. They remember your name and are rich on customer service.
Of course, there are many hospitality workers in the island who care about service and never once worry about the word 'servitude', and this is evident at the Hilton Rose Hall Resort and Spa. Their security personnel are the best in the business.
They are not of the opinion that all who try to enter the property, particularly locals, are gatecrashers or harassers. I would say they are the most pleasant and, probably, the most intelligent.
There is a small hotel on the Hip Strip, Gloucester Avenue, called Altamont West. Its tagline is 'Home in the Hub'. An international photojournalist stayed there recently, and I had the opportunity to work with him for a few days. This was what he said: "The staff at Altamont West understands the importance of going the extra mile. I was leaving for an early assignment and was about to leave without breakfast and they said, 'We will pack you a carry-out bag, but you must eat',"
He promised to speak about the stellar service on TripAdvisor. I hope he did.
One of the my favourite places to eat is Sugar Mill Restaurant at Half Moon, not only because the food is excellent, but because I am going to leave feeling like a queen. Sugar Mill has mastered the art of service and so has the Half Moon spa, Fern Tree.
It is safe to say that Half Moon remains first class in every aspect of the word.
Talk soon!