More
A relaxing view of the recently-upgraded pedicure thrones at the Sandals Negril Red Lane Salon.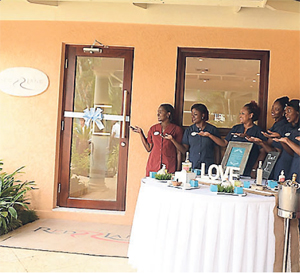 The beautiful bevy of ladies from the Red Lane Spa at Sandals Negril welcomes guests to their newly rejuvenated salon.
Sandals Negril's Red Lane Spa Salon gets beauty treatment
Sandals Negril Beach Resort and Spa is celebrating yet another upgrade to its five-star, luxury-included facilities with the recent rejuvenation of the salon at the Red Lane Spa.
The salon, which was built over 10 years ago, now boasts an upgraded styling and manicure bar, pedicure thrones, shampooing zone and electric mirrors. The colour scheme has lightened to create an even more peaceful ambience for clients.
"Our salon offerings provide our guests with the opportunity to choose the experiences that best suit them. These services include manicure and pedicure, make-up, hair styling and paraffin treatment," shared Spa Manager Denise Morrison.
Morrison also revealed that brides can also take advantage of the Bridal Event in a Box offering in the well-appointed space. "Brides and their bridal parties are offered the option of having the salon to themselves for 30 minutes during which they are served a variety of cheeses and champagne while being pampered. At the end of the experience the bride receives gifts for the bridal party and a Red Lane Spa-inspired thank you note for personalised messages."
Morrison believes that this renovation will benefit clients greatly as they will be more comfortable and relaxed in the space. She also revealed that clients can even receive a back massage while getting a pedicure.
"People will not necessarily get this type of service everywhere. We always aim to go above and beyond for our guests and this is one of our many exploits," she said.
The renovated salon has been generating positive feedback from both guests and employees. Destination weddings travel agent and owner of Luxury Vacation Guru, Irene Sauger was all 'oohs and ahhs' during the grand opening of the salon.
"Sandals Negril is my favourite resort to sell and it makes me really happy to always witness and hear about the continued upgrades to the property. The salon is absolutely lovely," she gushed, after assisting the resort's general manager, David Latchimy in cutting the symbolic ribbon draped across the salon doors.