More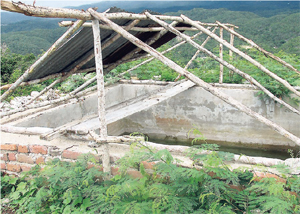 Remnants of a water tank at Pinnacle, St Catherine.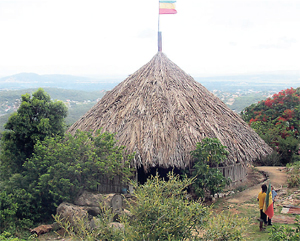 The tabernacle at Pinnacle
AROUND JA WITH Paul H. Williams - On the Pinnacle of liberation
A Pinnacle is defined as the highest point. Nothing is above it ... period. And for romanticists like me, there is a place in St Catherine called Pinnacle, one of the spots that I love to visit. At the highest point, there is a 360-degree view of the lands below it.
Whenever I visit, I get the feeling that I am at the top of the world, a sense of priceless liberation. And that is the essence of Pinnacle, freedom, where Leonard P. Howell, the 'First Rasta', set up a Rastafari community in the 1940s, away from it all.
Howell was born in the parish of Clarendon on June 16, 1898. At an early age, he migrated to the United States, where he joined Marcus Garvey's Universal Negro Improvement Association (UNIA). Soon, Howell became one of Garvey's top-brass members. Garvey and the UNIA were, however, constantly under the radar of US authorities, and he was eventually arrested and charged for mail fraud. Garvey was deported in 1928, and Howell was to follow him in 1932.
But Howell's activism switched from 'Garveyism' to one that focused on the importance of His Imperial Majesty Haile Selassie I. He saw Selassie as the great 'Black Messiah', and he established the King of Kings Mission out of respect for Selassie and appointed himself Selassie's representative in Jamaica.
In 1933, soon after his return to Jamaica, Howell stepped up his preaching on Selassie, which, in addition to his faith-healing practices, earned him a huge following. Howell was preaching 'doctrines' that were considered by the authorities as anti-church and anti-government.
He was charged and sent to prison for sedition. But imprisonment did not shake the foundation of Howell's beliefs. Upon his release from prison in 1940, he set up the first Rastafarian village in Jamaica on 400 acres in Sligoville, St Catherine.
The settlement was called The Pinnacle because of its high hilltop elevation, and the residents became self-sufficient farmers. Howell's influence spread outside of The Pinnacle, and Rastafarian communities were set up across the country.
ARREST AND RETURN
In 1941, government forces swooped down on Pinnacle and arrested many of Howell's followers. Howell fled, but he was eventually arrested, and on August 20, he was tried again for sedition and sentenced to two years in prison. When he was released in 1943, he returned to Pinnacle.
For almost a decade after his return, Pinnacle flourished as the residents were left alone to carry on their lives. Trading and farming were their major sources of income. The population also boomed as people saw Pinnacle as a place where they could go to prosper on their own. But the good life was not to last forever.
In 1954, government militia invaded Pinnacle and completely destroyed the village. The residents fled, but they were to subsequently return. Yet, Pinnacle never really got back to its heyday. People radually moved away, and the original brick-and-stone buildings have fallen into ruins. There are still remnants of the bakery, the kitchen, the foundation of Howell's mansion, his bathroom, and a water tank.
Howell died in obscurity in 1981 at age 82, leaving the legacy of a movement that transcends races and classes, which has electrifying tentacles all over the world, and which is the subject of many studies, research, and college and university papers.
The dispute over the ownership and occupation of Pinnacle flares up and ebbs from time to time, but it is clear that Pinnacle's glory days are gone, at least for now. Yet, the breathtaking views from there seem to be forever, especially on a clear day.
From the misty hills to the north, vistas of Portmore, Kingston, and St Andrew to the east and south, to the sun-drenched communities of St Catherine to the west, it's an eyeful. And when night comes, the lights are dazzling, if not dizzying.
Of late, there is another view, that of the mountainsides that were cut to accommodate the North-South Highway, for which I have mixed emotions. It gives me an understanding of where the highway runs, but the unsightly scars among the greenery make me want to fall from Pinnacle in utter disgust.