More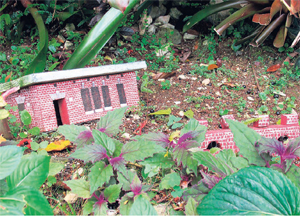 PHOTOS BY PAUL H. WILLIAMS - A miniature representation of Port Royal's Giddy House in Ras Natango's Garden at Camrose, St James.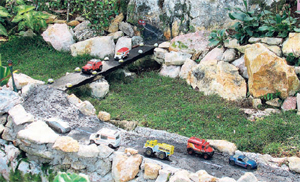 A miniature representation of St Catherine's Flat Bridge in Ras Natango's Garden at Camrose, St James.
Jamaica's most awesome garden Part II
In the previous issue of this publication, on November 15, I gloated over the awesome terraced garden that Ras Natango and his family have created at Camrose in St James. The attraction is called Ahhh ... Ras Natango Gallery and Garden Tour Ltd, and it is indeed a sight for sore eyes.
While it is a given that the plants therein are beautiful, I was also really captivated by the many man-made features that Ras Natango, his wife, Tamika Williams, and son Ayale have created in the garden, giving it some more oomph. It is obvious that their creative juices are helping to nurture the many species that they have planted, enhancing the art that nature has already provided.
They have represented some of Jamaica's well-known heritage sites with miniatures, viz Flat Bridge in St Catherine, Giddy House in Port Royal, and Holland Bamboo Avenue in St Elizabeth. Flat Bridge, as you know, is the scary passage across the Rio Cobre in the Bog Walk Gorge. And, of course, that 'woman's rock' in the gorge, too, is represented.
Giddy House is that lopsided brick structure in the historic district of Port Royal. It is said that it has been like that since the massive 1692 earthquake that devastated the then 'Wickedest City on Earth'. In the garden it is protected by a fort armed with cannons. Who but the Williamses could take a little piece of Port Royal to the west for those who have not got a chance to see the real thing?
The way in which Bamboo Avenue is depicted and positioned is nothing short of genius. When you approach it, you get the feeling that you are walking towards the road that tapers off in the distance, only to see that it is just a mural on an outer wall of an outdoor restroom for visitors. It is an artful toilet from which there is a view that makes the call from nature more welcoming.
The young and young at heart should find the 'fairy village' and 'Jurassic Era' to be quite fascinating. In the fairy village where the tiny beings live in little stone and stick houses, built by Ayale Williams, there is a variety of creatures, including the fairies themselves, angels, fowls, animals, elves, princesses, and a dungeon guarded by tooth-baring dragons.
From fairies to dinosaurs you will move when you go into the Jurassic Era. Herbivores, carnivores and omnivores of various sizes, colours and configuration are all over the place. A few have wings. Some of the bigger ones are engaged in physical fights. I saw one about to emerge from its egg.
They were once the Williams' toys, which were stored away in many bags, but the younger Williams was still sentimentally attached to them. Instead of throwing them away after he had long outgrown them, he put them in the gardens so that the children who visit the attraction can enjoy playing with them. Needless to say, the Jurassic Era is a hit with the modern-days visitors.
Other man-made features in the garden include a giant chessboard for those who want to exercise their brain while enjoying the ambience, a sundial that tells the time, a bridal gazebo for those who want to tie the knot in the heart of nature, a Zen garden to pray, meditate and reflect, old three-foot pots-cum flowerpots, a goldfish pond of Japanese coys, and tic-toc-toe and hopscotch boards painted on a path.
Roly's Wishing Well was established after a visitor suggested that one should be in the garden. The money that is dropped into it is used for charitable purposes. The text on a plaque attached to the roof that covers the well says: "A sincere wish made from a heart pure and true may one day be granted out of the blue. I couldn't find a coin to thrown into it, but I made a wish nevertheless.
I wished I could find a pot of gold in RasNatango's Garden. Then out of the blue it occurred to me that I had already found it. RasNatango's Garden, the most awesome in Jamaica, is itself a pot of gold.