More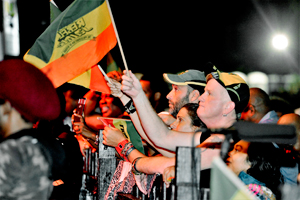 PHOTO BY LIONEL ROOKWOOD - Patrons and visitors to the island alike, enjoy the experience at Rebel Salute 2018.
Rebel Salute says thank you to hotels
Camille Miller, Hospitality Jamaica Writer
Organisers of the 25th staging of the International Reggae Festival, Rebel Salute, are still raving about the overall support they received from the local hotel sector, notably in the resort town of Ocho Rios.
Team member Marcia Lawrence, who had the responsibility of seeking support from the hotels for the festival, described the partnership as invaluable, adding that it made for the continued overall success of the event.
"While we are happy with the support from all our partners, we have to single out host property, Jewel Dunn's River, for the amazing way they handled all aspects of the partnership," Lawrence noted.
"From providing rooms for our staff and also the performing artistes, the Jewel Dunn's River team was simply outstanding and first class. It must also be noted that the property also hosted the festival's International Media Launch, among many other things."
BEYOND THE CALL OF DUTY
Lawrence added that the St Ann-based property "went beyond the call of duty" to ensure that everything ran smoothly for the festival, noting that "they were just absolutely amazing".
"One of the key elements of hosting a two-day festival of this magnitude is to ensure that sufficient accommodation is available to staff, performers, and even patrons who desire to remain in St Ann for the time leading up to the festival," she further pointed out.
"Therefore, the partnership with hotels in St Ann is extremely important. The additional support received came from other properties such as Beaches Boscobel (member of The Sandals Group), Jamaica Inn, Moon Palace, Sky Castle, Executive Inn, Old Fort Village, Club Ambiance, Cardiff Hotel, the Jamaica Pegasus hotel, and Marriott Courtyard in Kingston, as well as the Hilton Rose Hall Hotel in Montego Bay.
Lawrence said that the festival also received support from Caribbean Airlines, Knutsford Express, and Jamaica Tours Limited, adding that it is the intention of the festival through various travel partners, to provide Rebel Salute packages that will include airline seats, accommodation, attractions, shuttle service, Rebel Salute memorabilia, and tickets to the festival.
"We are actually in discussions now to make that a reality," she added.
Rebel Salute is an annual music festival that is held over two days in the month of January. Conceptualised by artist and promoter Patrick 'Tony Rebel' Barrett, it is one of the country's biggest music festivals, which is known for its focus on roots and conscious music.
Rebel Salute 2019 will be held on January 18 and 19 and is expected to continue its tradition of providing a family-oriented entertaining package.