More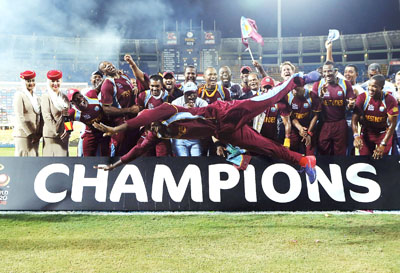 West Indies cricketer Chris Gayle (front) performs as teammates watch after their win over Sri Lanka in the ICC Twenty20 Cricket World Cup final match in Colombo, Sri Lanka, Sunday, October 7. West Indies won by 36 runs. - AP
McNeill delighted with Windies T20 Cricket win
Minister of Tourism and Entertainment, Dr Wykeham McNeill, elated by the West Indies' recent win in the World Twenty20 cricket match against Sri Lanka in Colombo, is congratulating them on their first world title in 8 years, and in particular, he congratulates the Jamaicans who played on the team.
The West Indies team triumphed in the World Twenty20 final by 36 runs, making 137 for six, and bowling out the hosts and World number one ranked T20 side for 101. In so doing, they handed Sri Lanka their fourth defeat in four ICC event finals since 2007 and clinched their maiden World T20 champ title. The West Indies cricket team as well as the players have since moved up on ICC T20 Rankings.
"Being an avid cricket fan, I am overjoyed by the West Indies big win of the recent Twenty20 match," he said. "And I am particularly pleased since we beat the ICC number-one ranked team, Sri Lanka. The West Indies team is back on form and I am very happy about this."
Commenting on the performance of the Jamaicans who played on the team - Andre Russell, Chris Gayle and Marlon Samuels - he went on to say, "Our very own Jamaicans did very well, but in particular, Gayle and Samuels are to be commended for their fine achievements; especially in light of their placement on the ICC World Twenty20 Sri Lanka 2012 men's team of the tournament."
PM's intervention valuable
This placement is especially noteworthy as Prime Minister Portia Simpson-Miller was instrumental in getting Gayle back on the West Indies team. This after almost two years of a stand-off with the West Indies Cricket Board.
The West Indies team win is seen by the minister as "auguring well for Brand Jamaica internationally, as well as locally; especially in light of the present thrust to significantly develop sports tourism here in Jamaica". The minister envisions Jamaica itself having prominence in international cricket, and sees parish-based cricket activities as a starting point. He said cricket is "a natural fit" into the sports-tourism programme being developed by his ministry.
He looks forward to many more such wins, with the West Indies team continuing to play seamlessly as a unit.