More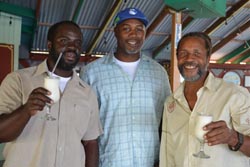 From left: Ryan Morrison, Lenox Lewis and Clive 'Kubba' Pringle at the 2013 Launch of Bob Marley Birthday Celebrations, held at the Negril Yatch Club. - File
All set for Bob Marley Birthday Bash
Claudia Gardner, Hospitality Jamaica Writer
All is now set for the 23rd staging of the Bob Marley Birthday Bash which gets underway in the resort town of Negril, this Sunday, February 1.
The weeklong celebrations, which mark the 70th birthday of the late reggae icon, will be held, as usual, at the MXIII Lawn in Negril's West End.
"We are a bit late in terms of putting our posters out because we were finalising our line-up that had taken so long to put in place. But we are finally there, and I think we are going to have a very good Bob Marley 70th," promoter of the event and owner of MXIII, Clive 'Kubba' Pringle, told Hospitality Jamaica.
"We have a good lineup. It is a week of celebrations starting from the first (of February). On the first, we have the Rastafari Nyahbinghi Night, with the different drummers and we also have this young lady, Mamakaffe, from Africa. Our special guest will be Luciano, who will be doing his performance in the Nyahbinghi style.
Night two, Monday, February 2, has been dubbed Funky Reggae Party, with likes of Gabre Selassie and Lee Tafari.
"What makes it different is that they will be playing music on vinyl. We are trying to keep it original," Pringle explained.
According to him, the third night tagged, Tribute Night will feature the Jamaica-Canadian Contingency, a six-artiste group based in Toronto; Empress Minott; Harry Chapman, among others. Veterans Night follows on February 4, and will comprise a musical showdown between two of reggae music's legends - Leroy Sibbles and Cocoa Tea. He said Sibbles will be presented with the Bob Marley Birthday Bash Lifetime Achievement Award on that night.
Bands Night will follow on Thursday, February 5 and will feature the Gladiators Band with Droop Lion and also the One Drop Roots Band with I-Wayne. Exile di Brave, Zema and the Rock Top Band completed the line-up.
The event will culminate on the sixth, which is the birthday of the late king of reggae, who was affectionately known as 'The Gong', a night which Pringle said will be among the event's most memorable.
"They were here 23 years ago, and they will be here again on that night - that's Marcia Griffiths and Judy Mowatt. Lutan Fyah, Anthony Cruz, Mackie Conscious and a few others (will be performing)," he said.
Pringle told Hospitality Jamaica that hotels in Negril were already having a windfall from the upcoming event, as historically, many reggae-loving tourists book their vacations around the period of the celebrations.
"Most of the hoteliers don't want to admit it, but the bash basically makes Negril's bookings increase. All hotels basically are full during that period - the first week of February. And I am not saying everyone is coming to the bash, but what they do is try to come here during that period. So it helps as well," he said, adding that Couples Resorts are now the event's official hotel sponsors.
Pringle said those set to benefit from the event include Jamaican artisans and craftspeople who have been invited to sell authentic Jamaican products. He said the event is not only a musical festival, but a holistic cultural experience in Jamaica's 'Capital of Casual'.
"Bob Marley Birthday Bash is a cultural experience; The music is positive and we offer variety. We will be having some of the best fine arts people from Kingston. We will be having a fine arts exhibition each day from noon. And we also will be having a glass-bottom boat carrying our visitors from their hotel on the beach right to the beach next to MXIII. They can come, shop see the different variety of stuff on display," Pringle said.
"For the Bob Marley Birthday Bash, for the past five/six years, Ryan Morrison (of Kush Art) has headed the art exhibition, and we have a slogan, 'Mek a Jamaica'. The idea is that we allow only authentic Jamaican products to be sold here during the bash. We have been doing this 23 years and we see, for the last couple years, people in Kingston have been doing it."
claudia.gardner@gleanerjm.com