More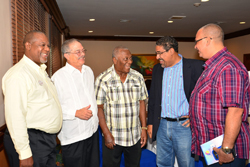 Minister of Tourism and Entertainment Wykeham McNeill (second right) and Minister of State for Transport and Works Richard Azan (right) on Thursday met with the Montego Bay Resort Board at a specially convened meeting at the Sunset Beach Resort and Spa for an update on projects being pursued. They are seen here with (from left), chairman of the Resort Board, Evatt Bloomfield; former chairman of the Tourism Product Development Company, Robert Russell; and former chairman of the Tourism Enhancement Fund, Godfrey Dyer. -Contributed Photo
TEF to spend millions to upgrade MoBay, Falmouth
The Ministry of Tourism and Entertainment is pumping millions of dollars from the Tourism Enhancement Fund (TEF) into upgrading the resort towns of Montego Bay and Falmouth.
The projects are being monitored by the Montego Bay Resort Board, and on February 28, Minister of Tourism and Entertainment Dr Wykeham McNeill, accompanied by State Minister for Transport and Works Richard Azan, received an update on work being done and future plans at a specially convened meeting of the Resort Board at the Sunset Beach Resort and Spa.
McNeill stressed that the collaboration and work being done were against the background of the reality that, "to be competitive, we have to be constantly upgrading that product". He also asserted, "What makes us different is our culture and our heritage, and the more we can unearth the different things we have, is the more the visitor who gets a chance to go into the communities will get to see that."
PRESERVING HISTORY
He underscored that part of the ministry's and the TEF's role "is to preserve this history", and that it brings ordinary Jamaicans into tourism, thereby making a huge difference.
In that regard, McNeill said a programme involving members of parliament identifying a tourism project in their respective constituencies for implementation is being extended to parish councils and non-government organisations (NGOs) in the next budget year.
He said these were very important projects as they allow for visitors to learn about the country's heritage as they drive round the country.
Chairman of the Montego Bay Resort Board, hotelier Evatt Bloomfield, said through consultation, the board was helping to chart the course for the wholesome development of the tourism product, and by extension, the benefits to be gleaned by the broader society.
Bloomfield outlined a list of items on the Resort Board's agenda, many of which are in varying stages of development. The list includes beautification of the Sangster International Airport round-about, work on the Ironshore Fire Station, and lighting of the Elegant Corridor.
The Resort Board is also looking at the redevelopment and expansion of the St Augustine Prep School in Coral Gardens; addressing the desperate need for public sanitary conveniences in downtown Montego Bay; acquiring and installing garbage receptacles in both Montego Bay and Falmouth; and constructing adequate sidewalks from the cruise ship pier at Freeport "as a matter of priority".
Under the linkages programme being pursued between the ministries of tourism and agriculture, the Resort Board is also looking into the development of farmers' markets "to better deepen and expand the relationship and the linkages between agriculture and tourism, and in addition, the various crafts and trades that can benefit from it".
The first of a monthly series of farmers' markets in Montego Bay is set for late March.
There is also the beautification and redevelopment of Falmouth, as well as lighting and additional signage at the Martha Brae Bridge to mitigate accidents and the loss of lives.