More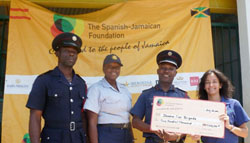 From left: Assistant Superintendent Prince Thobourne, firefighter Jodi-Ann Campbell, and Superintendent Dolfin Doeman, St James Division, accept a $500,000 donation from the Spanish-Jamaican Foundation general manager, Dr Rebecca Tortello. - Contributed
SJF commits $500,000 to promote fire safety in St James
The Spanish-Jamaican Foundation (SJF) launched its Fire Safety Awareness Project in late August by handing over funds totalling close to $500,000 towards community fire warden training in five St James communities, to representatives of the Jamaica Fire Brigade. Donations of fire safety equipment to various hospitals and the distribution of a fire safety poster designed through a school-based poster competition last year will be distributed to schools, libraries, children's homes and health clinics islandwide between September-December 2015.
The handover took place at the third annual SJF/Social Development Commission Back-to-School Health and Information Fair under the theme, A Healthy Start is the Best Start, at Montego Bay's Providence Infant School.
As SJF general manager, Dr Rebecca Tortello, explained, "Once again, we are happy to see so many parents coming out to get all the information they need for back-to-school and ensure their children's immunisation records are up to date, which although sometimes challenging for parents, is so essential to the health and safety of the children. We are also pleased to be working with the Fire Brigade to increase fire safety knowledge as it is so critical, especially given the drought we've been experiencing."
Sponsors
Close to 500 persons passed through the fair sponsored by the SJF, which was founded in 2006 by Spanish investors in Jamaica to promote education, cultural and environmental awareness and contribute to community development. This year, particular support came from SJF member companies, namely Riu Hotels and Iberostar Hotels and Resorts.
In addition to presentations on fire safety by the Fire Brigade, representatives from the Ministry of Health, the Ministry of Labour and Social Security, the Red Cross, the National Youth Service, the Jamaica 4-H Clubs, the Jamaica Cultural Development Commission, the National Land Agency and National Solid Waste Management Authority, UWI Open Campus, Professional Eye Care, the Rural Agriculture Development Authority, HEART, Peace Management Initiative, the Registrar General's Department, the TRN Department, the National Council on Drug Abuse and, Jamaica National were on hand to deliver expert knowledge in their various fields.
School-age children had access to immunisations and assistance with the completion of medical forms.
Art and dance activities were offered by Iberostar's entertainment coordinators and all children in attendance received back-to-school prizes and surprises including exercise books, pens/pencils and other fun giveaways.